Connah's Quay Nomads retained their 100% record in the JD Welsh Premier League on Friday night with a home victory over Aberystwyth Town.

Bakare finds breakthrough on 37 minutes
Wilde puts Nomads in control with second goal just before half time
Danby denies Declan Walker from the spot
Ex-Nomad Baynes nets late goal to mount Aberystwyth comeback
The Nomads went into the game hoping to make it three wins from three, after a flying start to the season had seen them defeat Llanelli Town 7-0 at Stebonheath before beating TNS 1-0 at Deeside last Sunday.

Aberystwyth, who boasted ex-Nomads Ryan Edwards, Wes Baynes and Terry McCormick in their starting line up, had opened their season with a 1-0 win over Llandudno but were looking to bounce back from a 4-1 defeat to Cardiff Met.

The Nomads' line up was largely unchanged, with the exception of Michael Wilde who came back into the squad to start in place of Andy Owens. Callum Morris was named on the bench as he turned from suspension.

Aberystwyth enjoyed a bright start to the game, winning a corner and free kick in the first five minutes, but neither set piece created an issue for Nomads' keeper John Danby.

On seven minutes Ryan Wignall did well to get into the Aberystwyth area, going to the byline before passing to Wilde who had a shot from 10 yards curl just wide of the right post.

With 10 minutes played Aberystwyth hit back with their first major chance, as from a corner they forced John Danby to dive low and push an effort away for a corner.
After containing Aberystwyth, Nomads began to take control of the proceedings, increasing their share of possession.

With 20 minutes played, Michael Bakare had a shot looking goal-bound from seven yards, but his effort was blocked by a Black and Green defender to keep the game goalless.

Nomads were finding their attacking rhythm, with Michael Bakare beating Wes Baynes on the wing on 25 minutes before Rob Hughes dragged a shot just wide of the left post from 25 yards in the 28th.

Hughes went close for Nomads a minute later, when his 25 yard effort was well saved by Terry McCormick.

But Hughes' runs for Nomads did eventually bear fruit, when he was fouled to win a free kick for Nomads just two yards from the Seasider's area.

Michael Bakare lined himself up, and sent a sublime free kick into the top right corner to give Nomads the lead on 37 minutes.

Just two minutes later Nomads again had a free kick in almost exactly the same position, but this time Bakare's effort was blocked.

Before the interval on 44 minutes, Michael Wilde got on the end of a Declan Poole pass to break free on goal and go against McCormick. Wilde's experienced paid off, as he slotted into the left side of the net to give Nomads a 2-0 lead at half time.

The second half saw a substitution made, as Rob Hughes was replaced by Callum Morris who returned to the side after serving a suspension.

Nomads were looking to consolidate their lead, with Michael Wilde once again going one on one with McCormick for the ex-Nomads stopper to come out on top that time around.

In the 55th minute Wilde nearly dispossessed McCormick who came off his line to deal with a stray pass, but the keeper did enough to stop the Nomads' forward having an open goal to aim at.

Nomads then made their second substitution of the night, which saw Laurence Wilson go off in place of Jonny Spittle, who left Aberystwyth to become a Nomad in January.

Spittle made an impression straight away, stopping an Aberystwyth counter attack attempt from a Nomads' corner with a firm sliding tackle in the midfield.

With an hour played, Michael Wilde went off in place of Andy Owens who hoped to continue his for having scored the winner against TNS last Sunday.

Owens used his strength and height in the Aber area as Nomads won three consecutive corners on 70 minutes, but none of the set pieces gave Nomads the definitive third goal they were chasing.

Nomads fortunes turned for the worse on 75 minutes, when an injury to Danny Holmes forced them to see out the rest of the game with 10 men as they had already made all three substitutions.

Michael Bakare became a makeshift left back as Nomads looked to maintain their clean sheet. Andy Owens tried to keep the ball down the Aberystwyth end, going for goal from 18 yards on 85 minutes only to be tackled at the last second.

In the 87th minute there was drama as a foul in the Nomads' area saw Aberystwyth awarded a penalty, and a chance to mount a late comeback.

Declan Walker stepped up to send his side back into the game, but Danby denied him with an excellent save to his left.

Nomads' sighs of relief were short lived, as in the 89th minute Wes Baynes made it 2-1 with a powerful effort on goal from the right of the Nomads' area.

With four minutes of additional time given, Aberystwyth were gunning for an equaliser, winning a corner on 92 minutes which was confidently headed away by Spittle.

The clock ticked over the 94 minute mark and 10-men Nomads were still battling on, as a final Aberystwyth effort sailed just over the Nomads' crossbar.

Despite a frantic finish, Nomads did enough to claim the victory and stay top of the table with three wins from three games.

Their attentions now turn to an away game where they face in-form Barry Town for a 2:30pm kick off on Saturday 2 September.
---
Match report by Will Catterall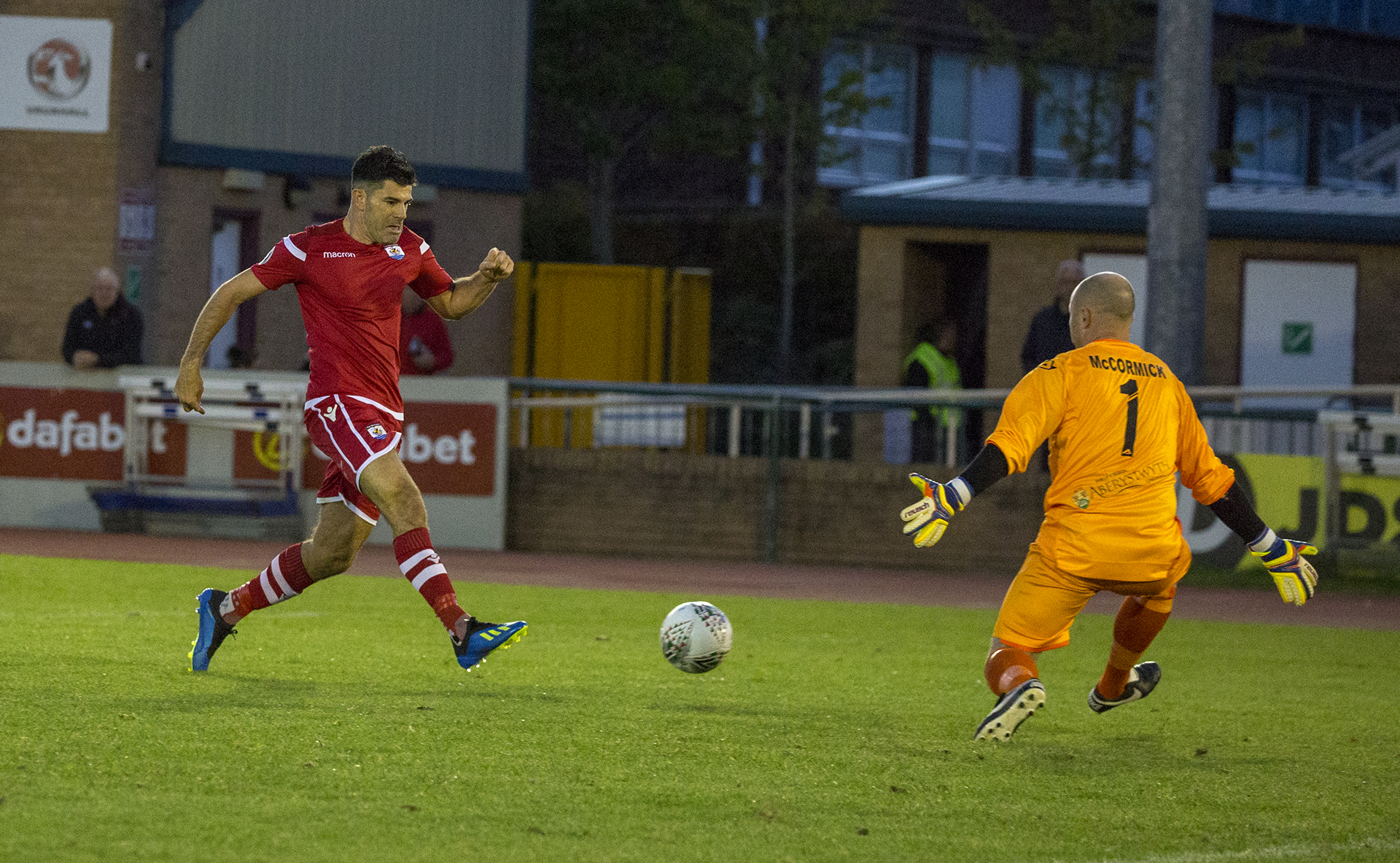 Michael Wilde slots beyond Terry McCormick for The Nomads' second goal of the night © NCM Media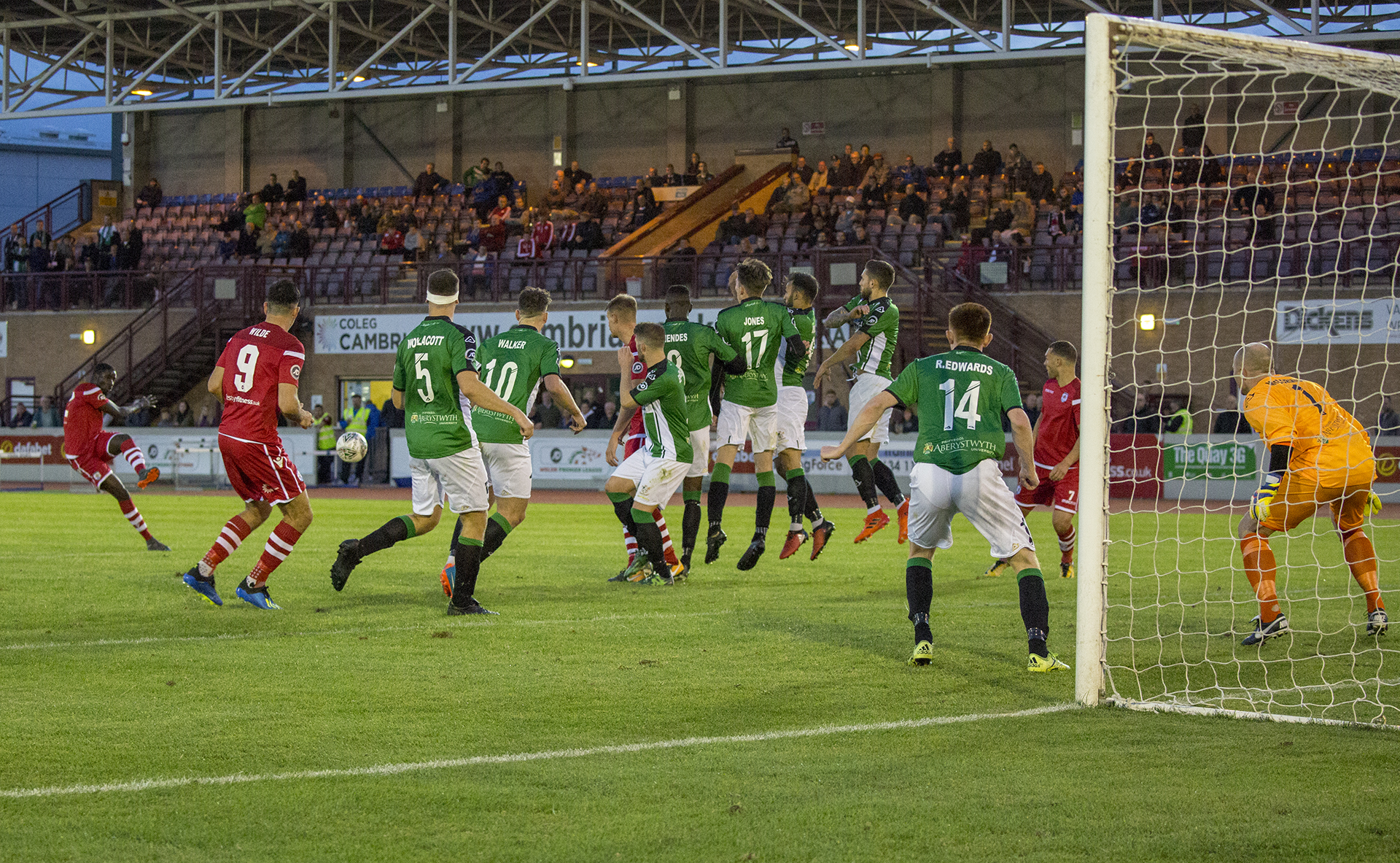 Michael Bakare scored a curling free kick to get The Nomads in front in the 37th minute © NCM Media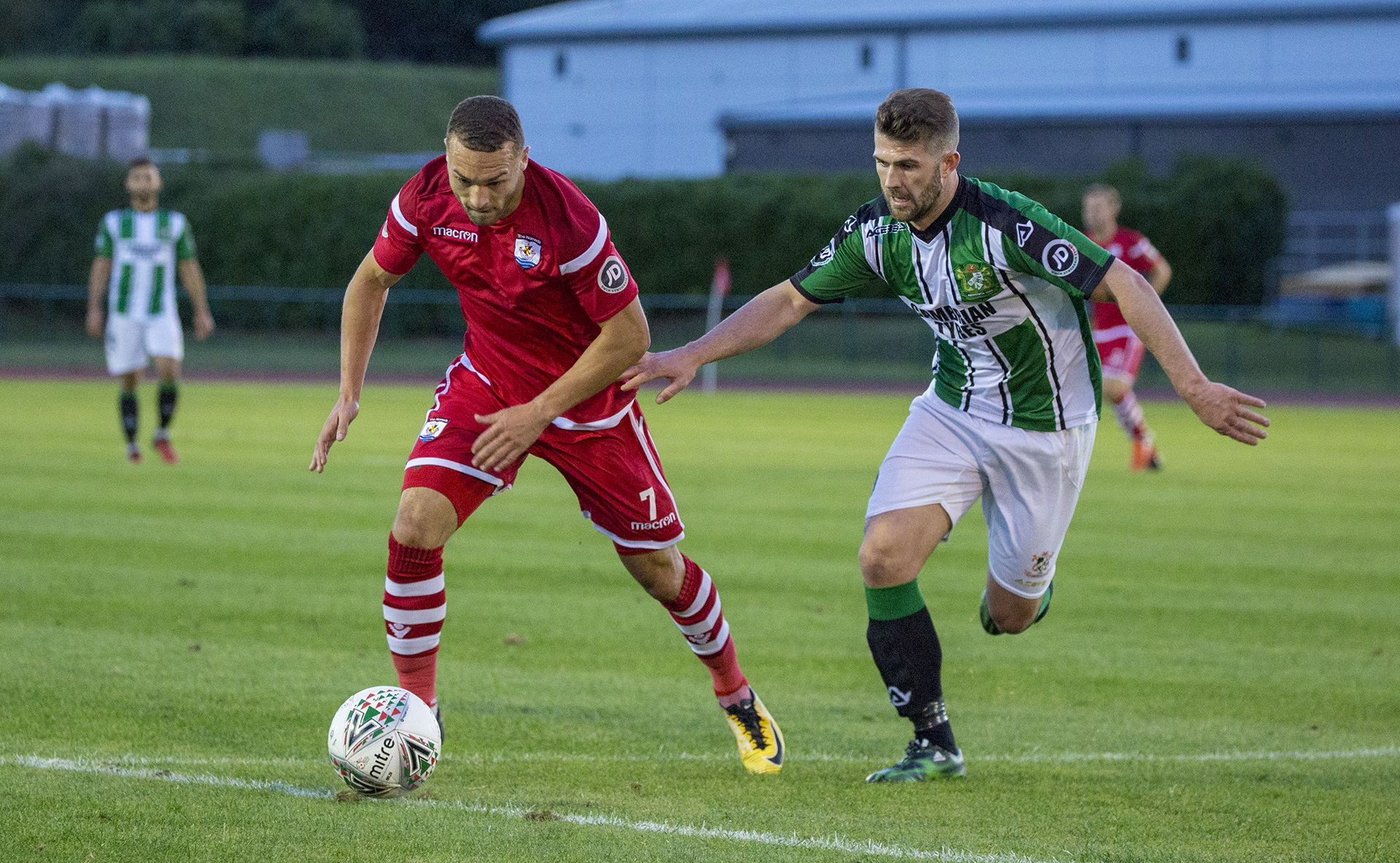 Ryan Wignall looks to evade the Aber back-line © NCM Media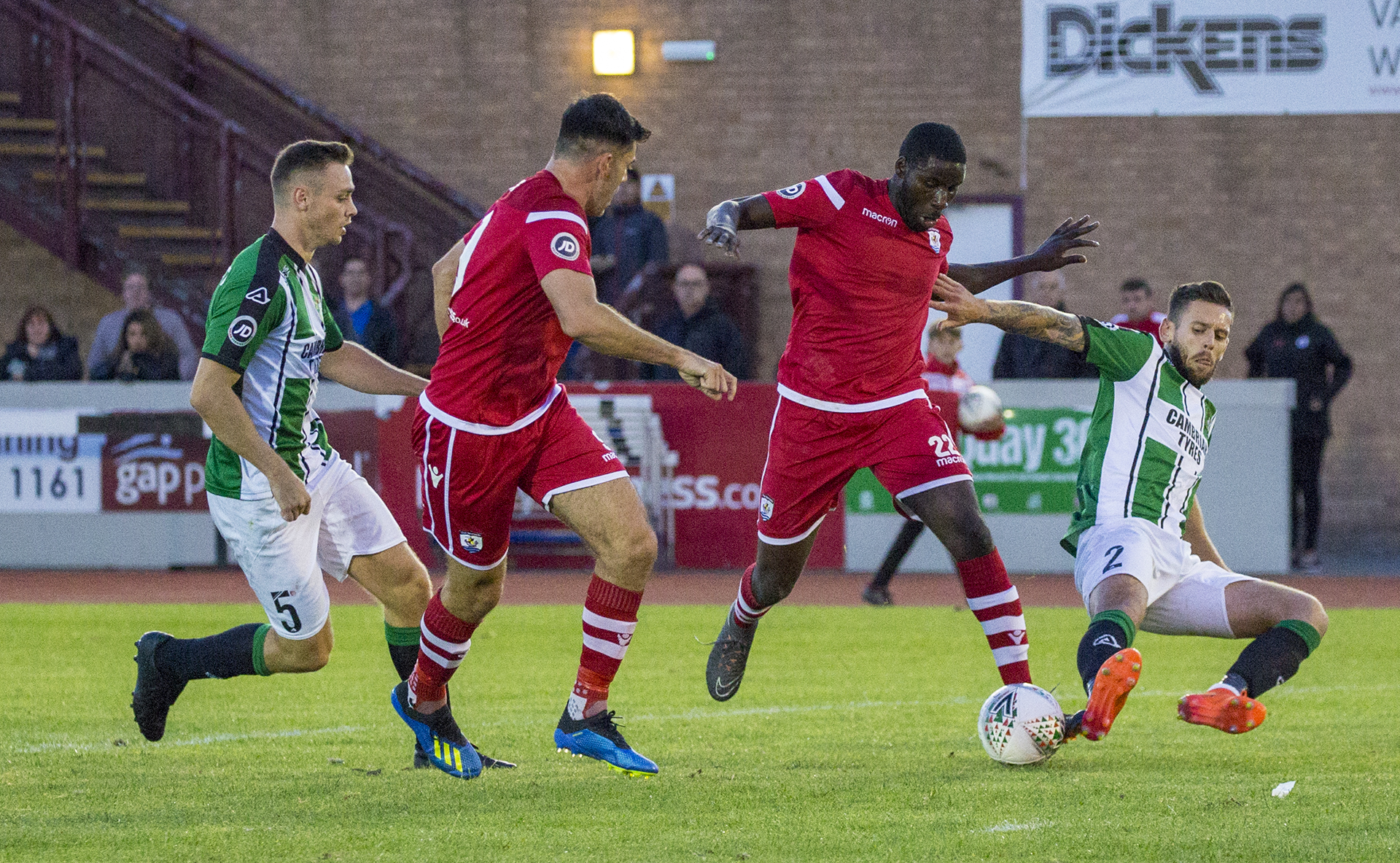 Michael Bakare eludes Aberystwyth's defenders as he looks to score © NCM Media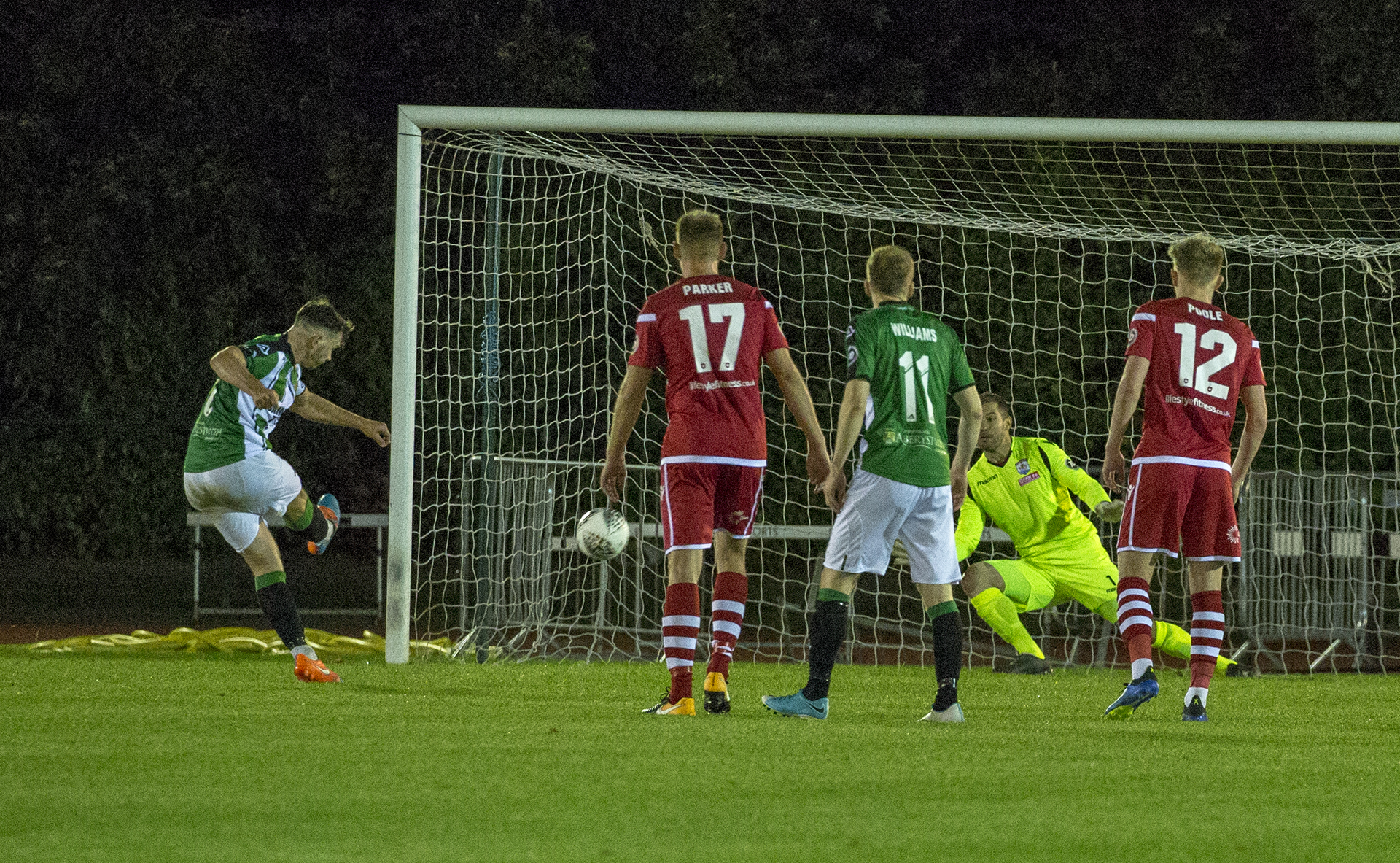 John Danby dives to save Declan Walker's penalty late in the second half © NCM Media