Connah's Quay Nomads ran out 3-1 winners at the Deeside Stadium against Carmarthen Town on Saturday afternoon in the JD Welsh Premier League.

Jay Owen volleys to send Nomads ahead
Liam Thomas equalises for Old Gold
Late goals from Owens and Wignall secure victory
Nomads go top of the league
Before the game, Nomads were eyeing the top spot in the JD Welsh Premier League, with a win on the day guaranteeing them first place, pending the result of Saturday evening's game between TNS and Cardiff Met.

They were in good form after a 3-1 win over Newtown, and a 4-0 victory away at Llandudno in front of live Sgorio cameras. After netting in both of those games, the latter a hat trick, Callum Morris retained his place in the starting line up.

Andy Morrison made three changes, with the injured John Danby making way for Jon Rushton in goal. Jonny Spittle and Laurence Wilson were also called up in place of Danny Holmes and Michael Parker.

Carmarthen were looking to end a run of three games without a win, and started familiar faces including Lee Idzi in goal, and the attacking duo of Luke Bowen and Jordan Vickers.

The game began and Nomads looked dangerous on the front foot, heavily populating the Carmarthen end from the off.

Nomads' first major chance came in the 14th minute, when a ball up into the area from Andy Owens gave Wignall the opportunity to try and lob Idzi, who caught his effort from 15 yards out.

After Michael Wilde hit the side netting from a long Nomads' throw in, Carmarthen recorded their first chance of the game when Liam Thomas broke into the area to test Jon Rushton, who saved his effort.

In the 27th minute, Wignall went on a run down the Carmarthen byline and sent an effort glancing across the goal, with a deflection from a defender enough to stop Michael Wilde tapping in.

With 30 minutes played Nomads were continuing to chip away at the visitors' final third, but the game went close to being turned on its head in the 37th minute, when a Carmarthen effort hit the Nomads' right post after a good move into the area.

With half time closing in, Nomads were looking at a frustrating half time with a dominant performance not enough to send them ahead.

However, a Jay Owen volley on 45 minutes delivered the lead they wanted, as Owen's first time volley from a mis-hit clearance by Idzi looped into the goal from 18 yards out.


At half time Andy Morrison made the first change of the game, swapping Declan Poole for Rob Hughes.

Hughes got involved immediately after the restart, with his delivery from a corner kick nearly going straight into the Carmarthen goal, as Idzi just managed a punch to deny his delivery.

Nomads were in the Old Gold's end for almost all of the first five minutes of the second half, with a backheel effort from John Disney nearly coming off on 47 minutes.

On 50 minutes, Andy Owens was denied a spectacular volley by Lee Idzi, as his first time hit from a Rob Hughes pass looked to be curling into the top left corner, with Idzi pulling off a great stop to keep it out.

Nomads' dominance continued with Ryan Wignall nearly converting on a tight angle by the Carmarthen by line on 53 minutes, before Carmarthen scored against the run of play in the 55th.

From a cross which bounced off Jon Rushton, Liam Thomas snuck into the six yard box to head in an equaliser.

Despite a constant flurry of attacking movements from the home side they remained level with Carmarthen, bringing on Nathan Woolfe in place of Jonny Spittle to boost their attack from the wing.

Michael Wilde then went close for Nomads, heading a corner ball just wide with a rocketing header from 10 yards out.

With 20 minutes to play, Michael Bakare replaced Michael Wilde as the Nomads sought a vital goal which would send them top of the league.

Bakare's skill kept them in the Carmarthen end, whilst Andy Owens saw an opportunity to score go amiss when he couldn't connect with a cutting low cross from Ryan Wignall.

But on 80 minutes Andy Owens returned, making no mistake from a corner won by Bakare.

Nathan Woolfe took the set piece, and Owens headed from close range at the back post to send Nomads 2-1 up.


Boosted by their goal, Nomads kept on attacking to try and finish the game off, with Rob Hughes denied by another save from Idzi who palmed away his powerful effort from just inside the area.

With a minimum of three minutes of injury time indicated by the fourth official Tom Williams, Carmarthen rushed into the Nomads' half whenever possible, winning a deep throw in on 92 minutes.

But their throw was countered by Ryan Wignall, who ran down the wing to take on Idzi on a tight angle, slotting behind him to score Nomads' third and final of the afternoon.

The win sent Nomads to the top of the JD Welsh Premier League, and confirms their third consecutive league victory.

They now turn their attentions to the Nathaniel MG Cup second round, as they welcome derby rivals Airbus to Deeside on Tuesday 2 October for a 7:45pm kick off.
---
Match report by Will Catterall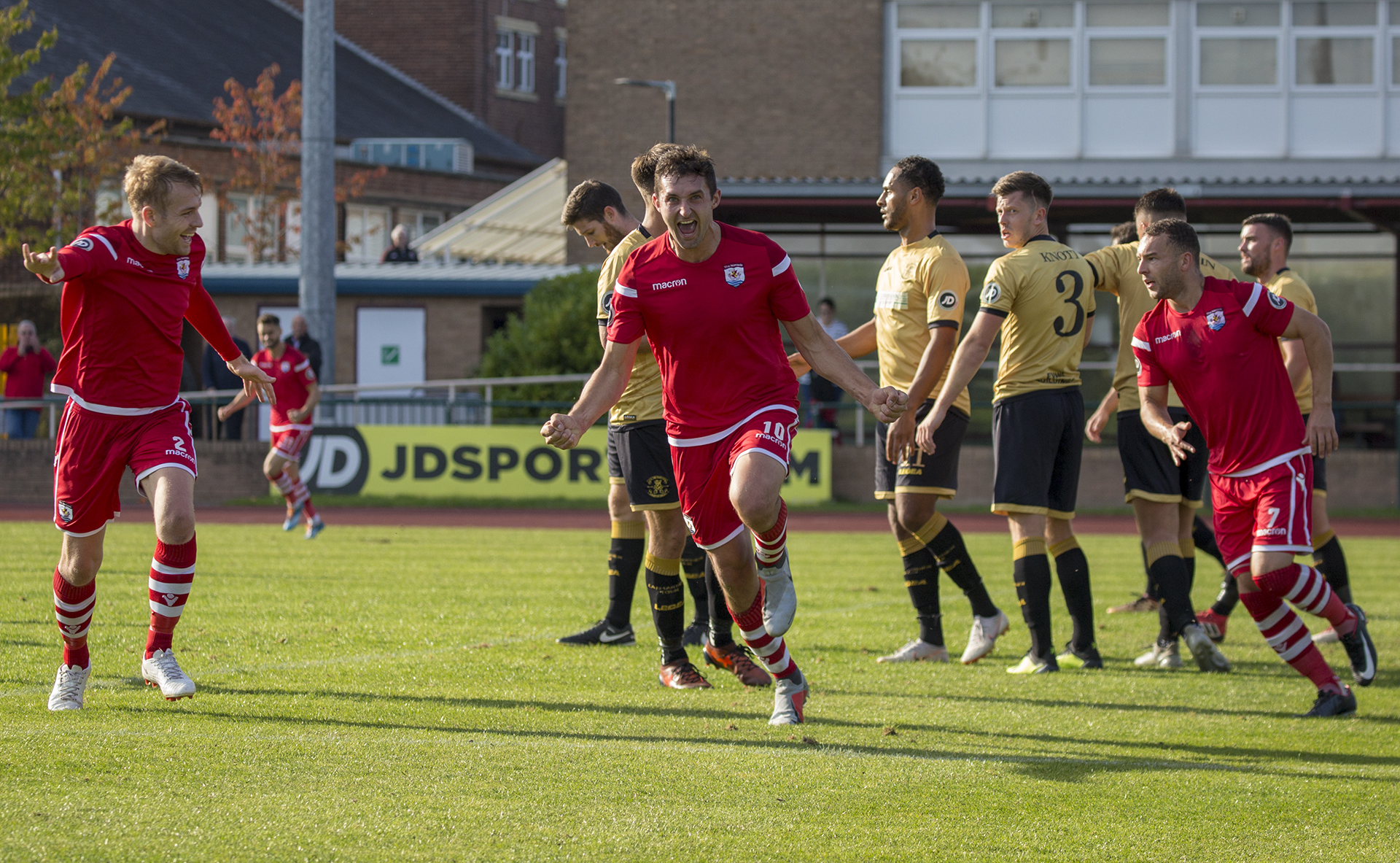 Andy Owens celebrates his 81st minute header © NCM Media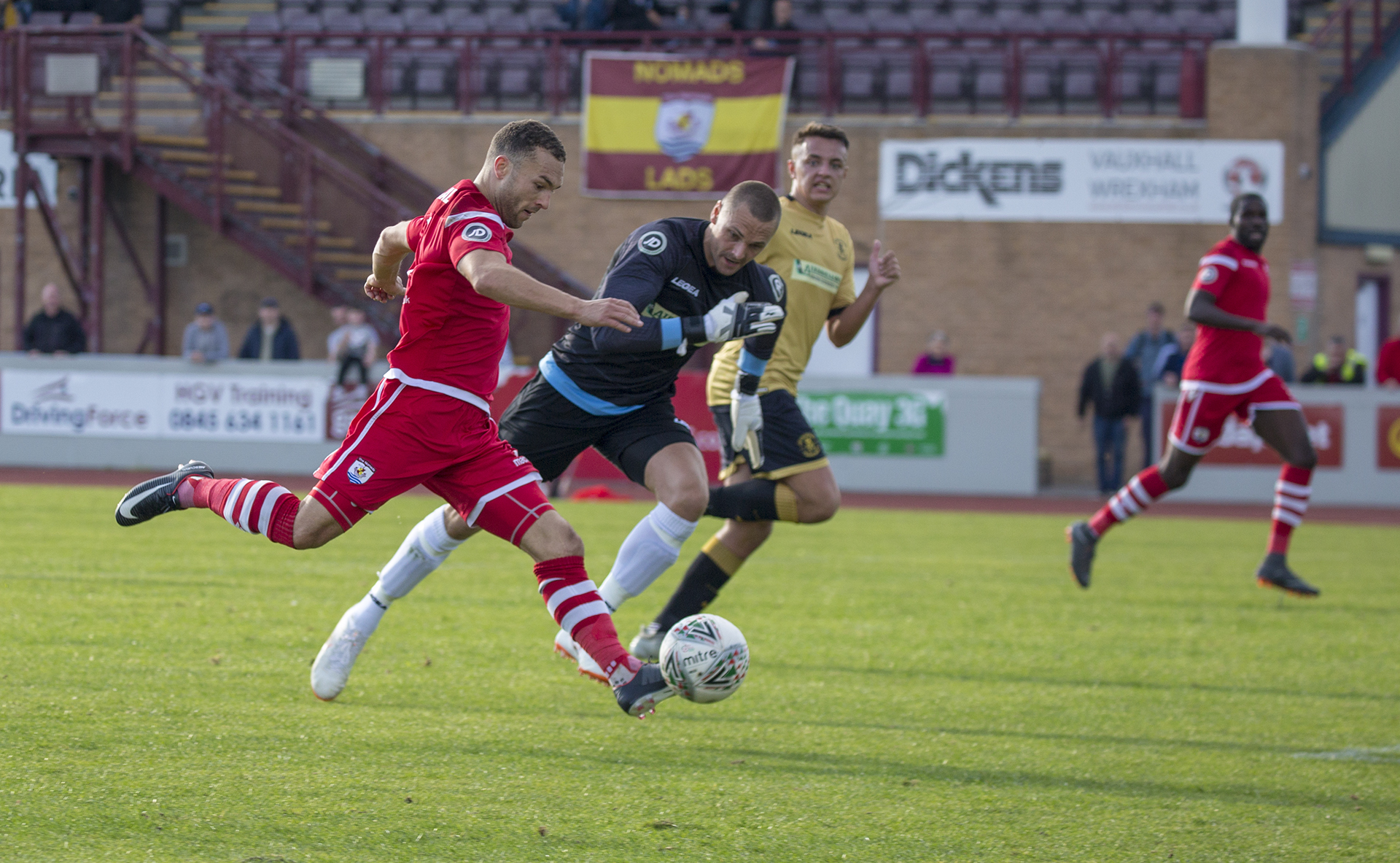 Ryan Wignall slots past Lee Idzi in the Carmarthen goal to make it 3-1 © NCM Media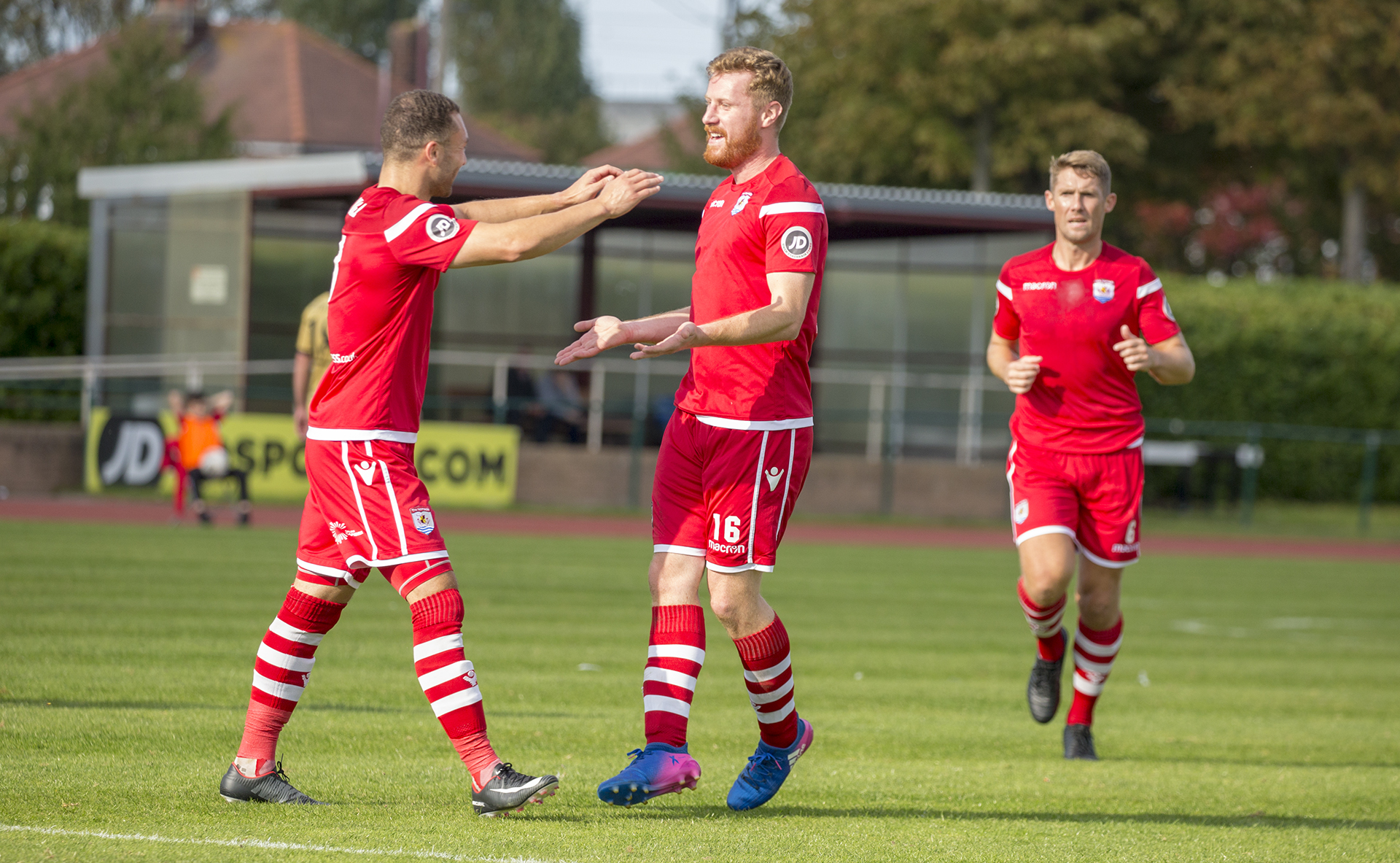 Jay Owen celebrates his first half strike © NCM Media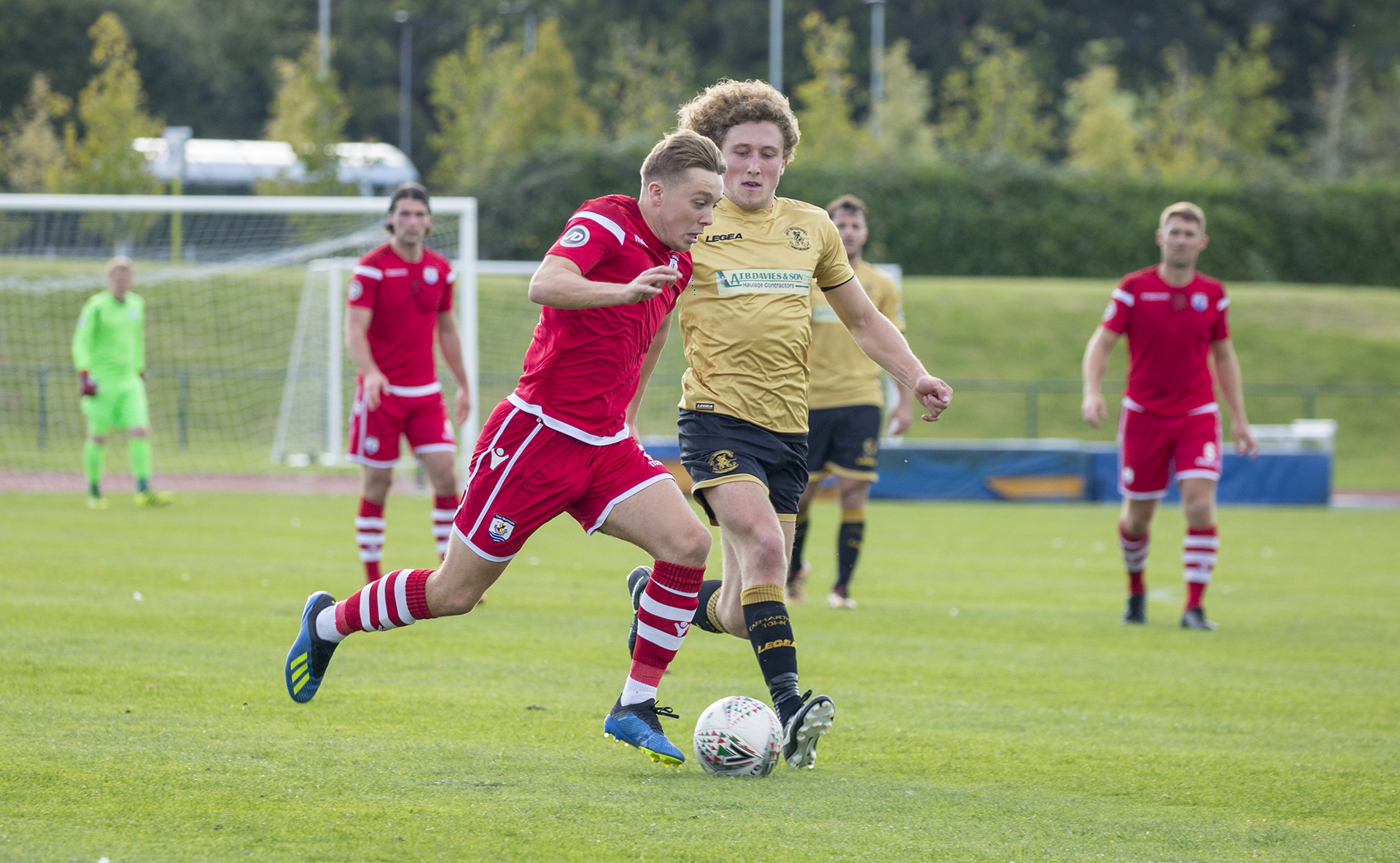 Rob Hughes made a great impact from the bench © NCM Media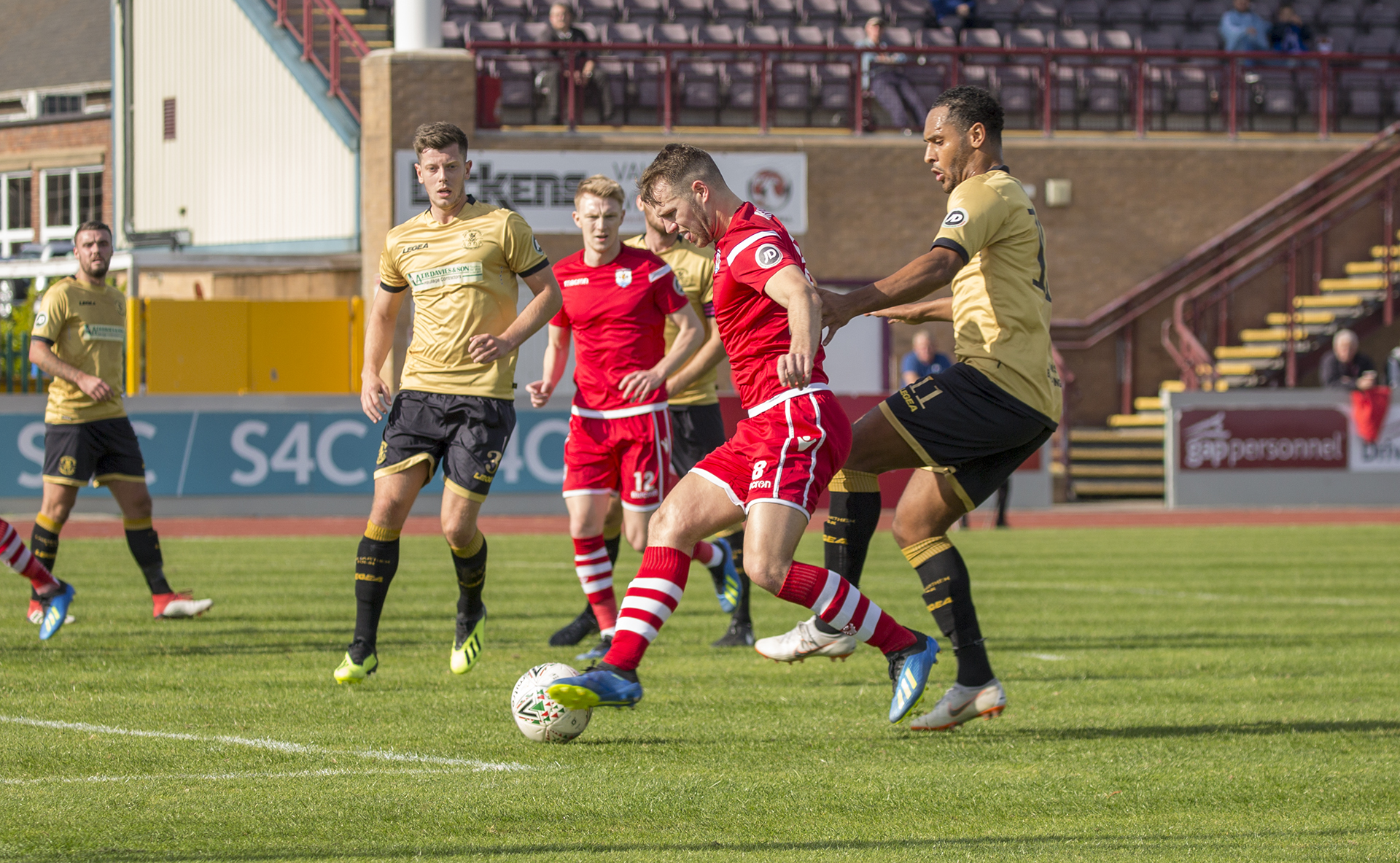 Callum Morris sends a first half effort goalwards © NCM Media