Connah's Quay Nomads recorded a 4-1 win over Bala Town FC in the JD Welsh Premier League on New Year's Day 2019.

Goals from Michael Wilde, Michael Parker, Andy Owens and Michael Bakare sealed an important victory for Andy Morrison's side.

Wilde goal sent Nomads ahead
Henry Jones struck for Bala before Parker restored lead
Owens and Bakare seal victory in second half
Dominant Nomads go top of the league
The game saw Nomads enter 2019 looking for revenge against Bala Town, who beat them 2-1 at Maes Tegid on Boxing Day in the first of the JD Welsh Premier League's annual festive double header fixture card.

Goals from ex-Nomad Sean Smith and Henry Jones sent Bala ahead, with a Rob Hughes goal reducing the deficit before the second half, where Nomads' search for an equaliser didn't come off.

Both Venables and Smith remained in Bala's starting line up, with Daniel Gosset coming in for the league's leading goalscorer Steven Tames, who was sent off late on in the Boxing Day encounter.

Nomads meanwhile made two changes, replacing Laurence Wilson with Danny Holmes, who returned from suspension, whilst Jay Owen came back into the starting eleven for Declan Poole.

The game began with few incidents, as both sides looked to make their mark in the notoriously tough fixture which has historically been won by small margins.

Nomads' first real attack came in the fifth minute, when Jay Owen sent a defence splitting pass to Andy Owens who was found offside.

In the 7th minute Andy Owens began to utilise his long throw ins, sending two into the Bala area in quick succession, with the second triggering a scramble in the Lakesiders' six yard box before a free kick was awarded in their favour.

With 10 minutes played Nomads were seeing a good amount of possession in the Bala half, and looked to make it count with a series of set pieces and attacking runs.

And this strategy paid off, when in the 14th minute, Michael Wilde sent Nomads ahead. Ryan Wignall crossed the ball in to Callum Morris who had a close range effort saved by goalkeeper Ashley Morris, with Wilde pouncing on the rebounded save to take the lead.

Boosted by their goal, Nomads continued to target the Bala end in the hope of increasing their lead, having a corner cleared in the 17th before a Wignall cross was cancelled out by a free kick to Bala a minute later.

With 23 minutes played the game saw its first yellow card when referee Kevin Parry booked Danny Holmes for handball. This gave Bala a free kick 30 yards from the Nomads' goal, but Andy Owens blocked it before running the ball out of the area.

Nomads then won a free kick in a promising position 35 yards out on 26 minutes, but Bakare's delivery was cleared away by captain Chris Venables.

Despite Connah's Quay dominant start to the game, Bala got back into the game on 30 minutes, when forward Henry Jones ran onto a through ball into the Nomads' area and sent a powerful effort past John Danby.

The Lakesiders, enthused after equalising, went at the Nomads' end in the aftermath of Jones' goal, winning a corner which was dealt with by the home defence.

Nomads then retaliated to Bala's pressure by retaking the lead just eight minutes after the leveller.

From a Ryan Wignall corner, Jay Owen sent the ball goalwards at close range, with his shot pushed away by Morris allowing Parker to score from just yards out.

With Nomads back in the lead, a real battle was occurring as Bala raced to find an equaliser before half time, but thanks to some resolute defending from Nomads, they remained in front during the interval.

Bala started the second half with intent, immediately attacking the Nomads' end, with a well timed tackle from Michael Bakare denying the Lakesiders a cross into the area.

Nomads then began to establish control of the proceedings, with Andy Owens working tirelessly upfront, the likes of Callum Morris and Ryan Wignall making attacking runs, and George Horan dealing with all that came to him in defence.

They continued to target the Bala end, winning a free kick and corner in the 55th minute which were both were cleared away by Colin Caton's men.

But on 59 minutes, Andy Owens made no mistake in front of goal after some sublime play from Callum Morris. Receiving the ball on the edge of the area, he beat two defenders before squaring the ball to Owens, who simply sent the ball into an open Bala goal from close range.

Nomads' fourth and final goal came just three minutes later, when Jay Owen passed to Bakare near the byline, allowing him to beat his man on the inside before sending a powerful effort high into the top right corner of the net from around eight yards out.

With a commanding lead, Nomads then substituted Andy Owens off to bring Rob Hughes on, whilst Bala also introduced ex-Nomad Mike Hayes.

Hughes got involved almost immediately, going on a run down the left wing in the 68th minute to send a cross into the Bala area which was collected by Morris.

Nomads second substitution on 70 minutes saw Declan Poole replace Ryan Wignall, as Andy Morrison introduced fresh legs to continue Nomads' dominance of the game.

As the game entered its latter stages, Michael Bakare was doing well to hold the ball up in the Bala half, whilst the Nomads' defence nulled Bala's efforts to get back into the New Year's Day clash.

In the 81st minute, Rob Hughes had a shot from around 25 yards out from the right wing, but his effort to get on the scoresheet was dealt with by the goalkeeper.

Bakare followed up a minute later as he hunted a brace, but his 15 yard shot was blocked by the defence.

On 84 minutes John Danby was called into action after enjoying a largely quiet afternoon in goal for Nomads. He pushed away a Kieran Smith header to concede a corner, which he then pounced on to punch it away from his goal line.

Nomads' final substitution came on 89 minutes, with Jonny Spittle introduced for Callum Morris after a fantastic play making performance from the Nomads' midfielder.

After three minutes of additional injury time, an emphatic home victory was confirmed to send Nomads top of the JD Welsh Premier League with 42 points.

Nomads will next play at Aberystwyth Town on Friday evening for a 7:45pm kick off at Park Avenue.
---
Match report by Will Catterall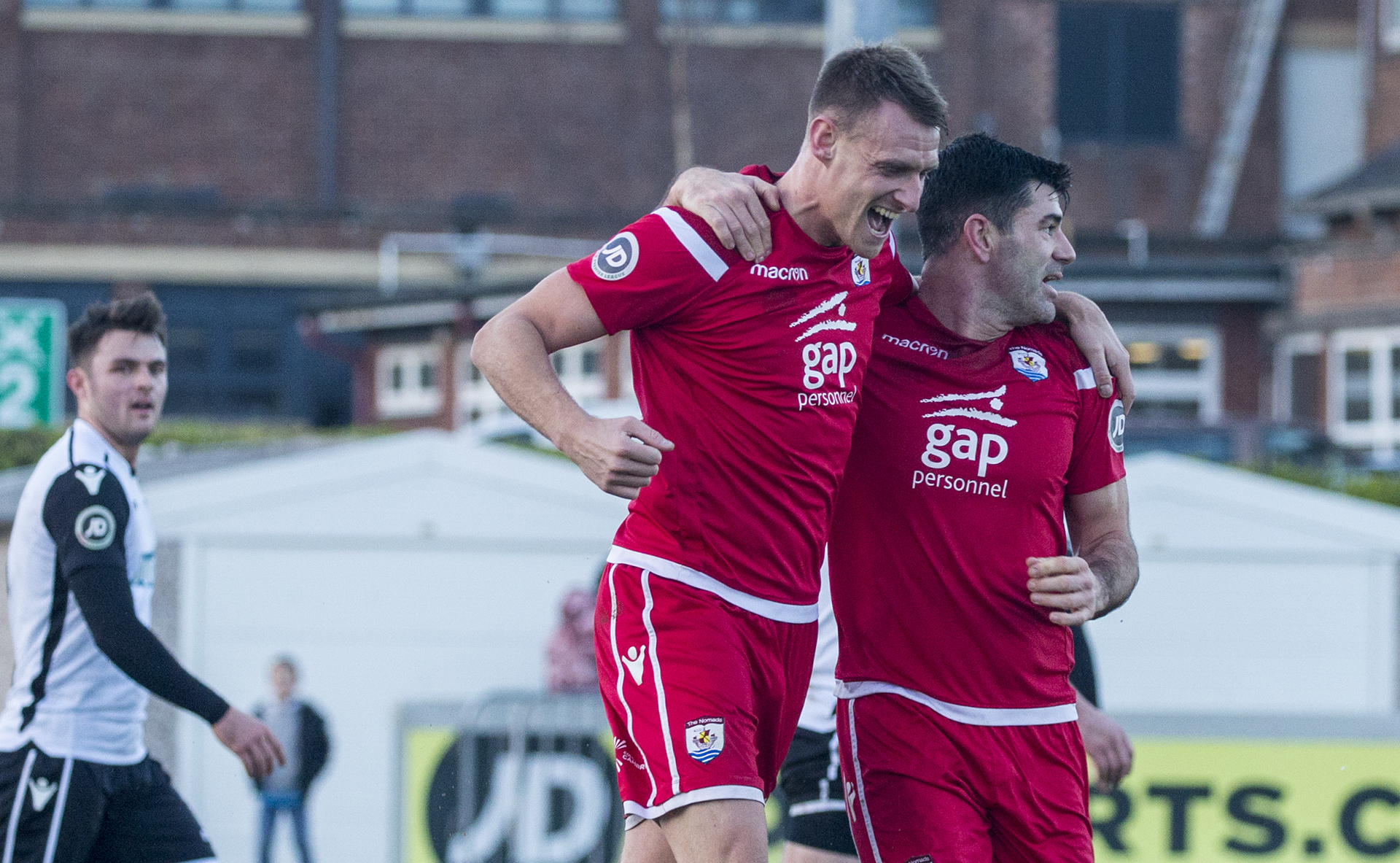 Michael Parker and Michael Wilde celebrate Parker's 37th minute strike | © NCM Media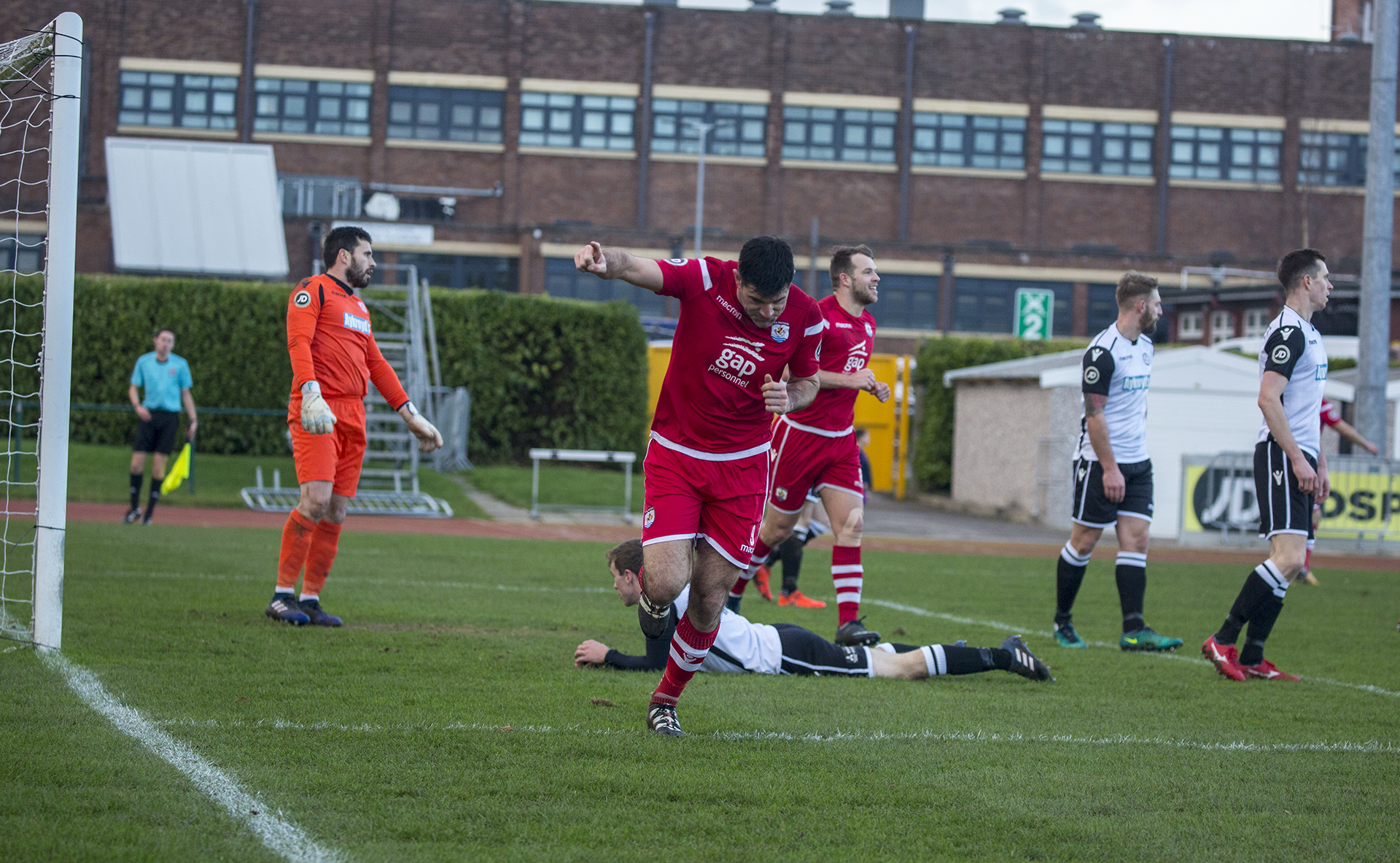 Michael Wilde celebrates putting The Nomads 1-0 up on 14 minutes | © NCM Media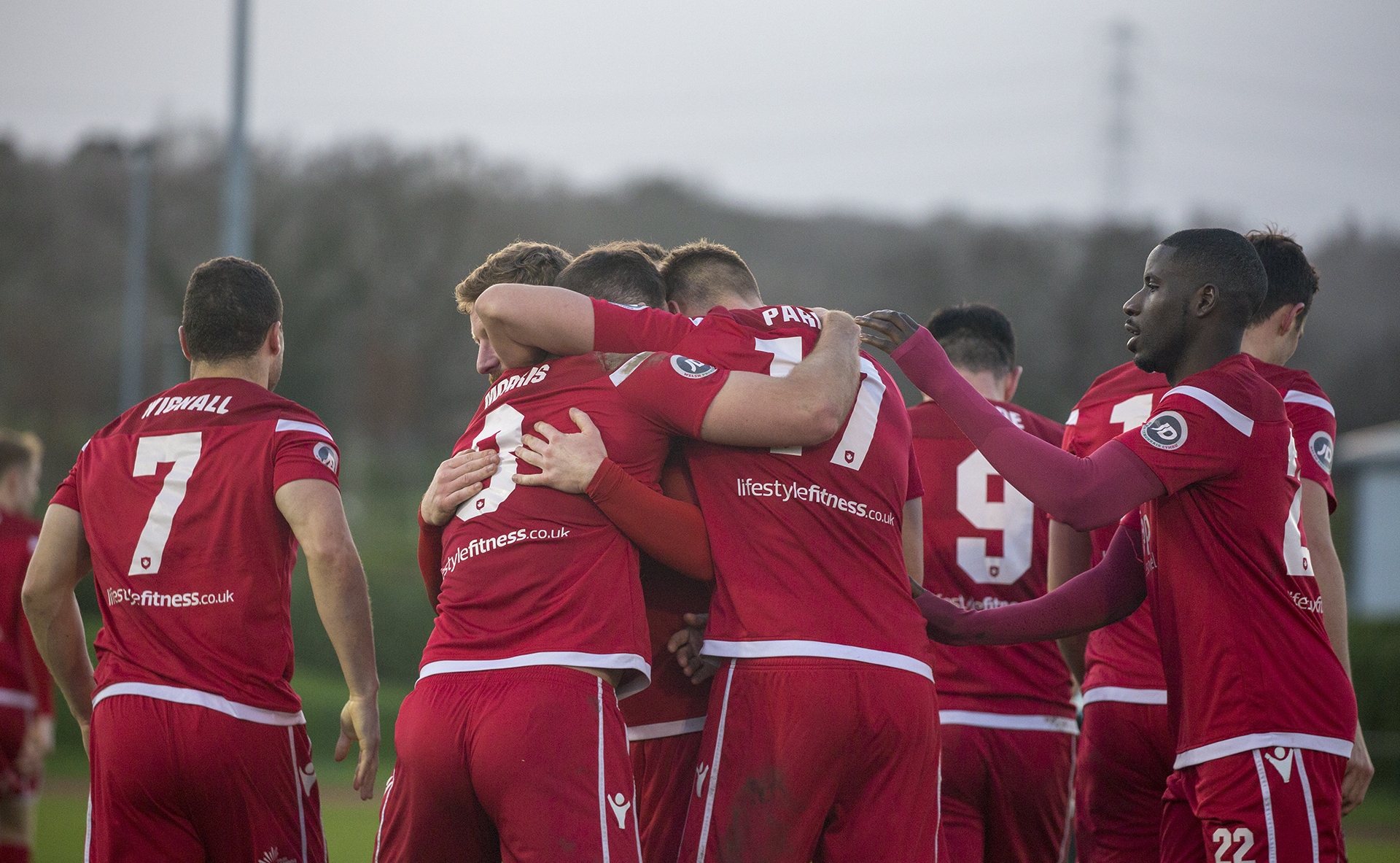 Connah's Quay players celebrate Andy Owens' goal | © NCM Media
Ryan Wignall takes a touch in front of the Bala defence | © NCM Media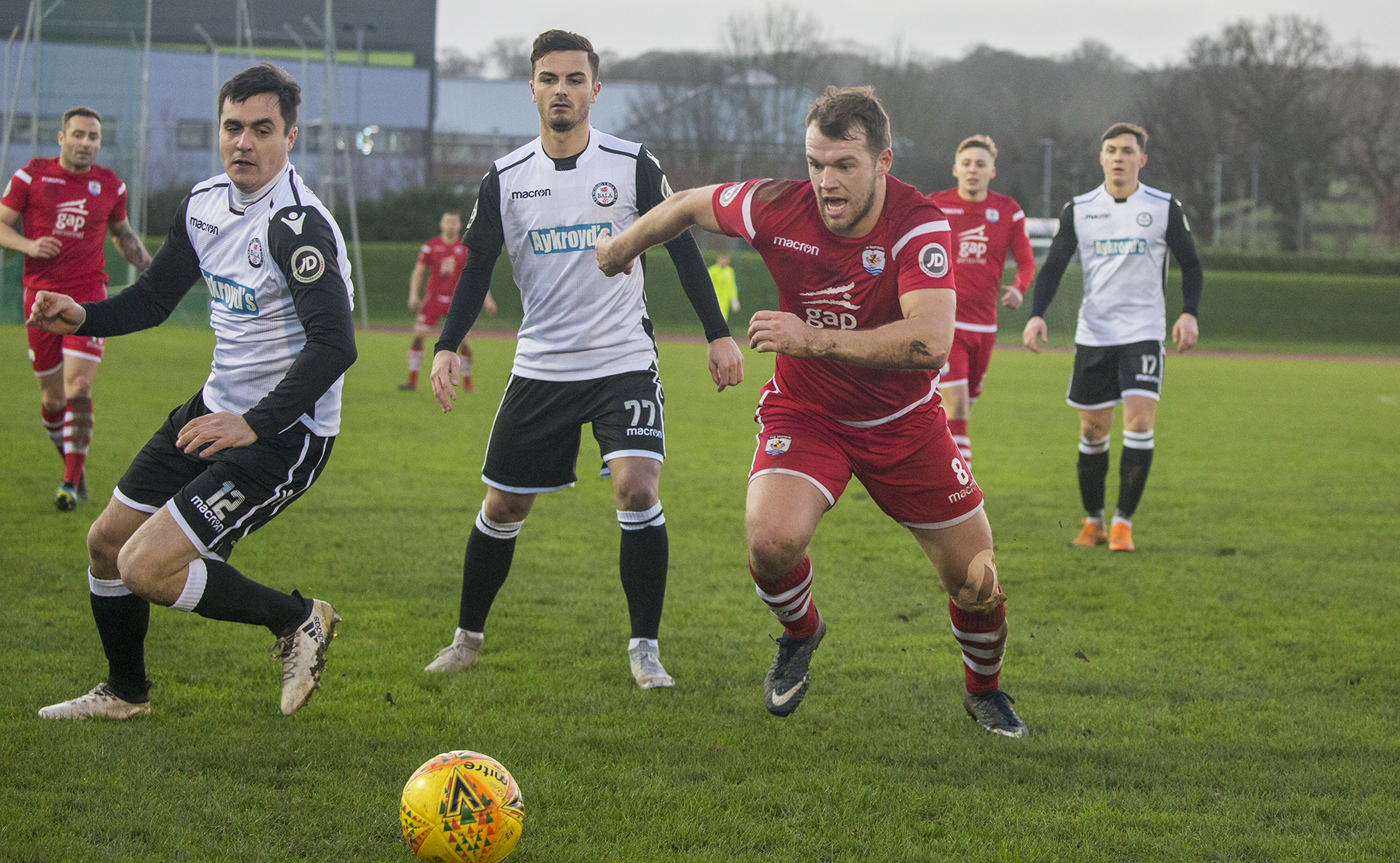 Callum Morris was in fine form in midfield for The Nomads | © NCM Media