Connah's Quay Nomads came back from 1-0 down to win 2-1 at Carmarthen Town in the JD Cymru Premier on Saturday afternoon.

An 11th minute Liam Thomas goal sent Carmarthen ahead, but Michael Bakare scored in the 24th and 63rd minutes to send Nomads to second in the league and maintain their unbeaten record in the season so far.


Liam Thomas scores opener to send Old Gold ahead
Bakare equalises for Nomads in open game at Richmond Park
Bakare's double came from sub Nathan Woolfe's cross
Carmarthen push for equaliser but Nomads hold out for the victory
The Nomads came into the game still undefeated in the JD Cymru Premier after eight games, the most recent a 3-1 win over Penybont on the previous Sunday in which Jamie Insall got a brace and Callum Morris converted a penalty.

Whilst a win for Nomads would send them to 2nd in the table, Carmarthen found themselves bottom of the JD Cymru Premier, and were looking to climb out of it having already drawn 0-0 with Nomads at Deeside in August.

Andy Morrison named only one change to his side, with John Disney returning to replace the injured Danny Harrison.

Carmarthen meanwhile started household names including Liam Thomas, Greg Walters, and keeper Lee Idzi. The afternoon marked coach Danny Thomas' first match in charge of the Old Gold due to the temporary absence of manager Neil Smothers.

Nomads started the affair brightly, with Michael Bakare going on a run down the left wing in the 2nd minute to send a cross over the Carmarthen goal.

In the fifth, they went close when a Callum Morris cross trickled past the goal line, with Jamie Insall nearly getting a shot away from six yards moments later.

There was more action in the Old Gold's final third on six minutes, when an alleged push in the area on Michael Bakare saw Nomads raise a penalty claim, but it was waved away by referee David Morgan who also booked Andy Morrison for his protests.

Despite Nomads' strong start, it was Carmarthen who opened the scoring with one of their first chances of the game on 11 minutes. Greg Walters went on a run into the midfield, and sent a through ball to striker Liam Thomas who followed it with a low finish to score from around 10 yards out.

Nomads looked for a reply to Carmarthen's against the run of play goal, and eventually found it after winning a series of set pieces in their half.

From a Jay Owen free kick 25 yards out, Bakare got the ball and burst into the area from the left wing before firing a powerful shot past Idzi from eight yards out to make it 1-1.

As the game approached the 30 minute mark it was wide open, with both sides creating chances regularly. Carmarthen got themselves back into the Nomads' final third, with both substitute Declan Carroll and Lee Surman having chances on goal in the 28th and 34th minutes respectively.

In the 35th, Carmarthen looked to have taken the lead again, when Luke Bowen found Lewis Brass off his line and sent a lobbed effort over him and towards an open goal. But Callum Morris rushed back to volley the ball off the goal line in an impressive piece of play that won applause from all spectators.

As half time neared, Nomads shifted back into the host's half, winning two free kicks which were dealt with by Carmarthen.

Inside an additional three minutes of injury time, Priestley Farquharson went on a bursting run into the midfield, but was tackled just before he reached the area.

The second half started with Nomads on the front foot, as the likes of Jay Owen and Priestley Farquharson pushed them upfield to win set pieces in the Carmarthen half.

Although Connah's Quay were beginning to control the possession, Carmarthen remained capable of retaliating with dangerous chances. This was seen in the 54th, when Luke Bowen nearly broke into the area to strike, but Lewis Brass rushed off his line to make a brave clearance header against the rising boot of Bowen.

Nomads then made their first change of the game, with Jay Owen coming off in place of Nathan Woolfe who immediately had an effect on the wing, with his pacy runs winning deep throw ins inside the Carmarthen final third.

On 63 minutes, Woolfe was again threatening, and sent a well taken cross into the area and to Bakare, who took a touch to control it and then struck low near the right post to send Nomads 2-1 ahead.

Three minutes later, George Horan had the ball in the net from another Nathan Woolfe cross, but this time he was ruled out for offside.

Carmarthen were urgent in their search for an equaliser, with Josh Bull getting in front of goal but sending it wide as the game approached its final 20 minutes. In the 75th, Bull was again looking dangerous in the Nomads' area, but his effort went wide of Lewis Brass' goal.

Andy Morrison's second substitution saw Declan Poole come on in place of Jamie Insall as the Nomads fought to close what had been an open encounter as the game approached the 80th minute.

There was end to end action in the closing stage, with Nomads winning deep throw ins and corners, and Carmarthen seeking to counter those set pieces.

They came closest in the 89th minute, but were denied thanks to some committed defending from Callum Roberts who headed away a cross and blocked a Josh Bull effort.

Nomads' final substitution saw Kris Owens come on in place of Michael Bakare, whose impressive brace, after three minutes' of injury time, was enough to give Nomads all three JD Cymru Premier points.

The victory extends Nomads unbeaten run to nine games in the league, and sends them to second in the JD Cymru Premier table, four points below leaders Barry Town and three above reigning champions The New Saints.

Nomads' next outing sees them head north of the border to Glasgow, where they will play Scottish Championship outfit Partick Thistle in the fourth round of the Tunnocks Caramel Wafer Cup next Saturday at 5:15, broadcast live on Sgorio.
---
Match report by Will Catterall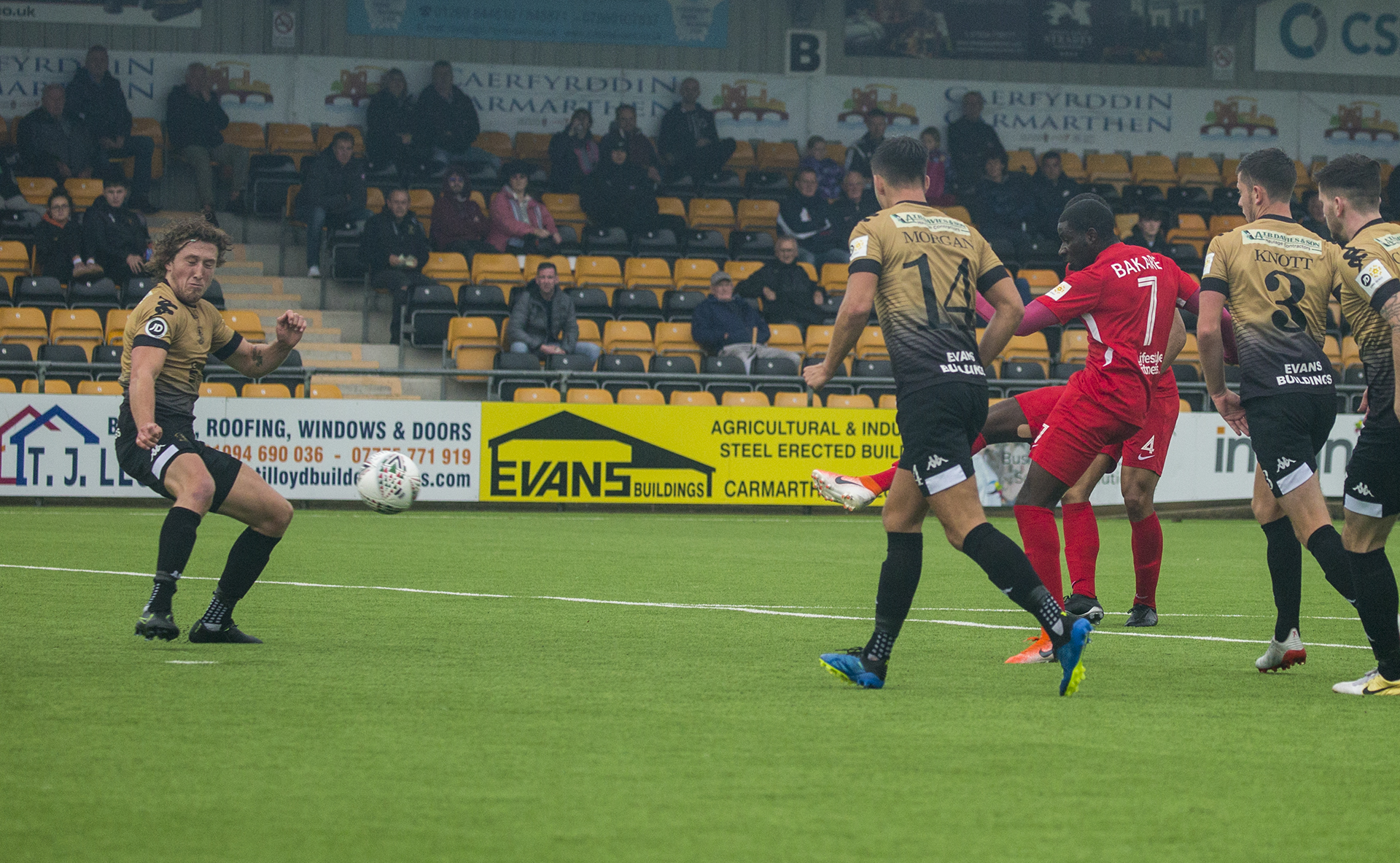 Michael Bakare equalises for The Nomads | © NCM Media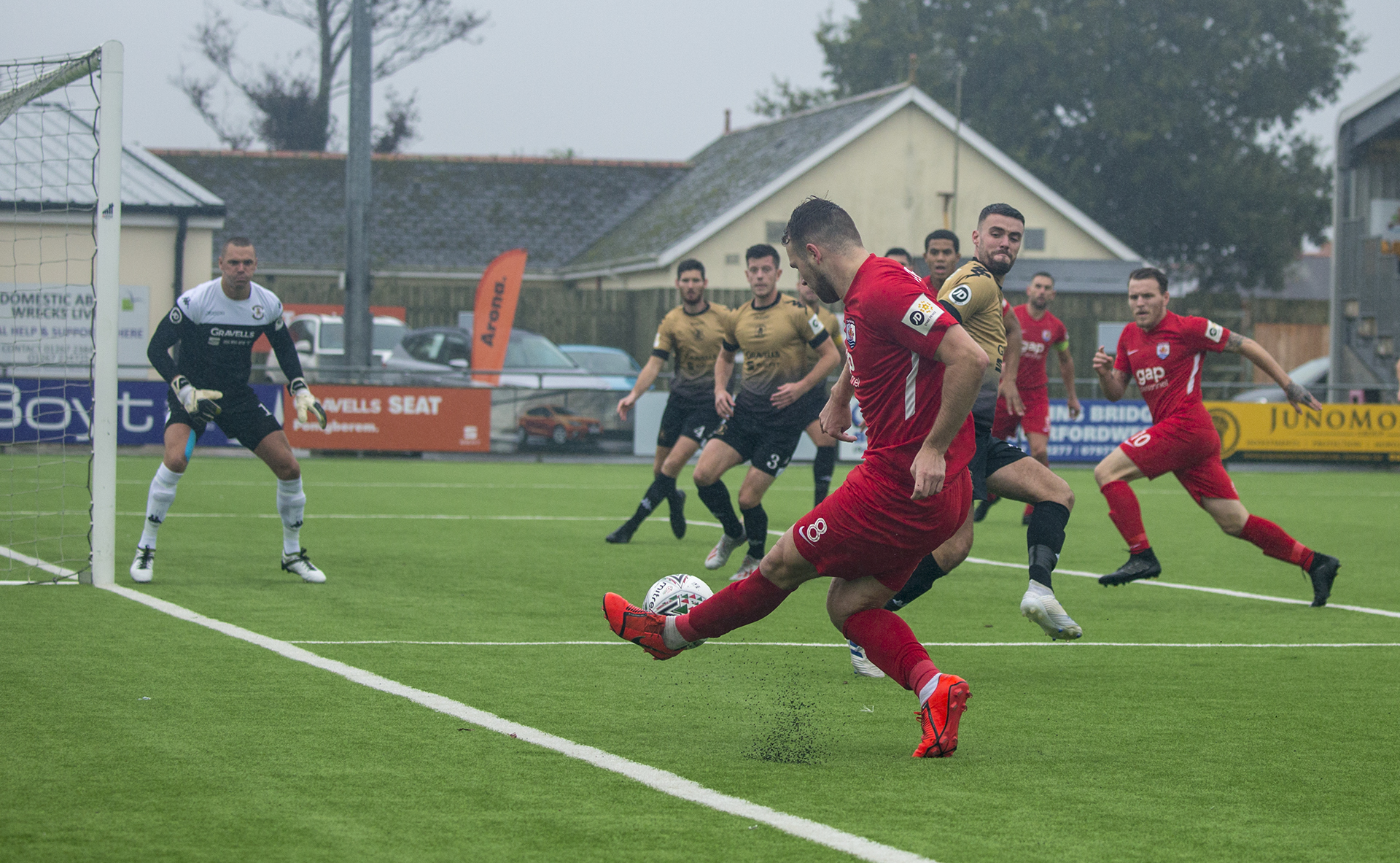 Callum Morris looks to pick out a Nomad in the middle | © NCM Media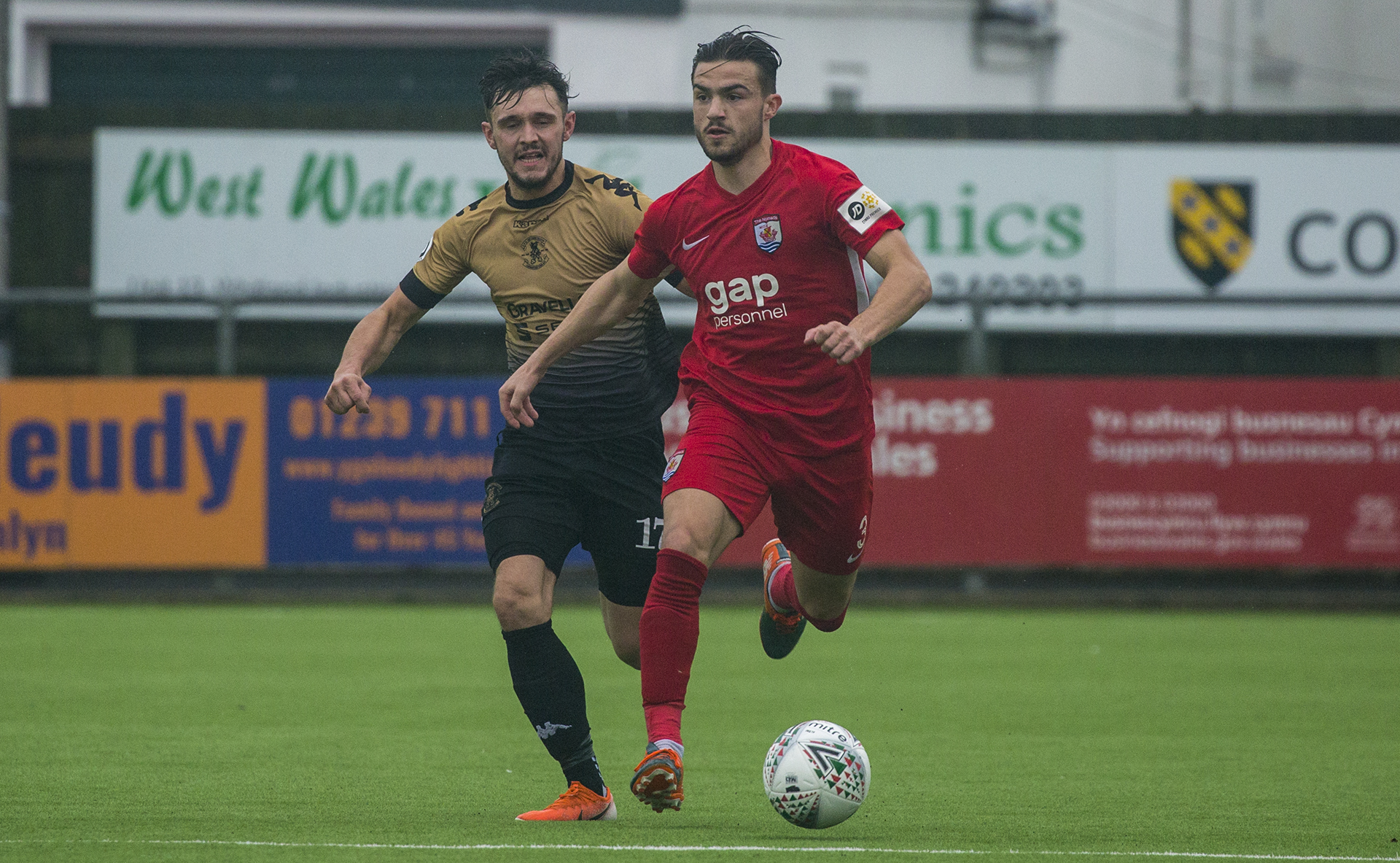 Callum Roberts goes on the offensive | © NCM Media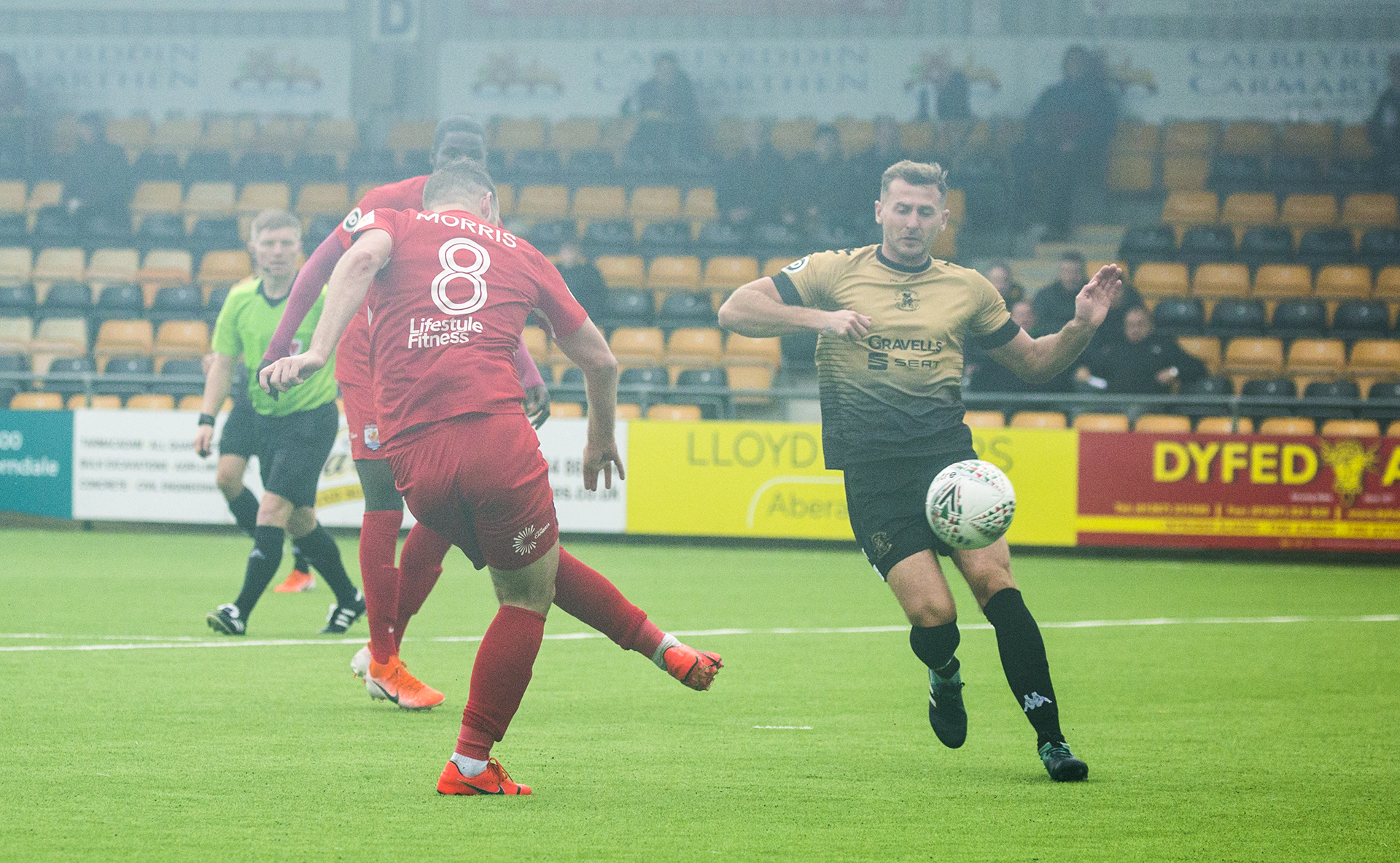 Callum Morris fires over from close range | © NCM Media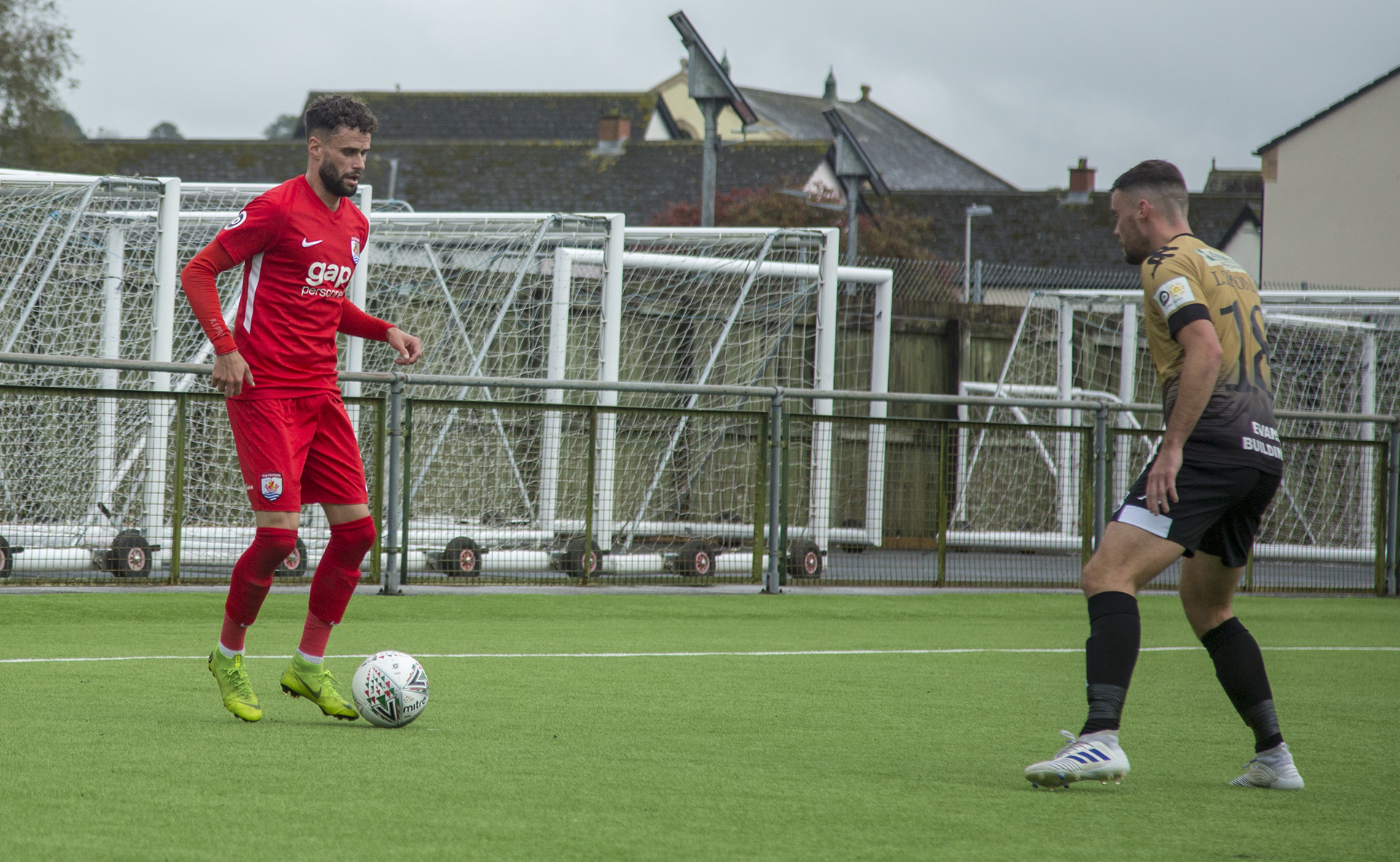 Nathan Woolfe came off the bench to setup the winning goal | © NCM Media