Connah's Quay Nomads rose to the top of the JD Cymru Premier with a 1-0 win against Cardiff Met thanks to a 93rd minute own goal on Saturday afternoon.


Nomads threatened early on but couldn't find opening goal
Poole and Farquharson had close chances to score
Met also went close to ending stalemate in second half
93rd minute own goal gives Nomads dramatic late win
The game saw two of the JD Cymru Premier's three unbeaten sides go head to head. Since meeting at Deeside in the opening game of the season and playing out a 1-1 draw, Nomads and Cardiff Met had remained undefeated after 10 games, and sat 2nd and 6th in the table respectively.

Connah's Quay travelled to the capital after a 4-2 win over Caernarfon Town to bounce back from their Tunnocks Caramel Wafer Cup defeat at Partick Thistle in Glasgow the week before.

Andy Morrison made no changes to his line up, with centre half George Horan captaining alongside the likes of John Disney and Priestley Farquharson, with Jamie Insall leading the line and looking to continue his goalscoring form after getting a brace against Caernarfon.

Cardiff Met were meanwhile looking for their first win in two, following draws with Airbus and Aberystwyth. Their coach, Christian Edwards, started the likes of Jordan Lam, Emlyn Lewis, and Chris Baker. The game began with Nomads on the front foot, winning set pieces including a deep throw in into the Met area, taken by Priestley Farquharson, and a corner kick inside the first seven minutes.

The first keeper to be tested was however Nomads' Lewis Brass, who dealt with a Jordan Lam effort from the edge of the area in the 14th.

After a corner from Nomads in the 16th minute helped keep the pressure on the Cardiff Met final third, Jamie Insall went within eight yards of the goal in the 18th, but his low effort was well saved by keeper Alex Lang to deny him a goal.

With 20 minutes played the game had somewhat settled, with the likes of Jamie Insall and Michael Bakare making good runs into the Met end but without finding the breakthrough they were looking for.

Cardiff Met then grew into the game and began to threaten, with Kyle McCarthy nearly scoring a goal from a corner ball in the 30th. His delivery swung close to the near post, but Lewis Brass was able to catch it with aid from the inside of the post to stop it going over the line.

The Students then won free kicks in the Nomads half in the 34th and 36th minutes, but neither led to a goalscoring opportunity thanks to Connah's Quay's well disciplined defensive shape.

As the half went on both sides were still actively looking for an opener, with Callum Roberts seeing a shot go wide from around 10 yards out.

Met then had a late chance to go 1-0 up in the 44th, when Chris Baker got into a good position from around seven yards out, but didn't get enough on his shot, allowing Brass to sweep and collect comfortably.

The second half started similarly to the first as Nomads again went on the attack. In the 47th, Declan Poole crossed to Priestley Farquharson, who sent a well taken header towards goal only for keeper Lang to collect it.

Whilst Nomads kept the pressure on upfront, George Horan's defensive line was continuing to soak up chances from Cardiff Met who were, like Nomads, seeking a goal at every opportunity.

As the hour mark approached, Andy Morrison rung his first change, replacing Michael Bakare with left sided midfielder Kris Owens in a substitution that proved vital at the last moment.

In the 66th, a free kick for Nomads from around 25 yards out was sent in by Owens, with the ball just evading the outstretched boot of Insall who tried to poke it into the net from close range.

A second substitution then saw Jay Owen replaced by Sameron Dool as the deadlock continued at Cyncoed Campus.

On 73 minutes, Jamie Insall sent a cross close to the goalmouth where Michael Wilde was waiting, but he was tackled by Bradley Wooldridge before he could get a shot away.

In the 78th Nomads went agonisingly close to scoring, when a Priestley Farquharson header caused problems in the Met area, allowing Declan Poole to have a close range half volley which was blocked on the goal line amid a packed six yard box.

On 81 minutes there was drama at the other end, when Emlyn Lewis got close to the Nomads goal and nearly scored from within six yards, but Lewis Brass stepped in to tip the bouncing ball over the crossbar.

In the 85th, there was another chance for Nomads which saw Farquharson just miss out on a low diving header aimed for the bottom right corner, but the opportunity went begging as he narrowly missed out on the ball.

As the game entered an additional four minutes of time it was looking set to be a 0-0 draw at full time, but this all changed in the third minute of injury time in bizarre circumstances.

Nomads won a free kick from around 25 yards out, which was initially taken by Sameron Dool. But set piece was blocked and went to Kris Owens, who whipped the ball into the area and near the six yard box, where Woolridge was unfortunate enough to rise up and see an attempted headed clearance go past Lang and into the back of the net.

The own goal gave Nomads a dramatic late winner, which sends them top of the JD Cymru Premier and keeps them unbeaten after 11 games in Wales' top flight.

They now move onto another away game at Aberystwyth, kicking off at 7:45pm on Friday 24th October.
---
Match report by Will Catterall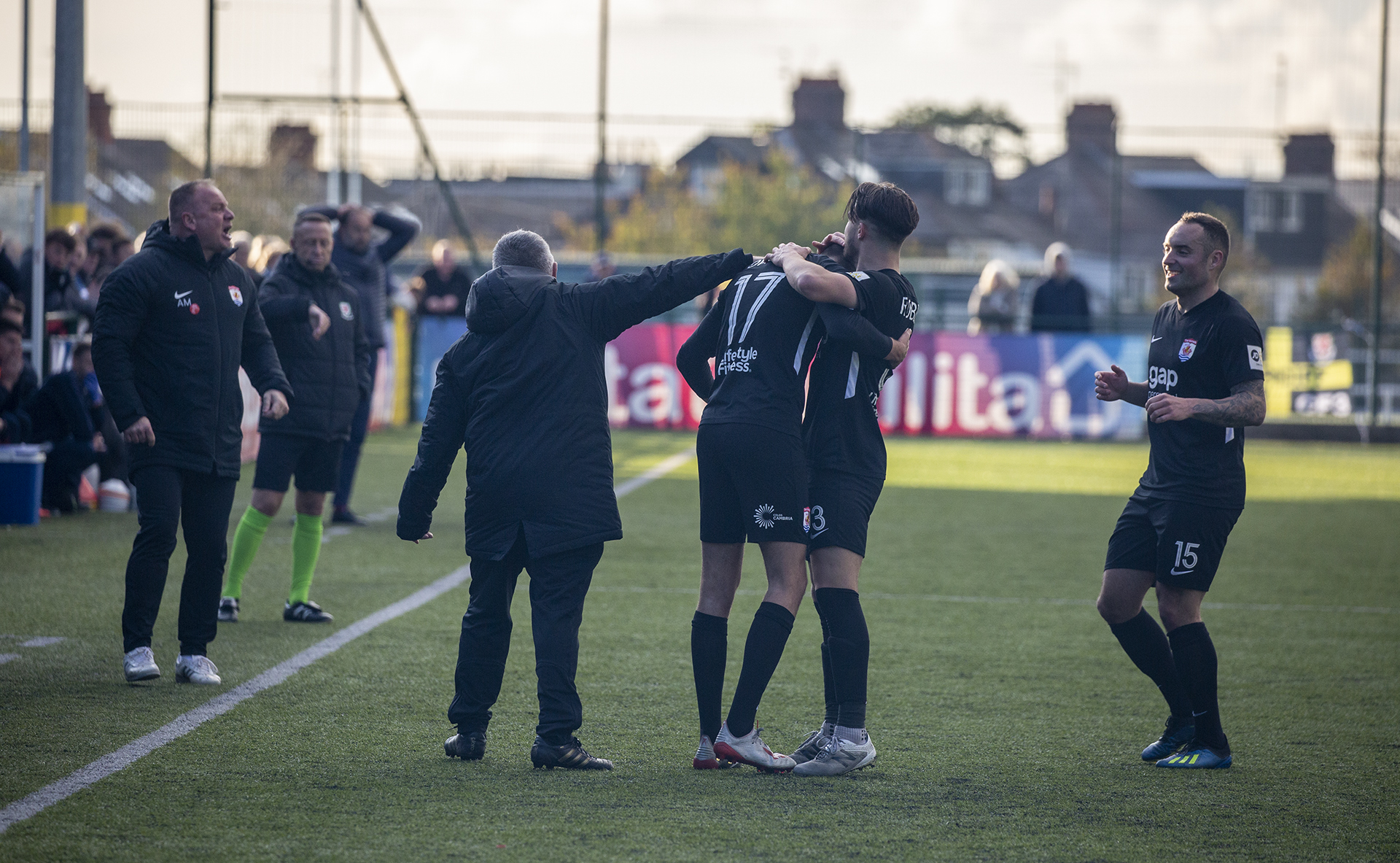 Kris Owens is congratulated as his cross is headed into the net for a late winner | © NCM Media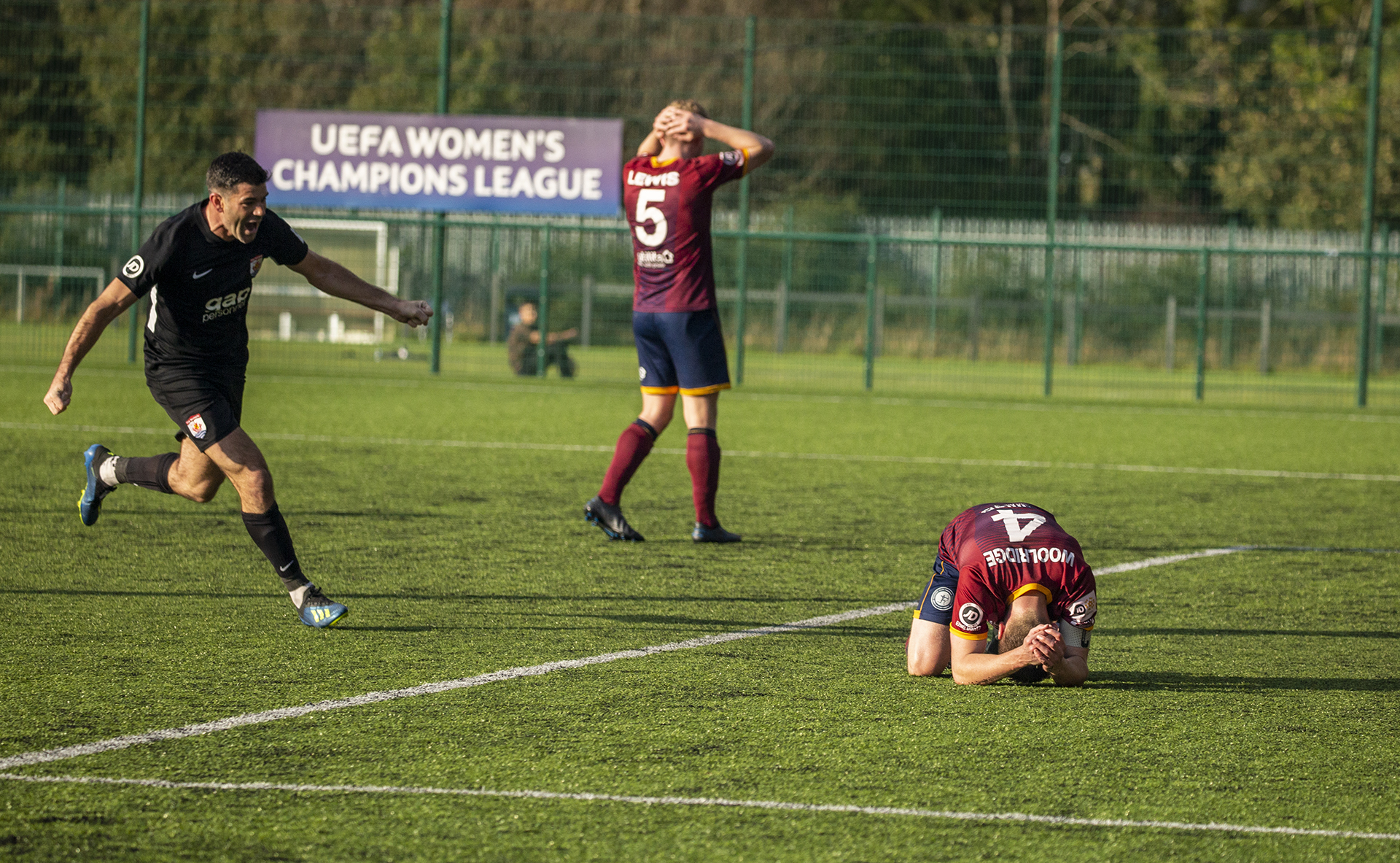 Michael Wilde celebrates as a dejected Bradley Woolridge lies on the floor having headed into his own net | © NCM Media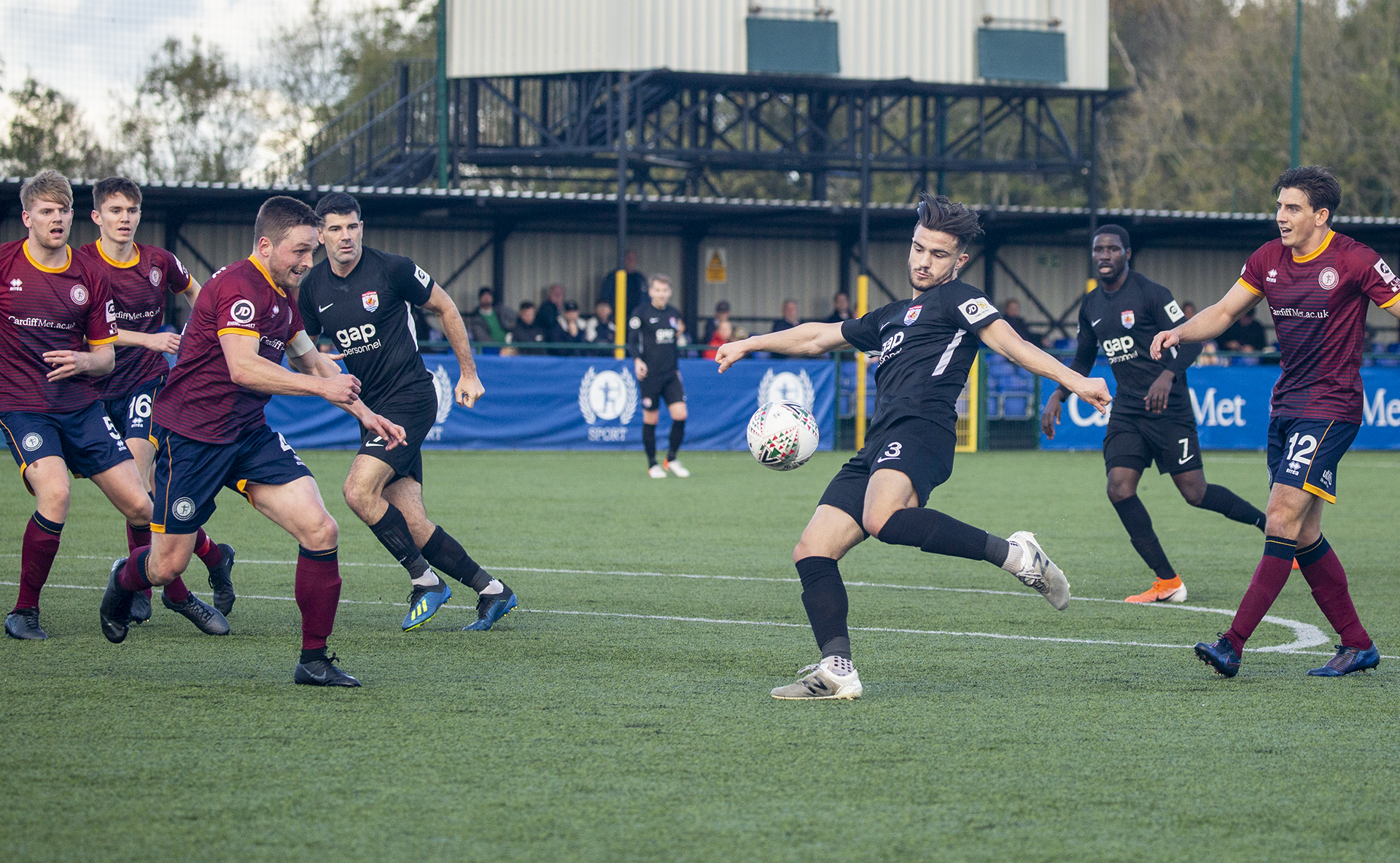 Callum Roberts shoots for goal in the first half | © NCM Media
Declan Poole goes on the offensive in the first half | © NCM Media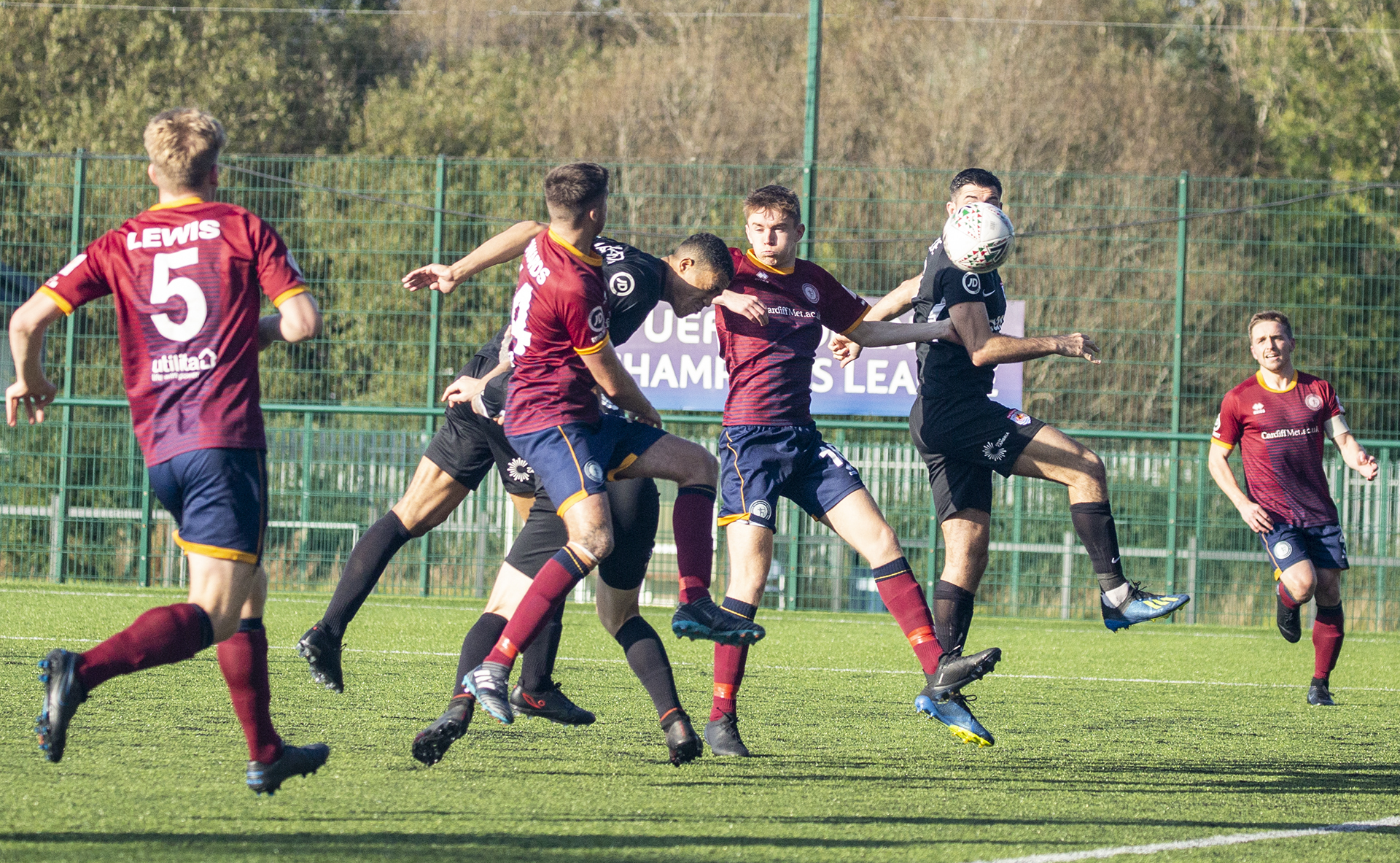 Priestly Farquharson heads for goal in the second half | © NCM Media