Connah's Quay Nomads drew 1-1 with Aberystwyth Town on Friday evening at Park Avenue in the JD Cymru Premier.

A Jamie Insall goal on 37 minutes sent them ahead, but a 90th minute spot kick from Matthew Jones ensured the score was level at full time.


Insall scored third in three games
End to end game played out at wet Park Avenue
Aberystwyth put pressure on in second half
A 90th minute Matthew James penalty sealed draw
The Nomads came into the game as league leaders following a dramatic injury time own goal away at Cardiff Met, whilst Aberystwyth were looking for their first win after three successive draws.

Andy Morrison made no changes to his starting lineup, with Jamie Insall leading the line alongside Michael Wilde with Declan Poole and Michael Bakare supporting them. Meanwhile, Aberystwyth's starting eleven included ex-Nomads Wes Baynes and Ryan Edwards.

The encounter kicked off at a fast pace, with a low driving cross from Priestley Farquharson being sent out for a corner - the resulting delivery saw a Jamie Insall header cleared off the Aberystwyth goal line in the 1st minute.

In the 5th, Aber hit back with their first chance, sending a dangerous cross into The Nomads' area which was collected by 'keeper Lewis Brass. On 11 minutes, he was again called into action, denying the Black and Greens the lead by tipping a header from a corner ball over his crossbar.

With 20 minutes played the game was goalless, despite lots of proactive play from both sides which had seen Declan Poole score but have the goal ruled out due to Michael Wilde being found offside.

The pouring rain did little to put off the teams' urgency for a goal, as an end to end feel to the game continued throughout the second half. After a Nomads corner came to nothing in the 27th, play from Paolo Mendes saw Lewis Brass pull off another good save in the 29th.

After a goal mouth scramble in the Aberystwyth end led to another corner ball for Nomads on 32 minutes, Jamie Insall used his attacking prowess to get through on goal in the 35th, but was stopped for offside before he could strike.

But two minutes later he made no mistake, converting from a tight angle after a low cross from Michael Bakare, who had beaten Wes Baynes to win the ball, sending Nomads 1-0 up with a strike low into the bottom right corner of the Aber net.

Aberystwyth continued to attack well, winning a corner during injury time of the first half, but Nomads held onto their lead to take it into the interval with them.

The Nomads started the second half brightly with Farquharson bursting into the Aber box within the first minute of the second half, but ultimately sending his cross over the bar.

As The Nomads continued to attack, Danny Holmes booked for a foul that halted an Aber counter attack and the Seasiders sent a powerful effort on goal in the 57th, with Brass once again on hand to deal with it.

Set pieces were being won all over the field by both sets of teams, with Aberystwyth looking to utilise corner kicks, forcing another great save from Brass in the 64th in their search for an equaliser.

After a sustained period of pressure from Aberystwyth, The Nomads tried to hit back with a corner ball after a Declan Poole effort was denied in the 69th, but the kick came to nothing. Insall then went for his brace going clear on goal in the 72nd, but was stopped by the offside flag.

As the latter stage of the game approached, both Nomads and Aberystwyth were digging deep to find the result they wanted.

Whilst Andy Morrison had brought on Callum Morris who returned from injury to replace Farquharson, Aberystwyth introduced two forwards in Alex Boss and Geoff Kellaway to boost their attacking options.

The chances were still coming thick and fast into the 85th minute, when Callum Roberts got past Baynes and crossed to Wilde, who couldn't send his header on target.

Aberystwyth's efforts to find a goal carried on into the 90th minute, when they finally equalised thanks to a Matthew Jones penalty kick.

The spot kick was awarded after referee Iwan Griffiths judged that Jay Owen had handled the ball in blocking an Aber shot. Matty Jones made no mistake in the final minute as he fired into the bottom right corner to equalise late on.

The draw saw Nomads stay at the top of the JD Cymru Premier for the evening, and leaves them unbeaten in the league after 12 games.

They now move onto a week of renewing rivalries, with a Nathaniel MG Cup quarter final derby versus Flint Town on Tuesday 29th October for a 7:45pm kick off, and a clash against The New Saints on Friday 1 November, also kicking off at 7:45pm with both games at Deeside.
---
Match report by Will Catterall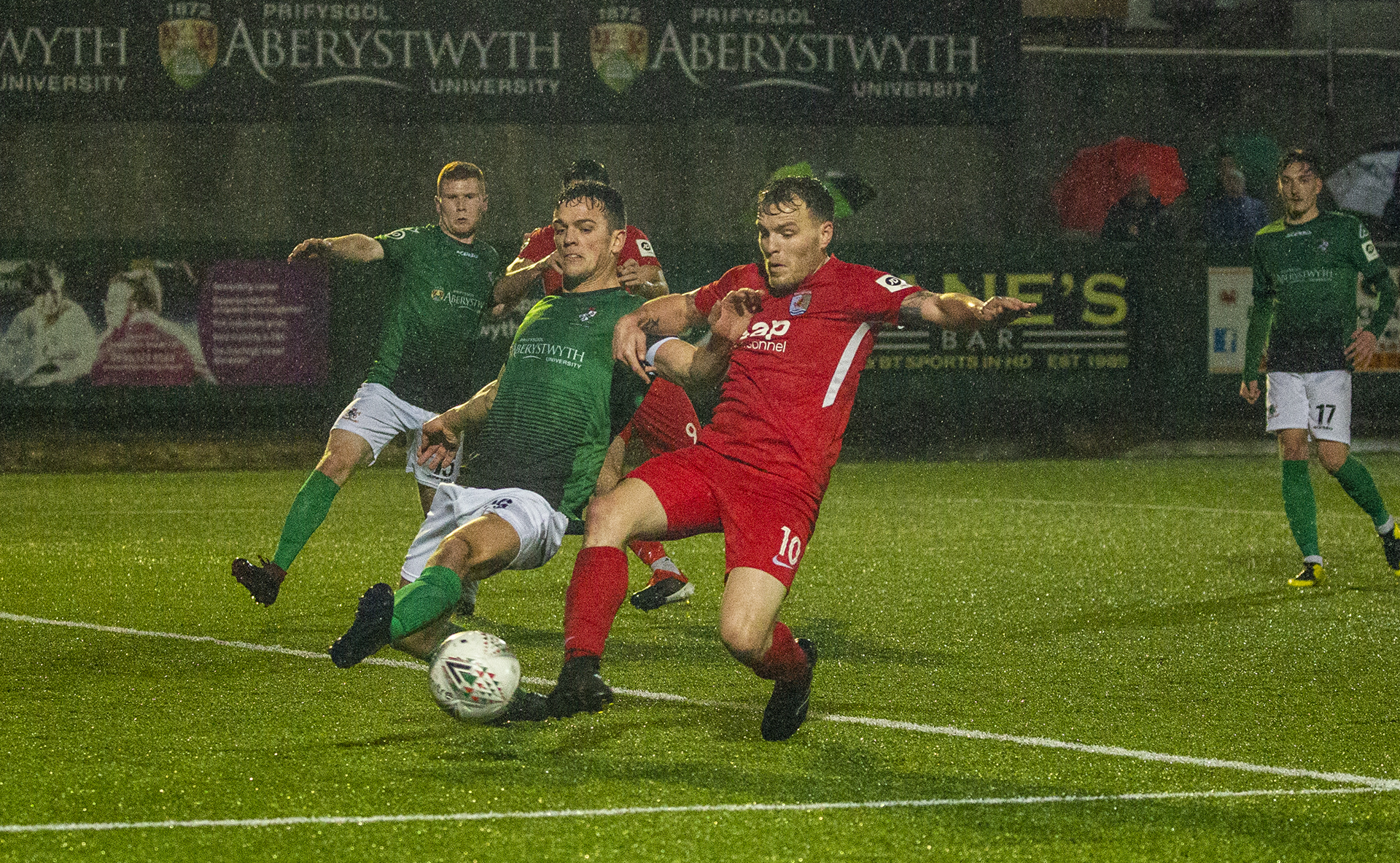 Jamie Insall gets in front of Stuart Jones to send The Nomads ahead | © NCM Media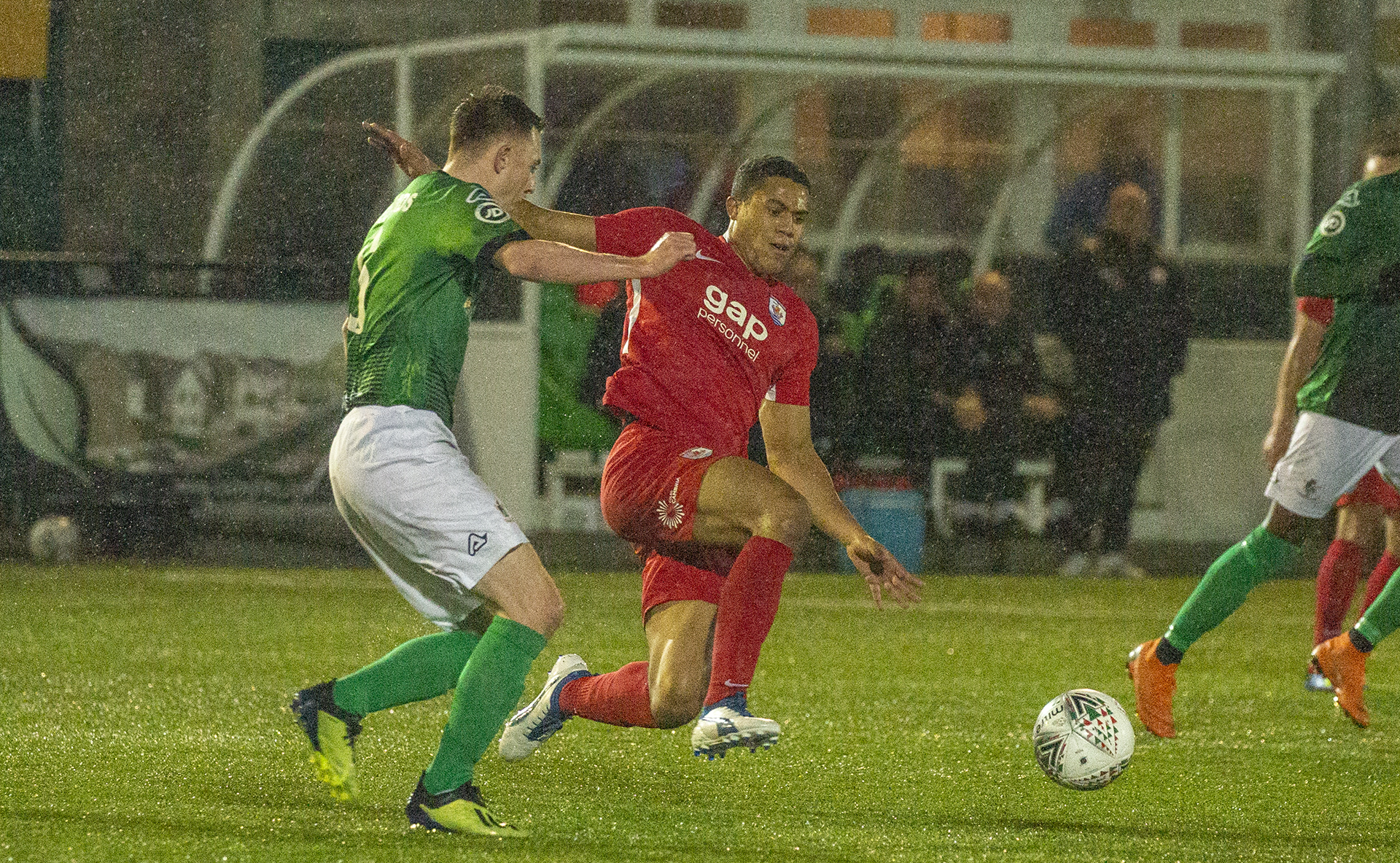 Priestley Farquharson battles for the ball with ex-Nomad Ryan Edwards | © NCM Media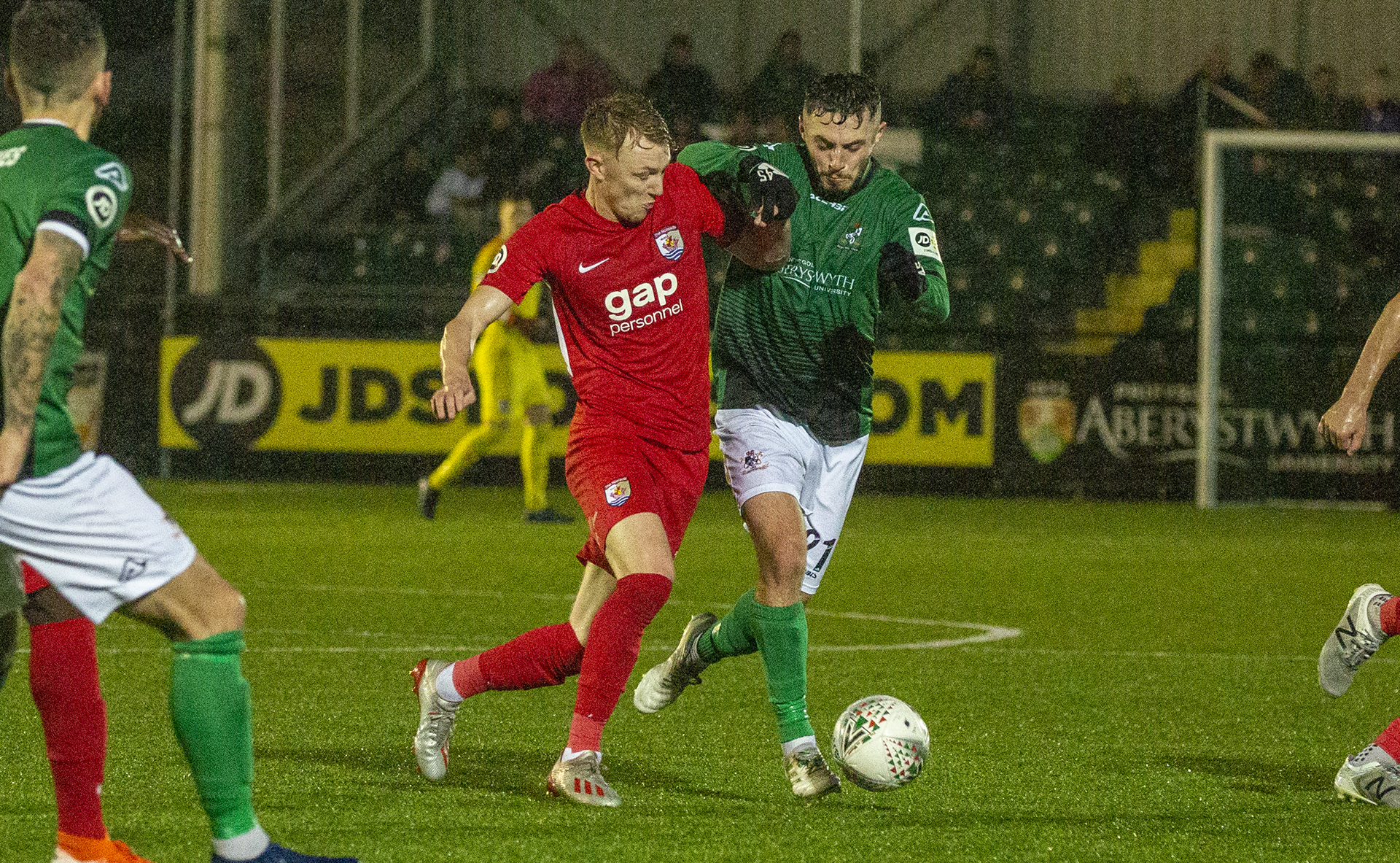 Declan Poole fights for possession in midfield | © NCM Media
Callum Roberts goes on the offensive | © NCM Media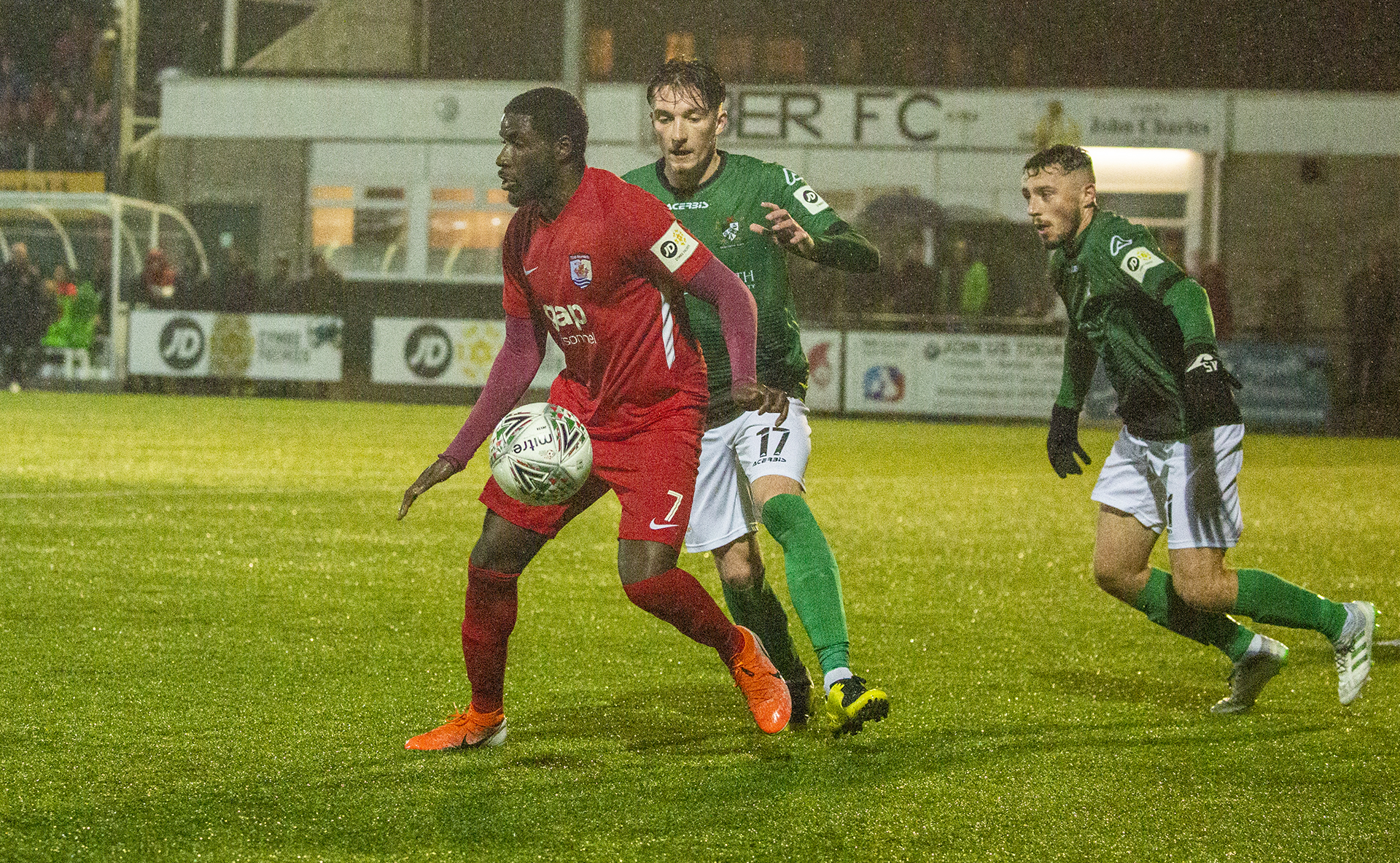 Michael Bakare shields the ball from the Aber defence | © NCM Media