Connah's Quay Nomads drew 1-1 with rivals The New Saints in the JD Cymru Premier on Friday evening, securing a new club record of 13 league games unbeaten.

Dean Ebbe broke the deadlock in 61st, but Michael Wilde equalised in the 81st minute to ensure the spoils were shared at Deeside.


Dean Ebbe sent TNS ahead after an hour
TNS awarded penalty but decision reversed
Michael Wilde struck late to ensure draw
Nomads make it a record 13 games unbeaten in the JD Cymru Premier
The game was billed as the JD Cymru Premier's headline match of the weekend, as Nomads and TNS both came into it as title contenders, having battled for the league last season with TNS coming out on top.

Nomads came into the live Sgorio fixture unbeaten and had the chance to go top of the league against TNS, who had won their past three fixtures after a loss to Caernarfon Town in early October.

Andy Morrison made changes to his side, with the likes of Nathan Woolfe and Danny Harrison starting whilst Jamie Insall and Michael Bakare started on the bench. Having made his club debut in Tuesday's Nathaniel MG Cup quarter final versus Flint, Sam Williams once again earned a place in the squad on the bench.

TNS started prolific goalscorer Greg Draper on the bench, but this little to weaken their line up with Aeron Edwards, Jamie Mullan, and Ryan Brobbel all starting.

The opening minutes became hot-headed quickly, as after a TNS corner in the 7th minute, a melee between the players saw TNS keeper Paul Harrison and Nomads defender Callum Roberts.

Two minutes later, captain George Horan was booked for a strong challenge as the game looked to be shaping up as a highly competitive one.

But the game soon settled, with Nomads doing well to block efforts on goal from TNS, seen in the 17th when Ryan Brobbel had a shot blocked from inside the final third.

With 20 minutes played, Callum Roberts was putting on a fierce defensive play to stop the likes of Mullan, who did manage to put the ball in the net on 23 minutes, but his header was ruled out for offside.

On 27 minutes, Mullan once again was looking to score with a shot from eight yards, but his effort was pushed away by Lewis Brass for a corner, which was then cleared by captain George Horan.

With half an hour played there was little separating the sides, and this continued through the remainder of the first half.

Whenever TNS did get a shot on goal, Lewis Brass had a reply, making a stop against a close range Dean Ebbe shot from seven yards out in the 32nd.

In the 42nd, Ebbe returned to threaten, breaking clear in front of goal only to be swept and dispossessed by Lewis Brass' feet in a good move from the Nomads' keeper to maintain the 0-0 scoreline for half time.

Andy Morrison made two changes at half time, bringing on Jamie Insall and Michael Bakare in place of Danny Harrison and Priestley Farquharson to add more firepower upfront.

TNS again went looking for a goal, but found no major chances thanks to the defending of the likes of Disney and Roberts who were kept busy by continually challenging Jamie Mullan who came out in the second half just as eager to find a goal as in the first.

And their goal eventually came, when Brobbel cut in and ran across the Nomads' byline to pass to Ebbe, who converted close to the goal line making it 0-1 to Scott Ruscoe's side.

Nomads third and final substitution saw Sameron Dool replace Callum Roberts, who had earned a yellow card for his bullish and impressive defensive display.

They then looked to reply to TNS' opener, pushing into their area via a Woolfe cross in the 64th, but this was cleared away Nembhard.

In the 67th, Nomads won a corner thanks to a Bakare ball, and the set piece saw a close chance as George Horan headed it just wide.

Nomads efforts' for an equaliser went on, with Declan Poole cutting in from the right wing to have a 12 yard shot saved in the 71st, and Insall being beaten to the ball by Harrison as he chased it in the TNS area on 74 minutes.

In the 78th, TNS were awarded a penalty - or so it appeared, after the ball struck Danny Holmes on the arm. But after initially awarding the spot kick, referee Mark Petch consulted with his linesman and instead restarted play with a Nomads kick - denying prolific goalscorer Greg Draper the chance to make it 0-2.

Then, in the 81st, Nomads equalised thanks to a Michael Wilde strike. Jamie Insall had the ball in the area, and had his shot saved by Harrison - but the ball fell to Wilde who shot from seven yards out into the bottom right corner.

In the 85th, there was more drama as TNS won a corner which fell close to the Nomads goal line, but was instinctively kicked away by Lewis Brass in a vital clearance to prevent TNS taking a late lead.

The final few moments saw some cagey play as both sides sought a winner but without comprising their defensive shapes. After three minutes of injury time, full time confirmed a dramatic draw at Deeside.

The game saw Nomads break their club record of consecutive unbeaten league games, and sends them top of the JD Cymru Premier on goal difference. They now move onto a clash with fellow title contenders Barry Town at Jenner Park next Saturday 9 November for a 2:30pm kick off.
---
Match report by Will Catterall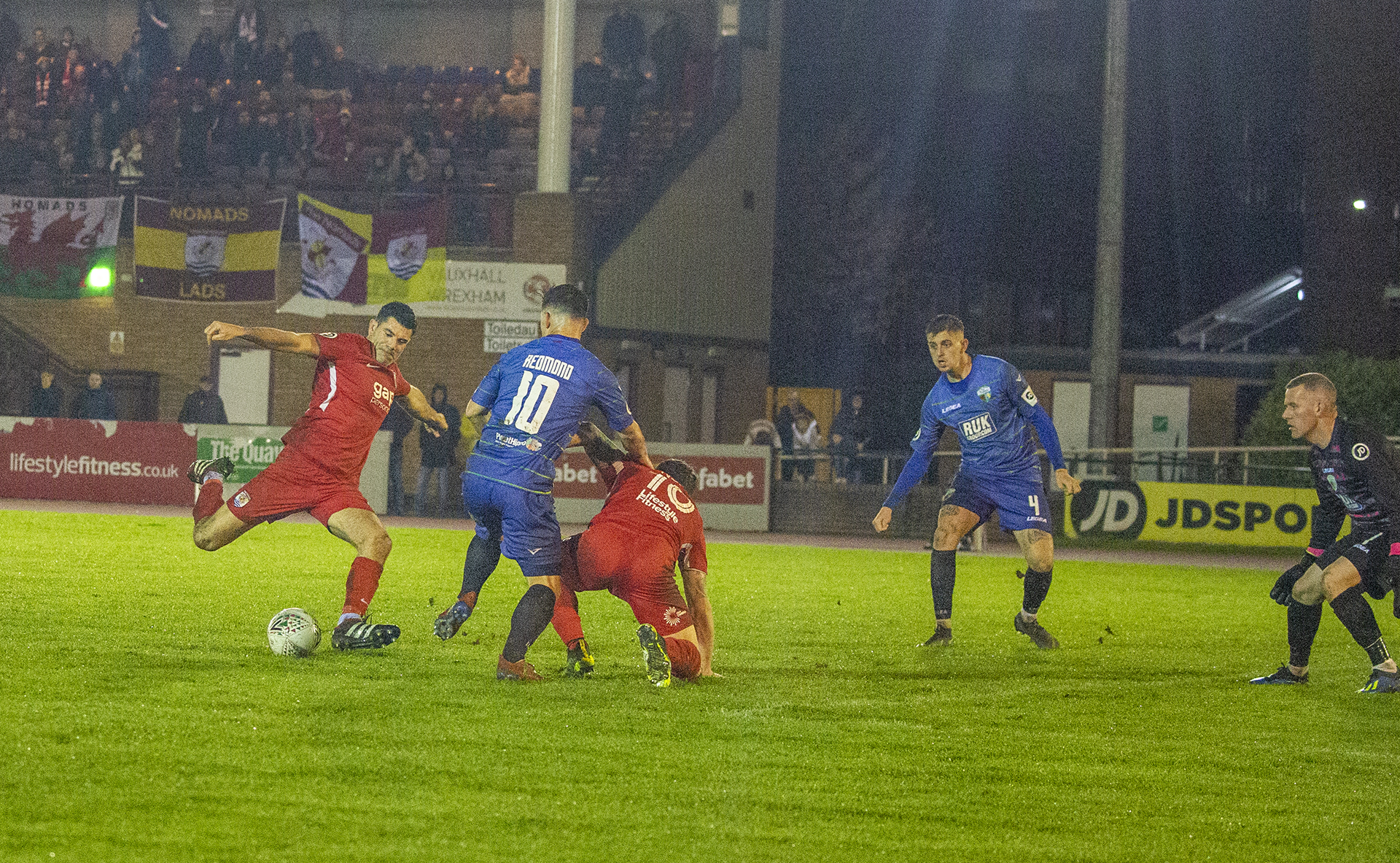 Michael Wilde equalises for The Nomads | © NCM Media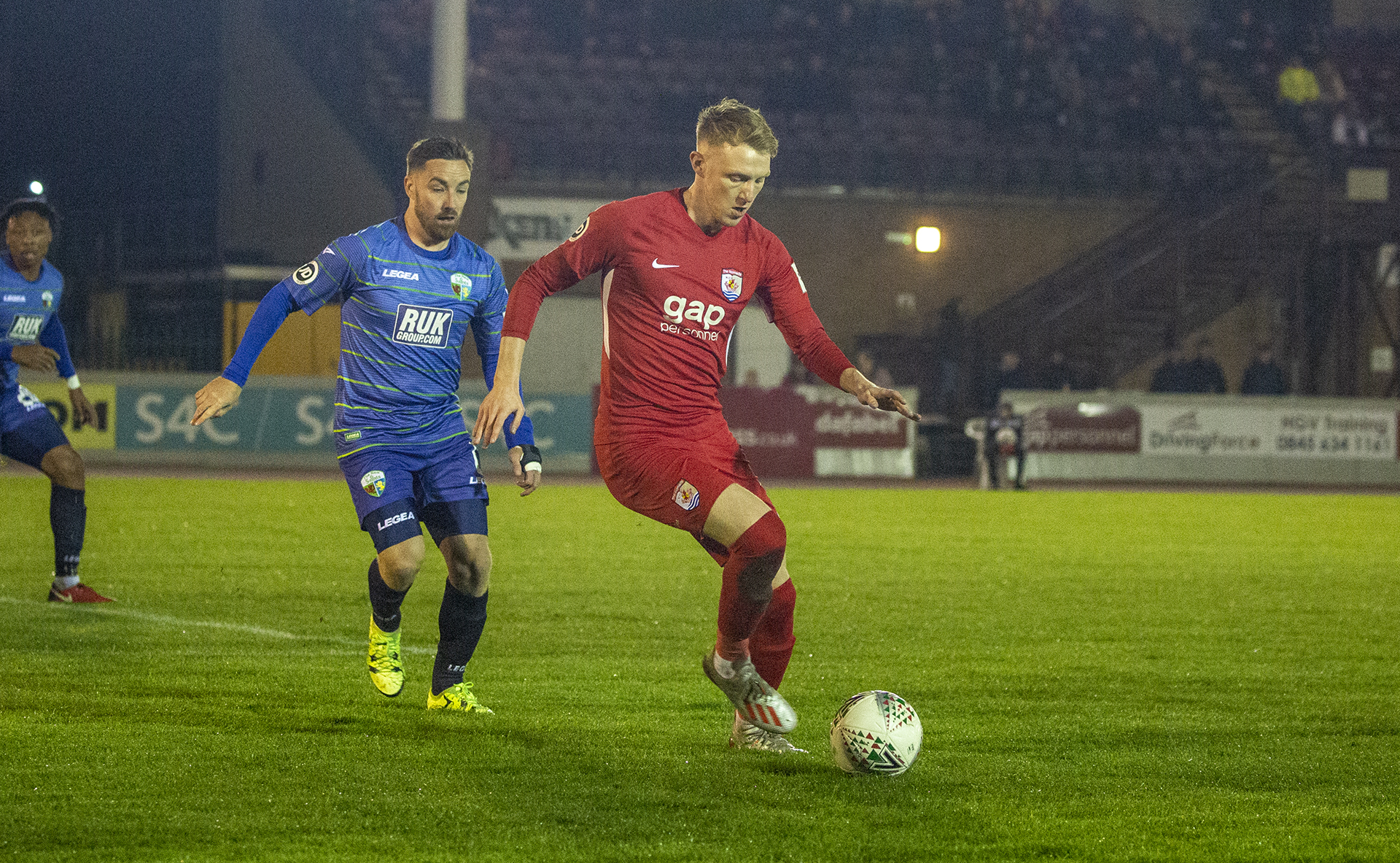 Declan Poole looks to escape the attentions of Jon Routledge | © NCM Media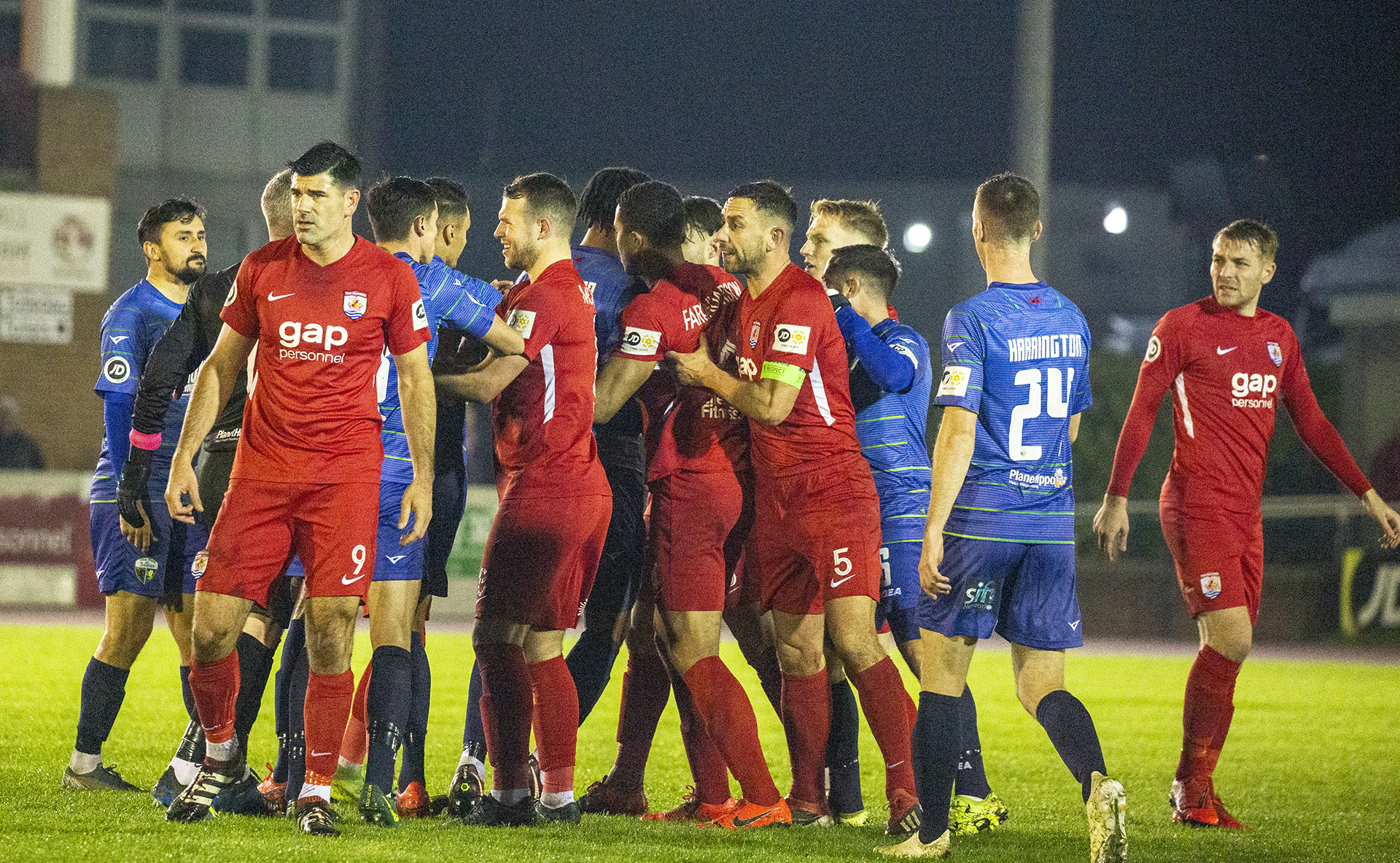 Tempers flared early in the first half | © NCM Media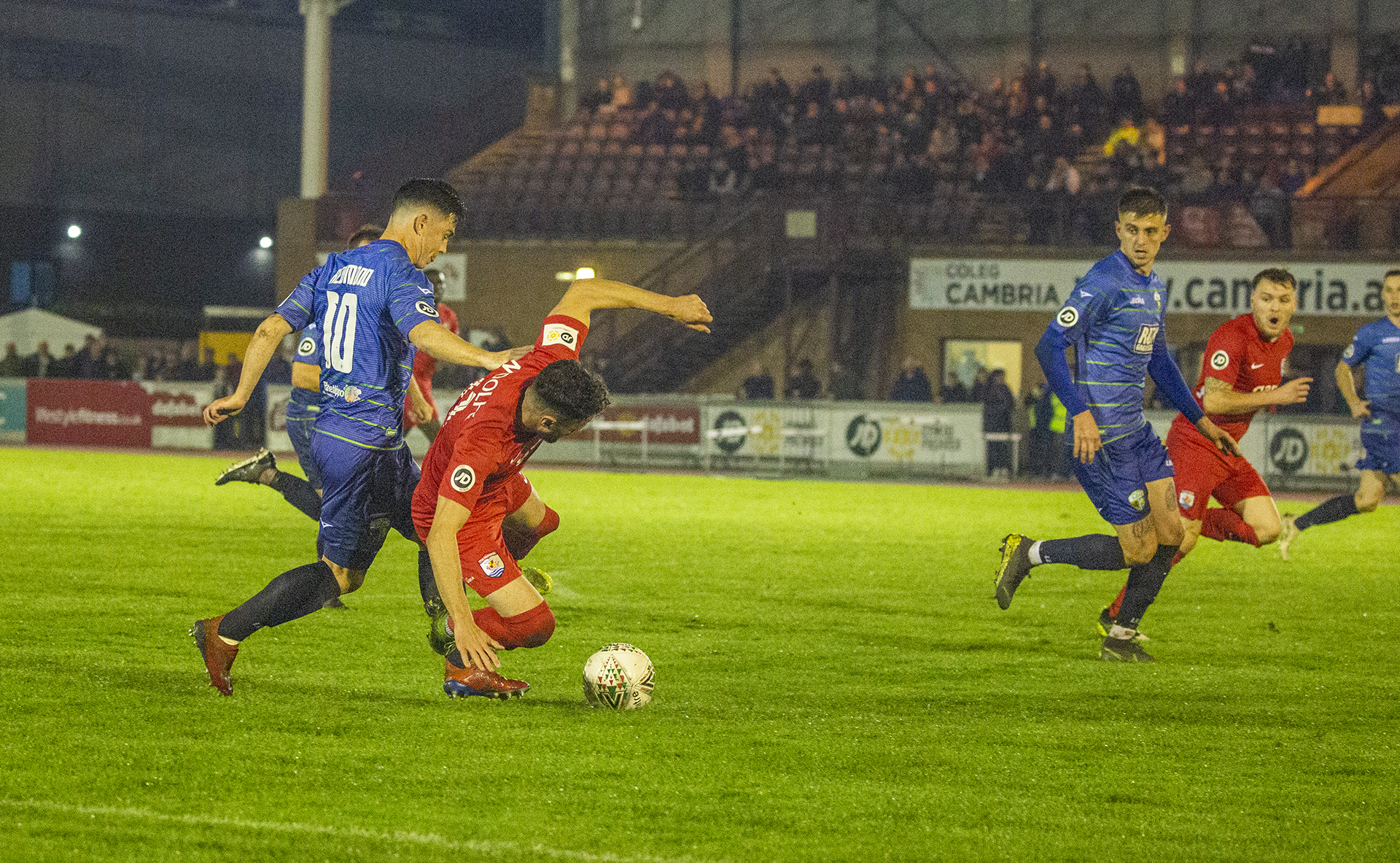 Nathan Woolfe was denied a penalty when he was felled by Danny Redmond inside the TNS box | © NCM Media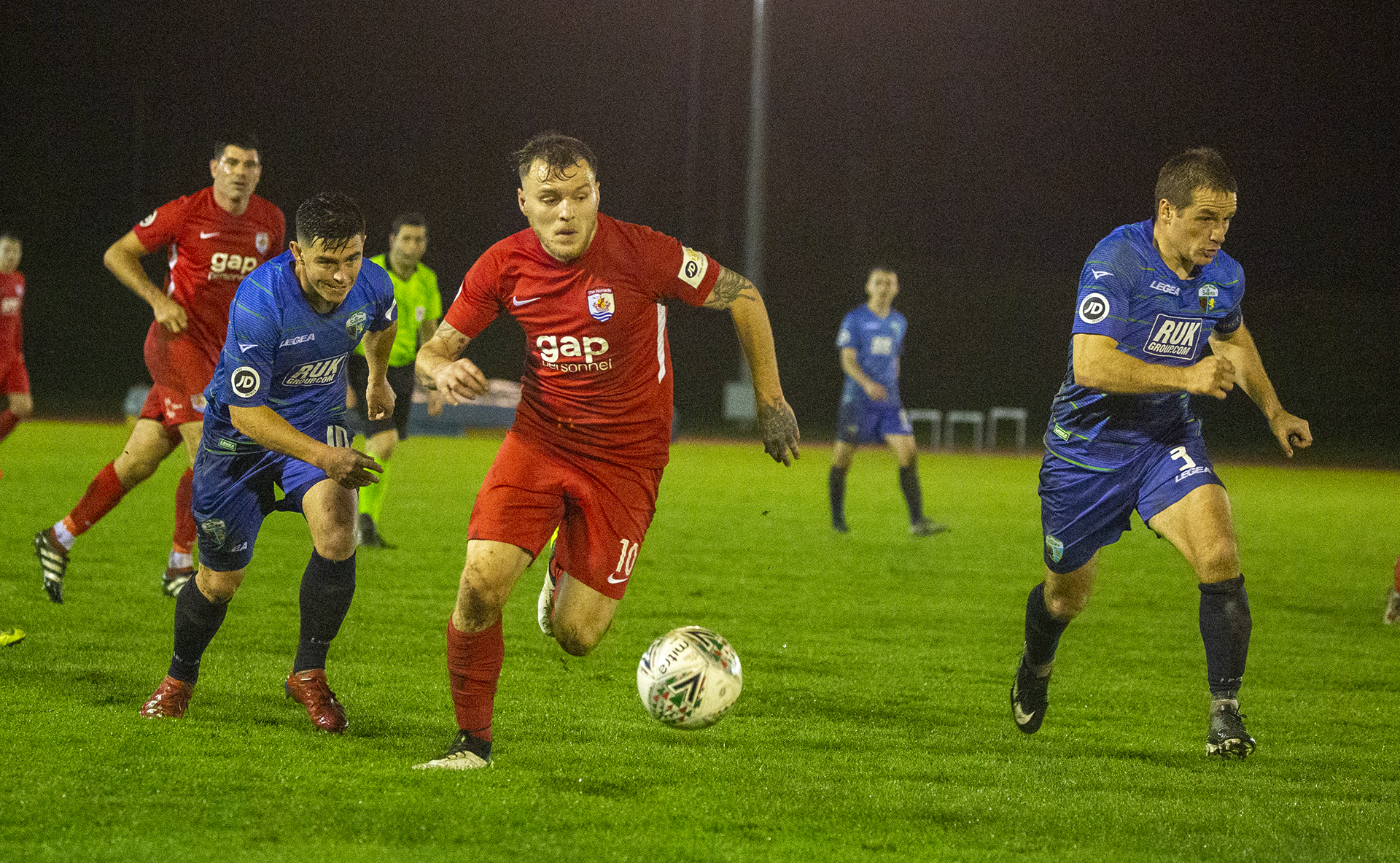 Jamie Insall was introduced to great effect in the second half | © NCM Media