Connah's Quay Nomads defeated Newtown by three goals to one on Friday evening at Deeside in the JD Cymru Premier.

Newtown took the lead with a 24th minute goal, but strikes from Michael Wilde, Jamie Insall, and Michael Bakare sealed a Nomads' victory.

• Sean McCallister strike sent Newtown ahead
• Nomads came back with goals from Wilde and Insall to lead 2-1 at half time
• League leaders Connah's Quay nullified Newtown throughout second half
• An 85th minute strike from Bakare secured another JD Cymru Premier win

Nomads came into the game in high spirits following a 4-0 win over Barry Town United at Jenner Park in a first versus second place battle that had kept them top of the JD Cymru Premier.

Newtown travelled to Deeside sitting in 7th place, and were looking for three points to break into the top six after a 3-1 home win over Caernarfon Town in the previous week.

Andy Morrison made only one change to the line up, as Callum Roberts returned from suspension to replace the ill Priestley Farquharson. Jamie Insall and Michael Wilde both started having netted braces against Barry.

Newtown boss Chris Hughes meanwhile started ex-Nomad Nick Rushton along with the likes of Joe Kenton and Kieran Mills-Evans.

The game was played in wet conditions at Deeside, with the first chance going to the hosts in the 6th minute, when Jamie Insall broke through on goal and shot from 10 yards out, but was blocked by the left foot of keeper David Jones.

Nomads were looking to create chances early on, with Michael Bakare making runs down the wing and Sameron Dool taking a corner kick which was sent wide by a Callum Roberts shot in the 10th.

The Robins' similarly sought a goal, winning a corner in the 13th minute which was swung close to the goal by Jack Kelly but caught well by keeper Lewis Brass.

On 17 minutes, ex-Bala man Ian Sheridan had Newtown's best chance of the game so far, sending a 10 yard effort just past the left post.

But on 24 minutes, they did find a goal through Sean McCallister, who sent a 20 yard strike low into the goal despite Nomads having the ball in the Newtown end moments earlier.

Andy Morrison's side found themselves 0-1 down, but reacted perfectly by equalising just five minutes later through Michael Wilde. A good move down the left wing saw Callum Roberts send a cross in which went towards goal, where Wilde was laying in wait to head home.

Connah's Quay continued to attack the Newtown end, with the skilful Sameron Dool firing a powerful shot towards goal in the 31st, only for Jones to save it from 18 yards out.

Dool was again an important man for the Nomads in the final third, as his corner kick helped produce their second goal in the 35th. His delivery was headed in the six yard box by Wilde, with Insall then rising up to make sure it went high into the top right corner.

Having come back from 0-1 down to lead 2-1 in the space of just over 10 minutes, the Nomads had taken a hold of the game and maintained their control of it until the interval.

The second half saw Nomads' work well to frustrate a Newtown side determined to find a way back into the game, with the likes of Bakare and Poole proving dangerous on their respective wings.

Just before the hour mark, there was drama as Nomads nearly scored via a Callum Roberts lob. He found the keeper off his line and went for goal from 25 yards out, but it hit the post before Wilde followed up with a close range effort saved by Jones, who recovered to deny Nomads a third.

Andy Morrison then made his first change of the evening, introducing Jay Owen in place of Declan Poole to consolidate Nomads' strength in the midfield.

With 20 minutes to play, the hosts' much sought-after third goal was still evading them despite their disciplined play regularly sending them into Newtown's final third.

In the 75th, Jay Owen found Insall clear in goal upfront with a ball to beat the offside trap, but he was beaten to it by Jones who rushed off his line to clear it.

With 10 minutes to play Nomads showed no sign of settling with the 2-1 scoreline, as Insall went close to a brace in the 82nd. From the edge of the area he tried to chip the keeper, but the effort went just wide.

But in the 85th, the third goal finally came courtesy of Michael Bakare, who found himself alone on the left wing and surged into the area before sending the ball around Jones from around 15 yards out.

Nomads moved to make two more substitutions, replacing Wilde and Dool with John Disney and Conor Harwood, who won Nomads a free kick in the 89th near Newtown's left corner flag.

Michael Bakare took the kick and sent it close to the goal mouth, but the Robins did enough to keep it out.

Full time saw Nomads remain top of the JD Cymru Premier and extend their strong run of form to 15 league games without a loss.

They now turn their attentions to cup action, hosting Bala Town in the Nathaniel MG Cup semi final at Deeside next Saturday 23rd November for a 2:30pm kick off.
---
Match report by Will Catterall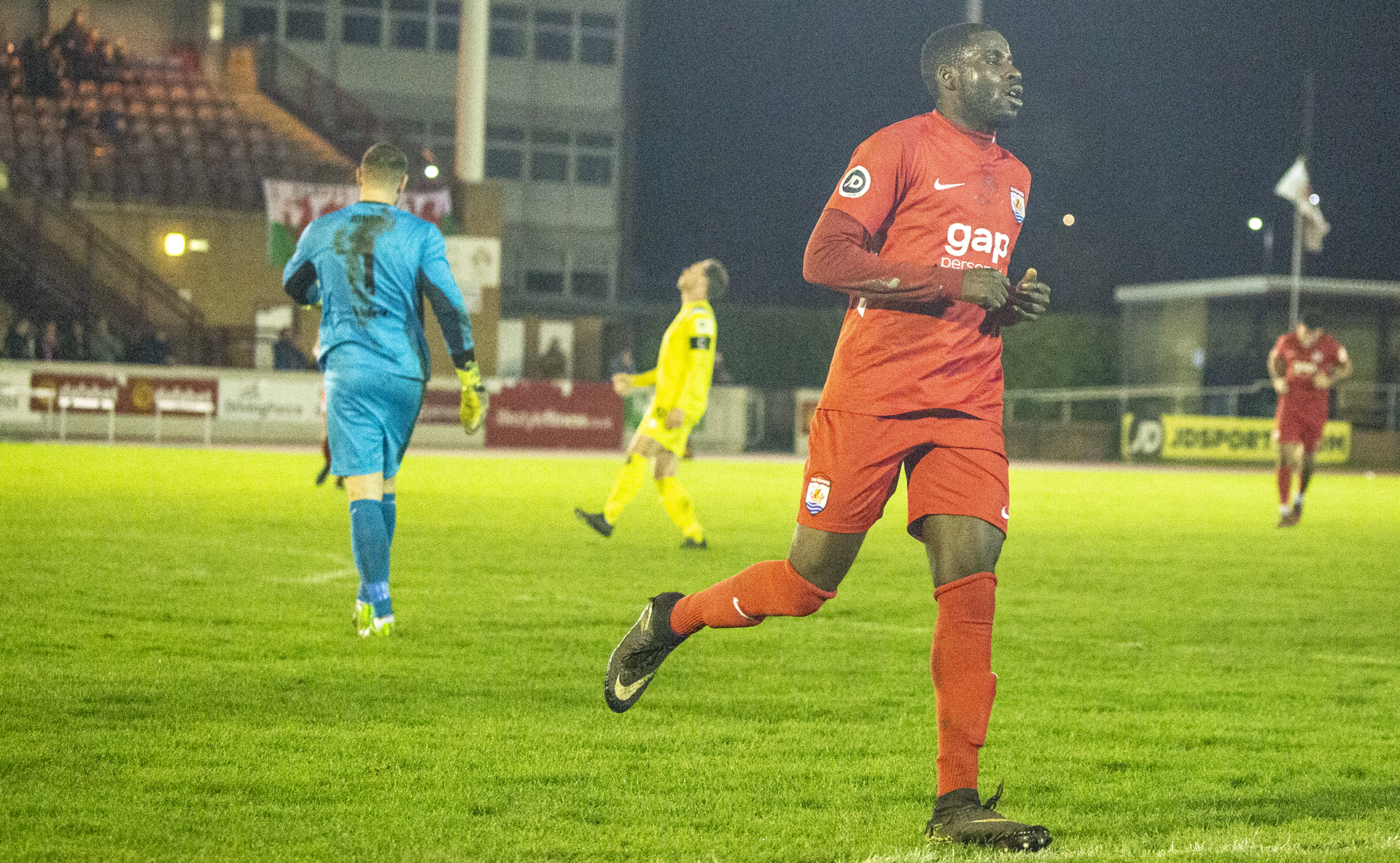 Michael Bakare celebrates The Nomads' third goal of the night | © NCM Media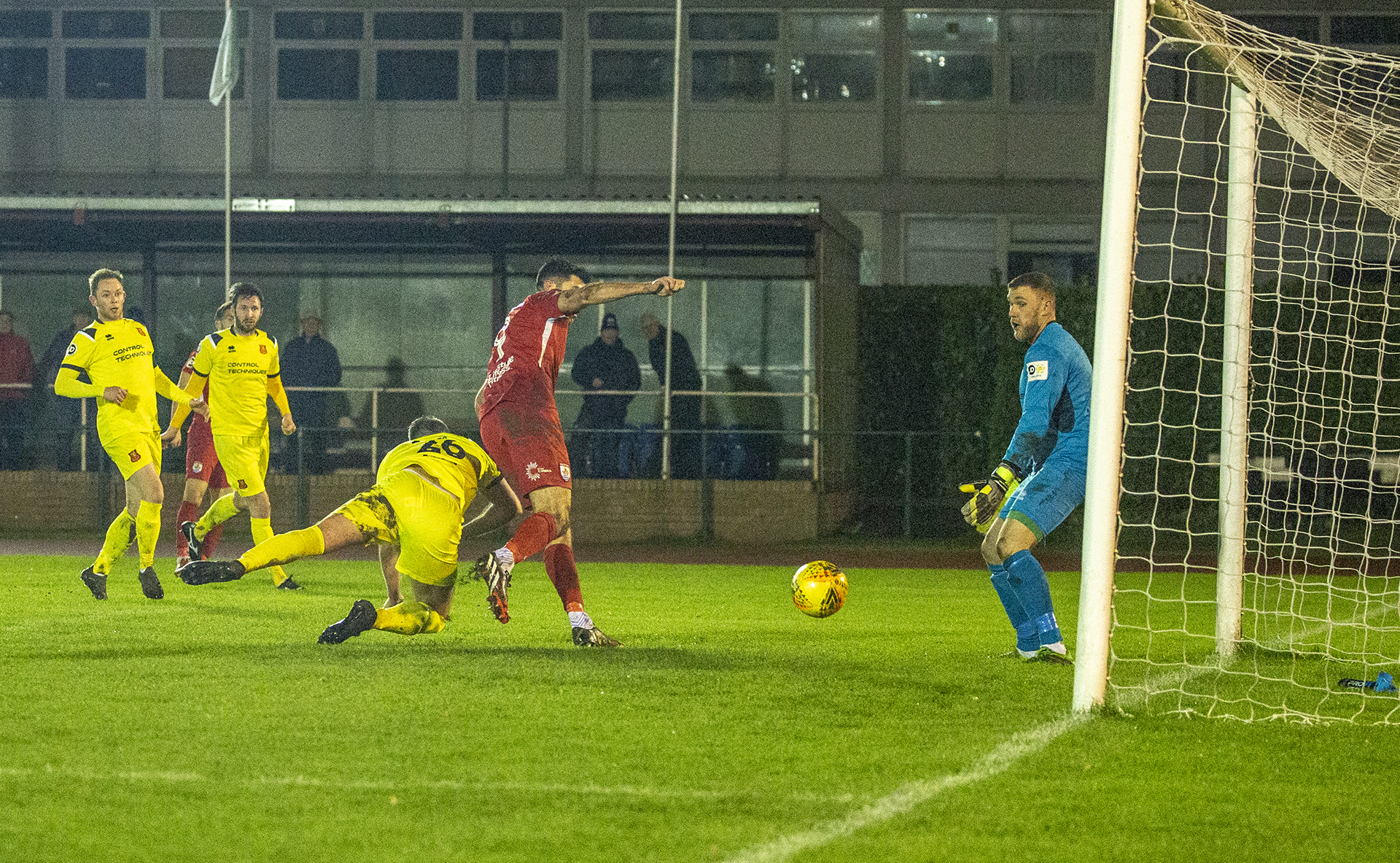 Michael Wilde turns the ball in at the near post | © NCM Media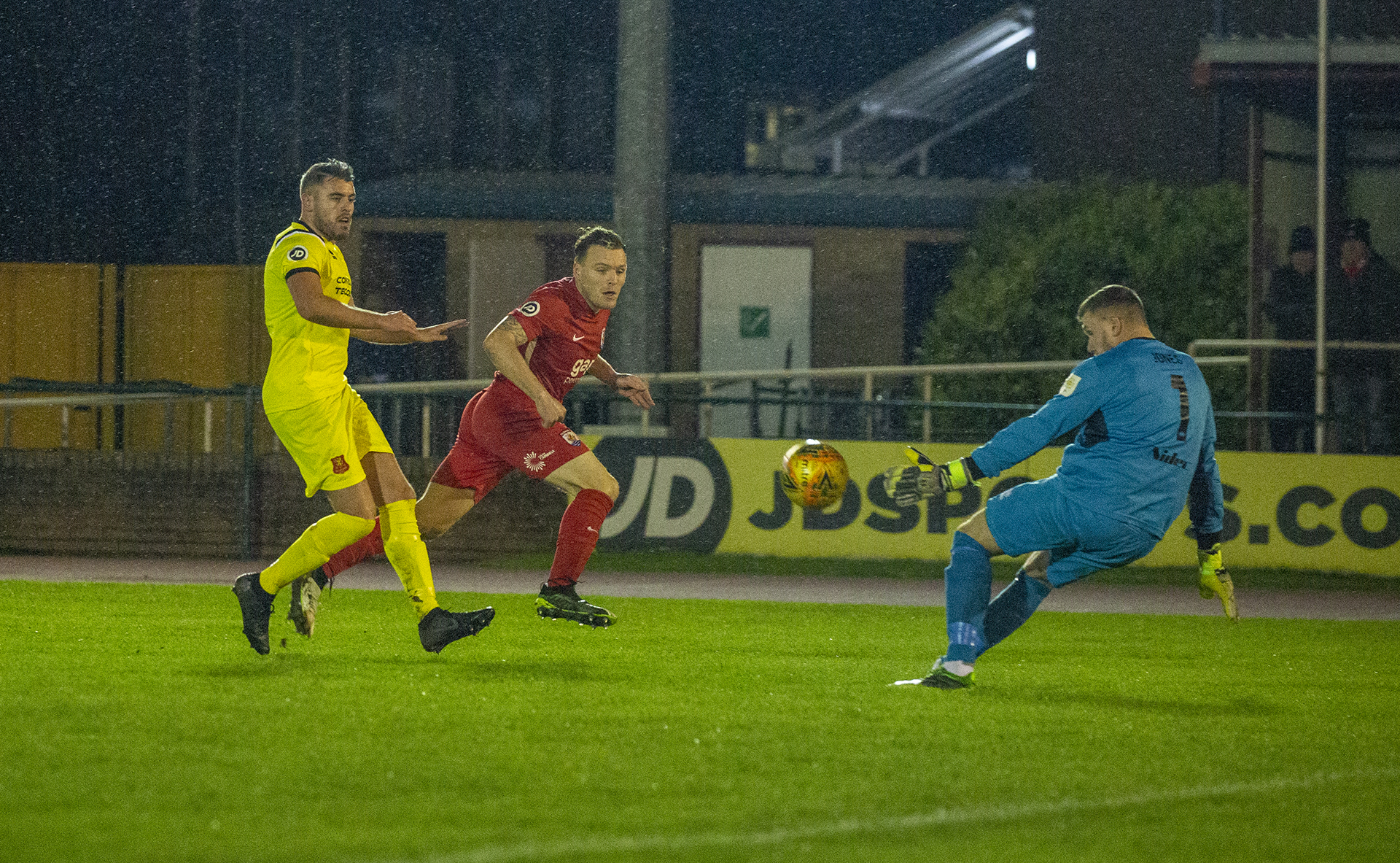 Jamie Insall was denied early on by Dave Jones but later got on the scoresheet | © NCM Media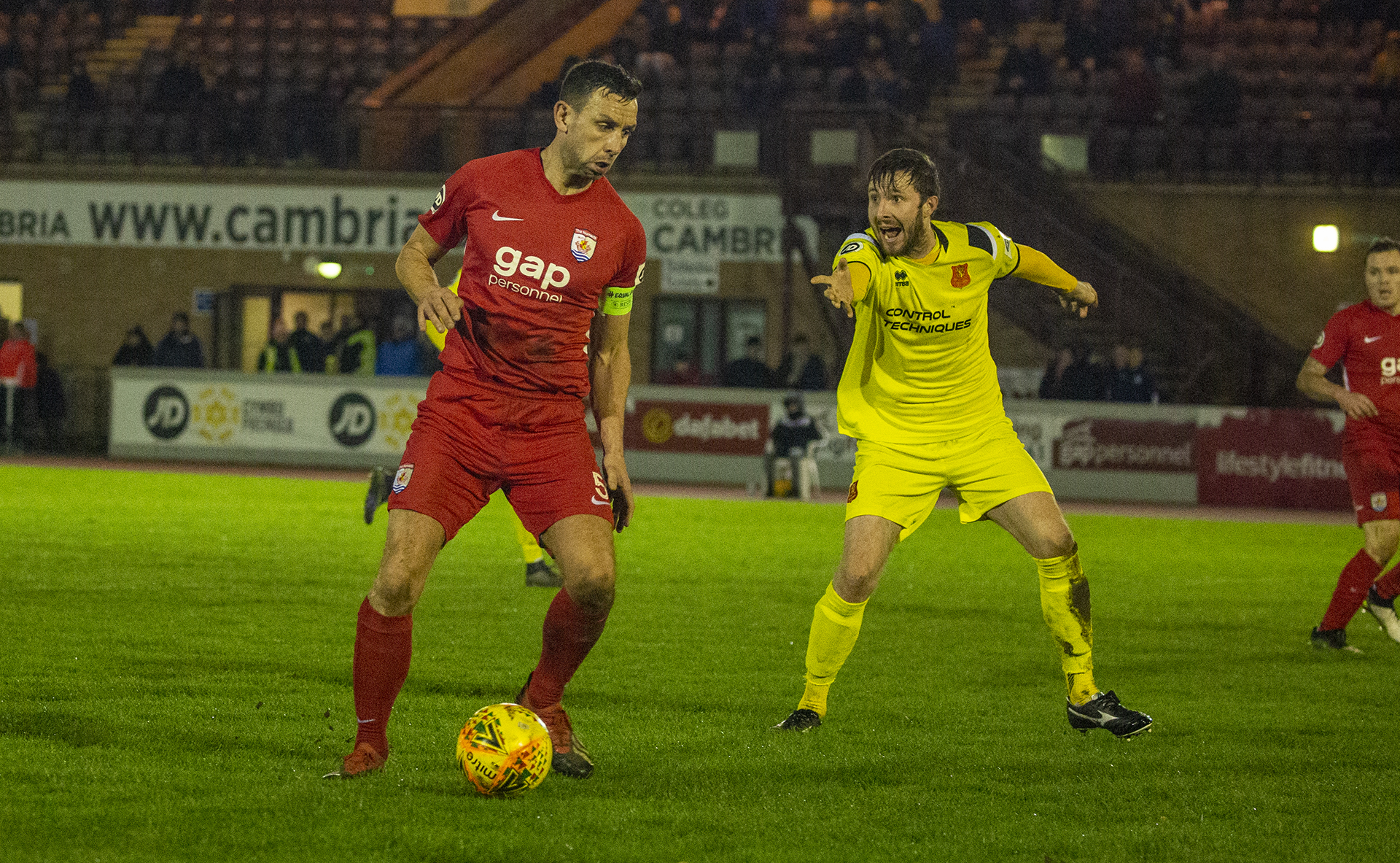 George Horan goes on the offensive for The Nomads | © NCM Media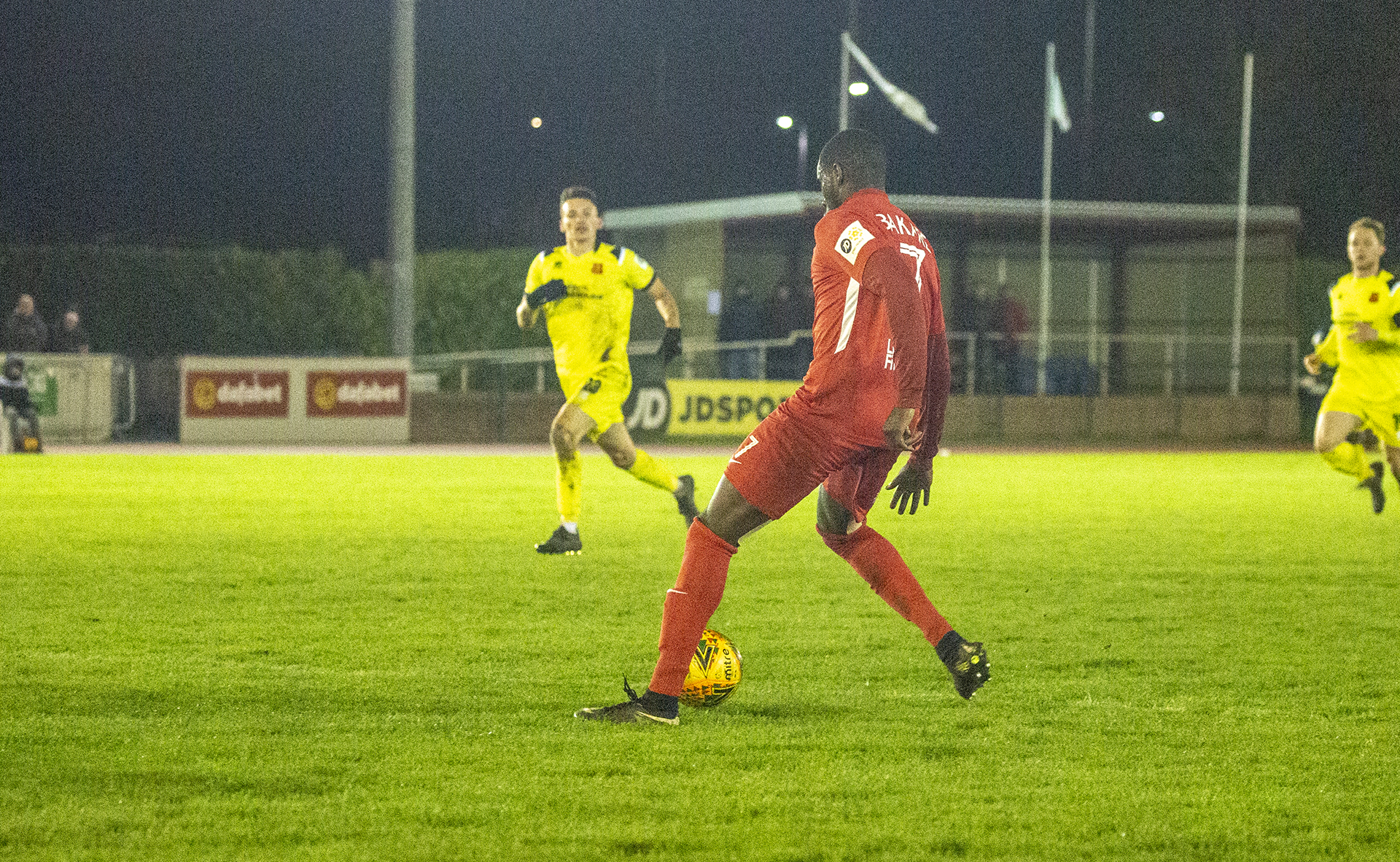 Michael Bakare coolly slots home late in the second half | © NCM Media