Connah's Quay Nomads lost by two goals to one at The New Saints on Saturday evening in the JD Cymru Premier.

A Michael Wilde goal sent them ahead, but an own goal and second half strike from Simon Spender gave TNS victory in the 1st versus 2nd clash.

• Strong start for Nomads saw Wilde take lead
• A Callum Morris own goal gave TNS equaliser
• Simon Spender sent TNS 2-1 up with close range strike
• Late chance goes begging for Nomads to confirm only second loss of the season

There was much at stake in what was the final game of phase one before the JD Cymru Premier split, as Nomads travelled to Park in second place with just a point between themselves and league leaders TNS.

They were also looking to defend a formidable record in the first half of the season before the split, as they had lost only one game in all domestic competitions, and conceded just 15 goals from 21 games.

A spate of injuries saw Andy Morrison make five changes to his side, seeing the likes of Callum Roberts and John Disney come into the defence, and Sameron Dool replace Bakare in the attacking midfield.

TNS boss Scott Ruscoe named a line up full of key players, as the likes of Jamie Mullan, Aeron Edwards, and golden boot holder Greg Draper all started.

The Nomads started the game on the front foot, forcing a corner within a minute which was taken by Callum Roberts and sent into the net after a goalmouth scramble, but the would-be goal was ruled out for a foul on keeper Paul Harrison.

Connah's Quay then forced a free kick on the edge of the TNS area, which hit the wall via Roberts with a follow up effort from Disney going wide of the right post.

TNS' first chance of the evening came in the 10th, when Draper shot at goal with the ball bouncing towards him from 12 yards out. He was however denied by a good save from Lewis Brass, who dived near his bottom right post to push it away.

On 14 minutes, Nomads' positive start paid dividends, as Callum Roberts made a run down the left wing and sent the perfect cross to Wilde, who headed into the top right corner at close range to make it 0-1.

Boosted by the opener, the travelling Connah's Quay side continued to make their presence felt in the TNS end through good runs and crosses from the likes of Poole and again Roberts, who was proving highly effective for the Nomads' attacks.

But on 26 minutes, the game was brought level from an own goal by Callum Morris, who unfortunately met a low Jamie Mullan cross inside the six yard box to inadvertently send the ball into the net.

With the game level at 1-1 and half an hour played, both sides sought to tighten up, leading to few chances but many solid clearances at both ends.

In the 37th, a Roberts cross glanced across the TNS goal mouth, with no one available to get a touch on the ball at close range in a good chance for Nomads.

After successfully defending a corner in the 40th, Andy Morrison's side went in at half time knowing they were very much in the thick of the top of the table clash.

The restart was a tight one, as both TNS and Nomads looked to take control of the possession before opening up to try and take the lead. In the 53rd, a TNS move saw them get close to goal, but Callum Morris made a vital interception to clear.

Nomads were again forced to defend in the 58th, when a threatening cross from the Saints' Daniel Redmond was well headed away by John Disney.

After the hour mark, Andy Morrison made his first change, swapping Sameron Dool for Ryan Wignall to bolster the Nomads' attacking options.

But just as Nomads went to push for a second, they were dealt a blow from a TNS counter attack, which led to Simon Spender striking from close range to make it 2-1 in the 69th minute.

Nomads then quickly moved to bring on Michael Bakare and George Horan in place of Jamie Insall and George Horan respectively, as they battled for the possession to find an equaliser.

As the game entered its final 10 minutes, TNS tried to restrict Nomads' movement in their final third, but some determined play meant much of the action was played in the Saints' end.

On 85 minutes, a Declan Poole free kick was met close to the goal by Farquharson, but he couldn't connect with it properly, allowing Paul Harrison to collect it.

Two minutes later, a long throw in from Danny Holmes was met by Michael Bakare who again didn't get enough on the ball to pull off a late equaliser.

The Nomads' urgent search for a second goal continued late into injury time, with the fourth official indicating a minimum of five minutes at the end of the game.

With the likes of Horan, Farquharson, and Bakare all muscling into the TNS end, Nomads were targeting the goal at every opportunity including set pieces via Holmes' long throw ins.

They went closest in the 93rd minute, when a Nomads attack saw the ball bounce to Roberts who found himself clear in front of the goal from around seven yards out, but his shot went over in an agonisingly close chance for a dramatic equaliser.

Full time confirmed a TNS victory, and Nomads' second only loss in the domestic season so far. They now turn their attentions to cup action, facing Afan Lido in the fourth round of the JD Welsh Cup at Deeside on Saturday 25th January for a 2:30pm kick off.
---
Match report by Will Catterall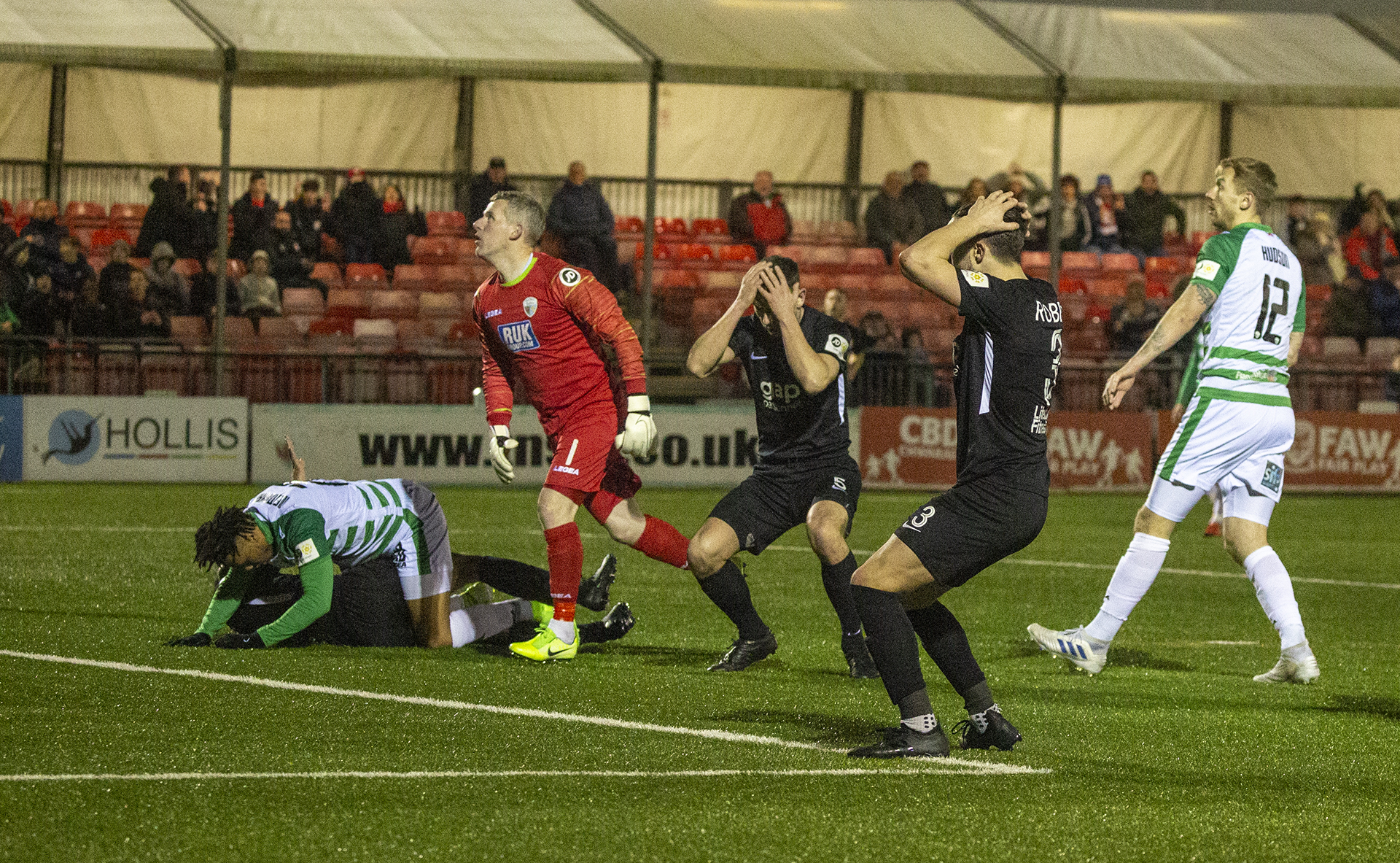 Callum Roberts rues a late missed chance | © NCM Media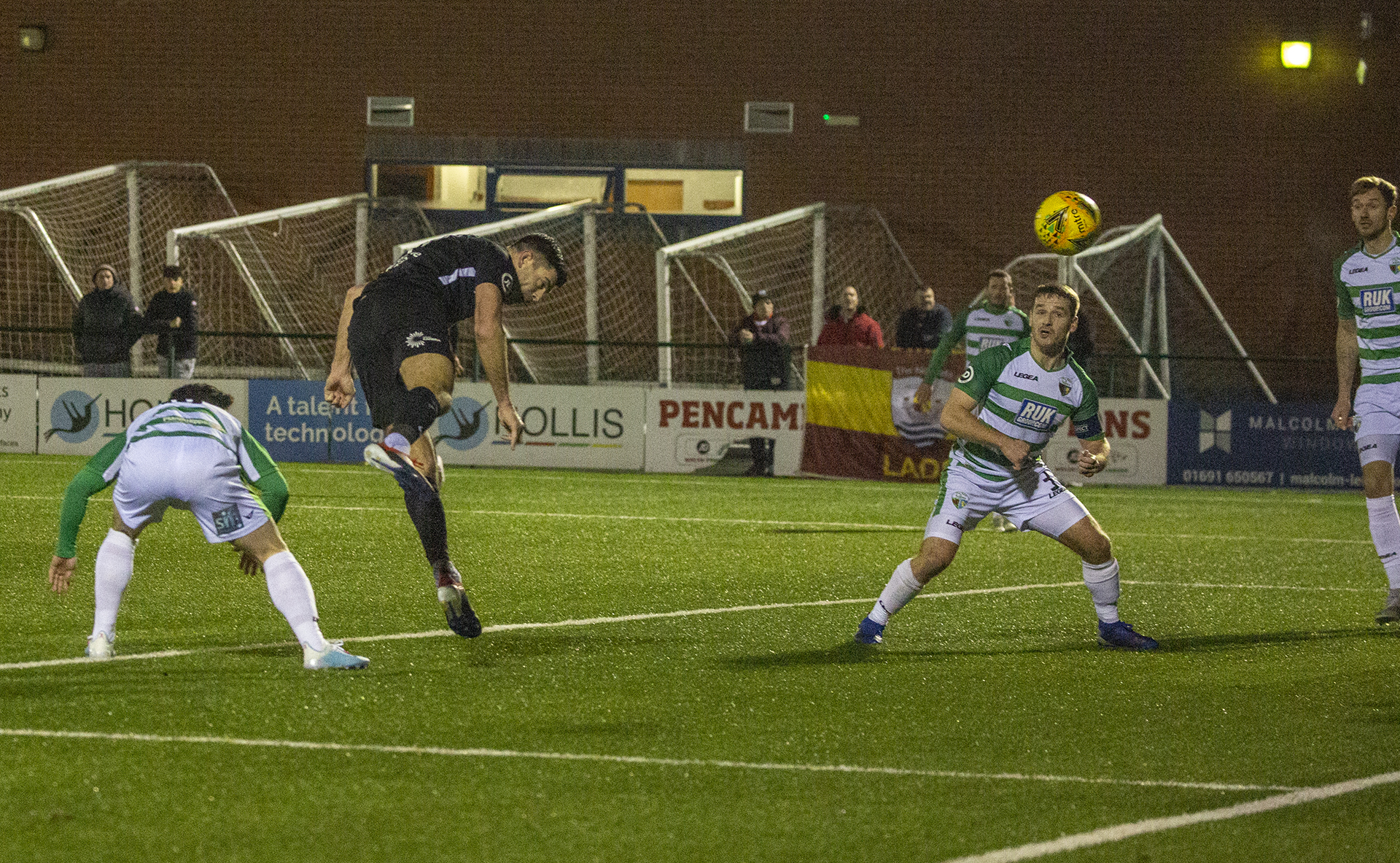 Michael Wilde headed The Nomads in front in the first half | © NCM Media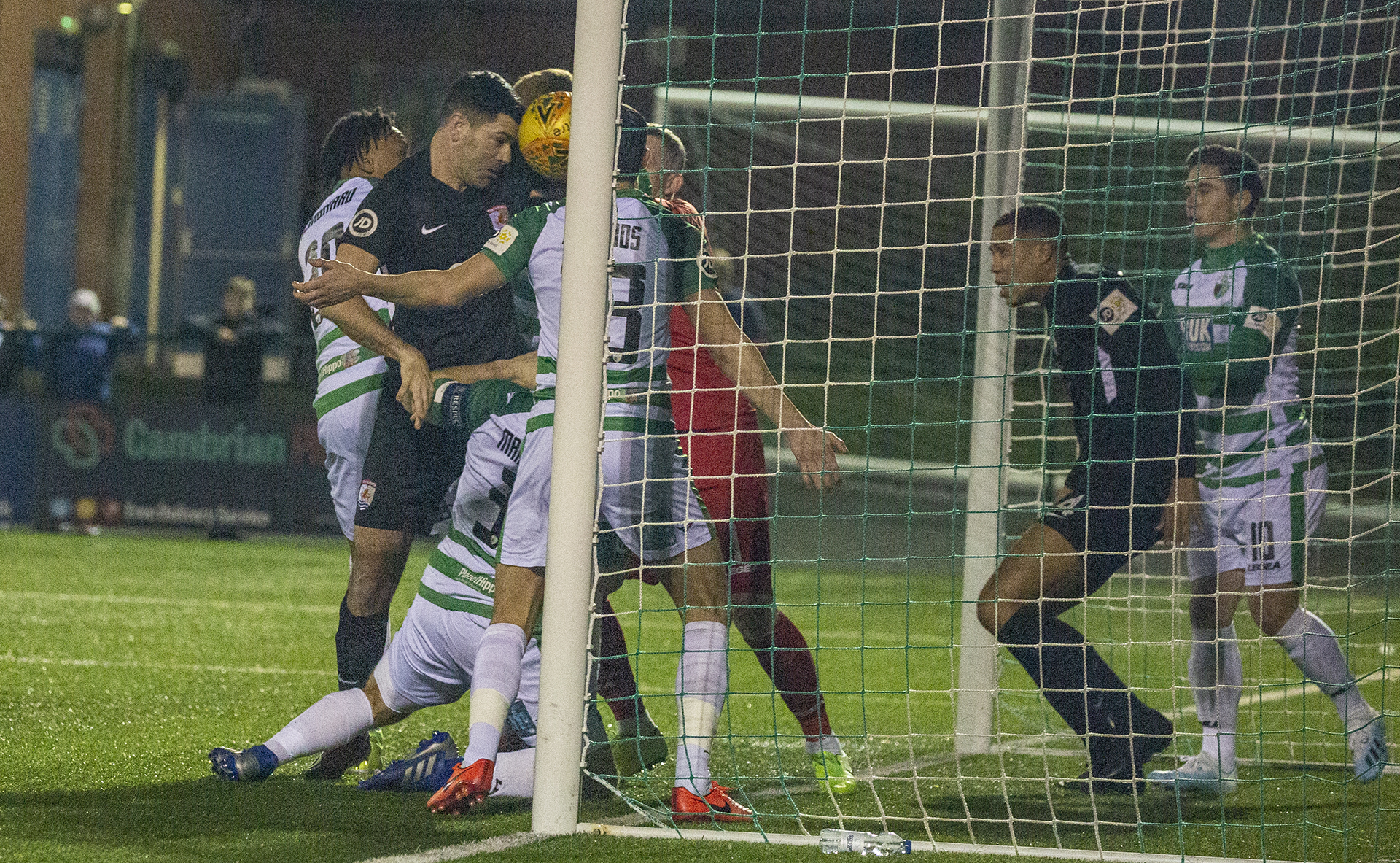 Michael Wilde thought he headed The Nomads in front only to have it ruled out for an apparent foul | © NCM Media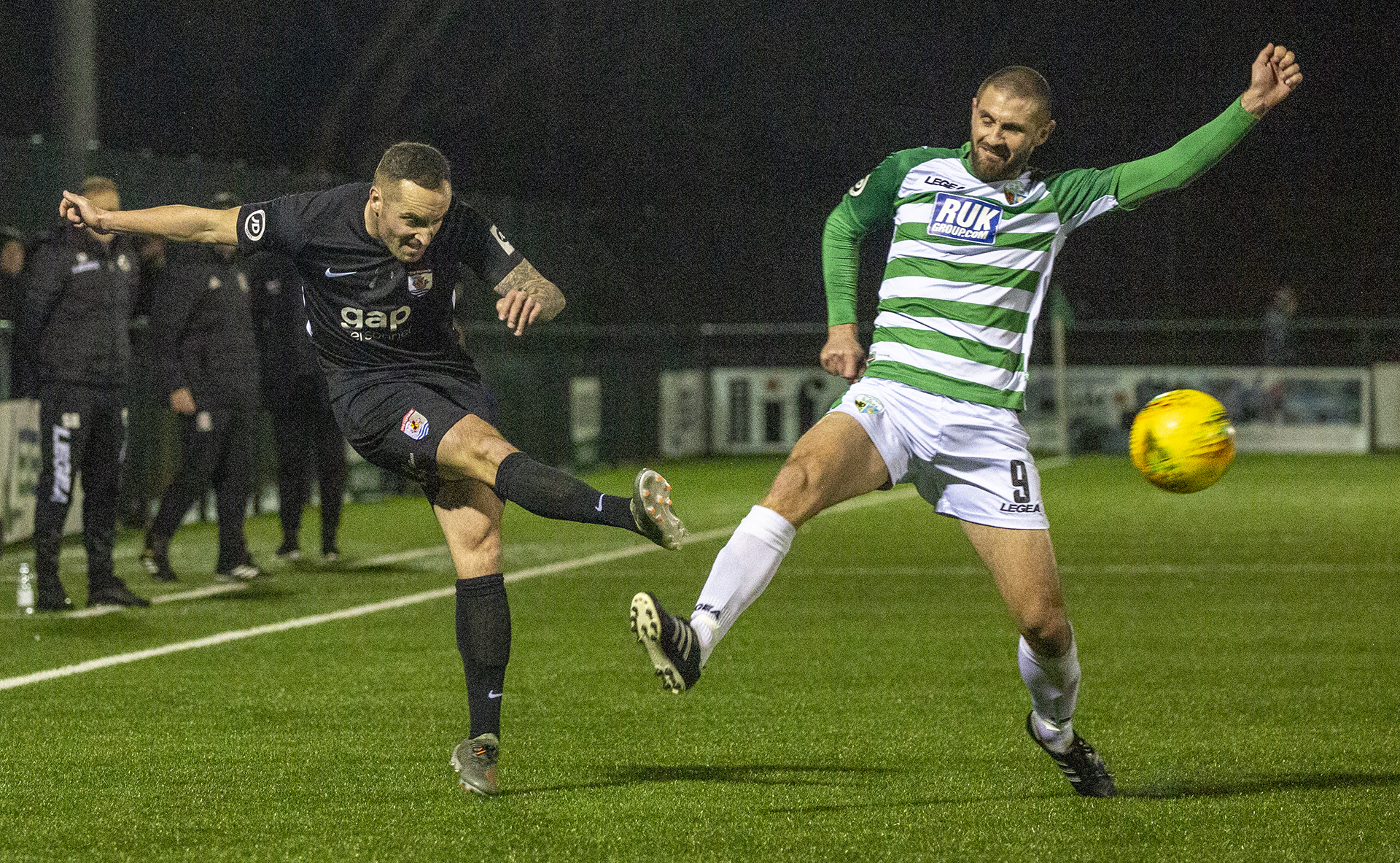 Danny Holmes sends a cross into the TNS box | © NCM Media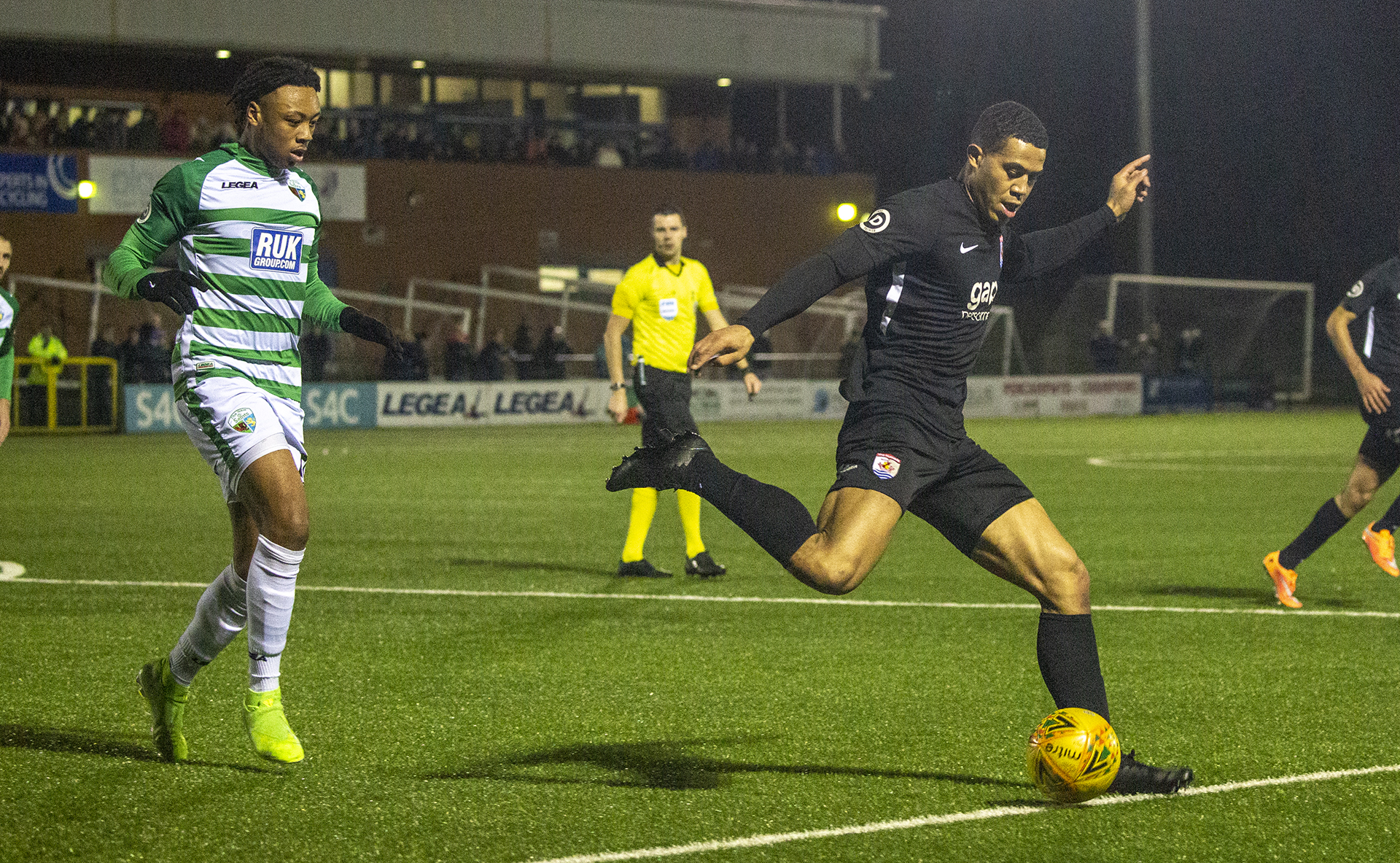 Priestley Farquharson looks to get away from Joash Nembhard | © NCM Media