JD Cymru Premier side Connah's Quay Nomads were defeated 0-1 by Serbia's FK Partizan on Thursday evening in the Europa League second qualifying round.

Despite a strong performance from Nomads, a 62nd minute volley from Aleksandar Scekic was enough to hand the Serbian outfit a solitary away goal win.

• Nomads earn clash with Serbian giants after shock win at Kilmarnock
• Jamie Insall and Nathan Woolfe called up to starting eleven
• Nomads matched Partizan for much of the European tie
• Scekic goal gives Partizan win ahead of second leg in Serbia next week

The prestigious European fixture was Nomads' reward for their 3-2 aggregate win over Scottish Premier Football League side Kilmarnock FC in the first qualifying round one week ago.

Despite the odds being stacked against them, a performance masterminded by manager Andy Morrison and his team saw Ryan Wignall score and Callum Morris convert a penalty to hand Nomads' the sensational win.

Much fanfare followed the result, but Nomads' preparation to meet the Serbian giants began immediately, with Andy Morrison making changes to his line up as he looked to cause yet another upset.

Two changes saw Nathan Woolfe and Jamie Insall start, with Ryan Wignall suspended having received a red card in Kilmarnock, and Michael Bakare dropping to the bench. Keeping their places were the likes of Danny Holmes and Callum Roberts, who formed key parts of Nomads' now well known as formidable defence.

Meanwhile, Partizan boss Savo Milosevic started ex-Manchester United man Zoran Tosic as well as the industrious Starhinja Pavlovic and pacy midfielder Seydouba Soumah.

The game began with Partizan dominating possession, but the Nomads meeting it with their disciplined defensive shape. John Disney stopped a Partizan move from a throw in the third minute, before Tosic fired a warning shot wide in the fifth.

The first major chance came on 12 minutes, when Umar Sadiq intercepted a Lewis Brass goal kick to run directly at goal but shoot wide to keep the score at 0-0.

Despite this scare, the Nomads kept their composure, denying a number of Partizan shirts a shot on goal inside a packed Connah's Quay area in the 16th minute, before Lewis Brass, in excellent form following the first round qualifier in Kilmarnock, denied Pavlovic from a tight angle at just six yards out.

With 20 minutes played, Partizan forced three consecutive corners, but none could penetrate the Nomads area as Andy Morrison drilled his side to keep them out.

The Nomads defence also showed some attacking prowess in the 27th, when left back Callum Roberts darted past the experienced Tosic only to see his cross into the Partizan area intercepted.

Roberts was again in action at the back in the 32nd minute alongside Horan, as they worked together to block Soumah after a quickly-taken Partizan free kick on the halfway line.

In the 37th minute there was a chance for Nomads, with a good run from Roberts and cross from Poole sending the ball to the awaiting Wilde in the Partizan area who won a corner kick for Nomads, which was subsequently caught by keeper Vladmir Stojkovic.

On 43 minutes Lewis Brass was again quick to react and push a dropping high ball over his crossbar, with the resulting corner kick sent wide via a 25 yard effort from Sasa Zdjelar.

Just before the break, during three additional minutes of injury time, a melee in the box was triggered by keeper Stojkovic, who looked to have caught captain George Horan off the ball.

Controversially, both were shown a yellow card, leading to a tense end to the half with no love lost between the two teams.

The second half saw a bright and open start, with Brass making another save on 47 minutes to deny Ivanovic from seven yards out to continue frustrating the visitors in front of goal.

The 50th minute saw end to end action, with Woolfe breaking into the Partizan half and running to the byline in search of a corner ball. But a tackle and counter attack saw Partizan win a corner of their own in the space of 30 seconds.

Jamie Insall was at the centre of a Nomads attack in the 53rd, going on a lone run only to be blocked by the towering Pavlovic before he could turn and get a shot away at goal.

Nomads then made their first substitution of the game, introducing Michael Bakare to replace Nathan Woolfe to boost Nomads' threat upfront as they approached the hour mark with the game even and open to both sides.

But in the 62nd minute they were dealt a blow when Partizan broke the deadlock from a Scekic volley. After a quick turn and run down the left wing from Slobodan Urosevic, the cross was met with a thundering strike from Scekic to give his side the lead.

After going behind, the Nomads stuck to their game plan and continued to soak up the Serbian pressure, with Tosic having a 25 yard free kick caught by Brass in the 64th.

The Nomads next substitution, with 20 minutes to play, saw Jamie Insall come off in place of Priestley Farquharson to bolster the Nomads defence.

In the 74th minute there was controversy, as Michael Bakare ran at goal to try and take on Stojkovic, but was stopped by a free kick awarded to Partizan which was met with protest from the Nomads faithful at Rhyl.

With 80 minutes played the Nomads pushed for an equaliser during the final 10, with a corner kick taken by Jay Owen triggering a series of headers in the Partizan area before the danger was cleared by Milosevic's side.

In the 84th there was more threat from Nomads when Bakare again ran at goal but was tackled by Bojan Ostojic at the last minute. It was again end to end two minutes later, with Tosic still hunting a only to be stopped with a great tackle on the edge of the Nomads area from the composed Disney.

There was a heart in mouth moment on 89 minutes, when Callum Roberts topped off a superb performance by beating his man on the wing to send a cross glancing across the face of the Partizan goal.

The resulting corner couldn't be converted, with the Nomads battling through the remaining three additional minutes before full time was signalled by Slovakian official Michal Ocenas.

Following a highly respectable performance against the Serbian giants, the Nomads remain in the tie and have all to play for next week in Belgrade.

The second leg fixture takes place at the Partizan Stadium next Thursday 1 August with a British Summer Time 8pm kick off.
---
Match report by Will Catterall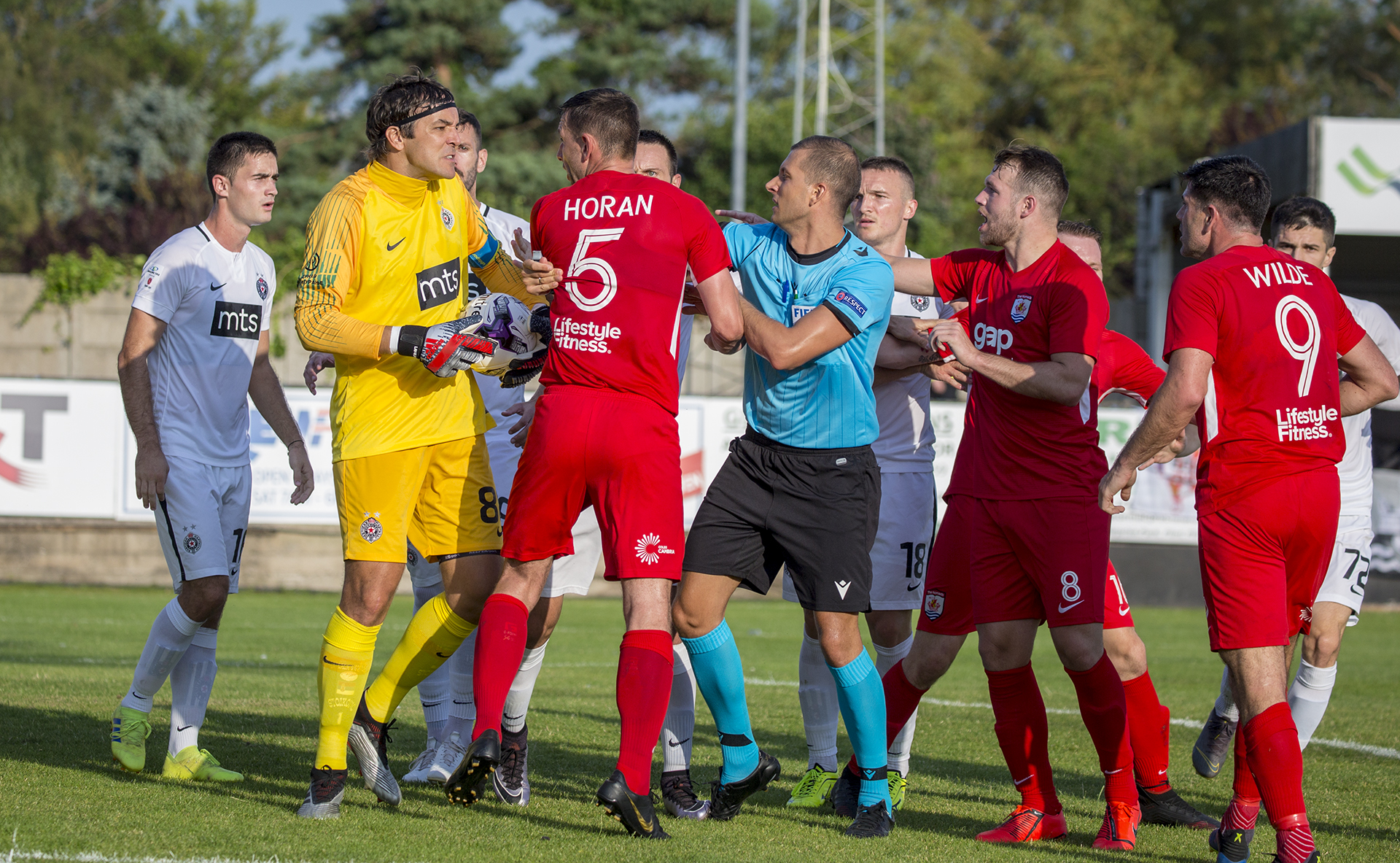 George Horan and Vladimir Stojkovic clash following a collision in the box | © NCM Media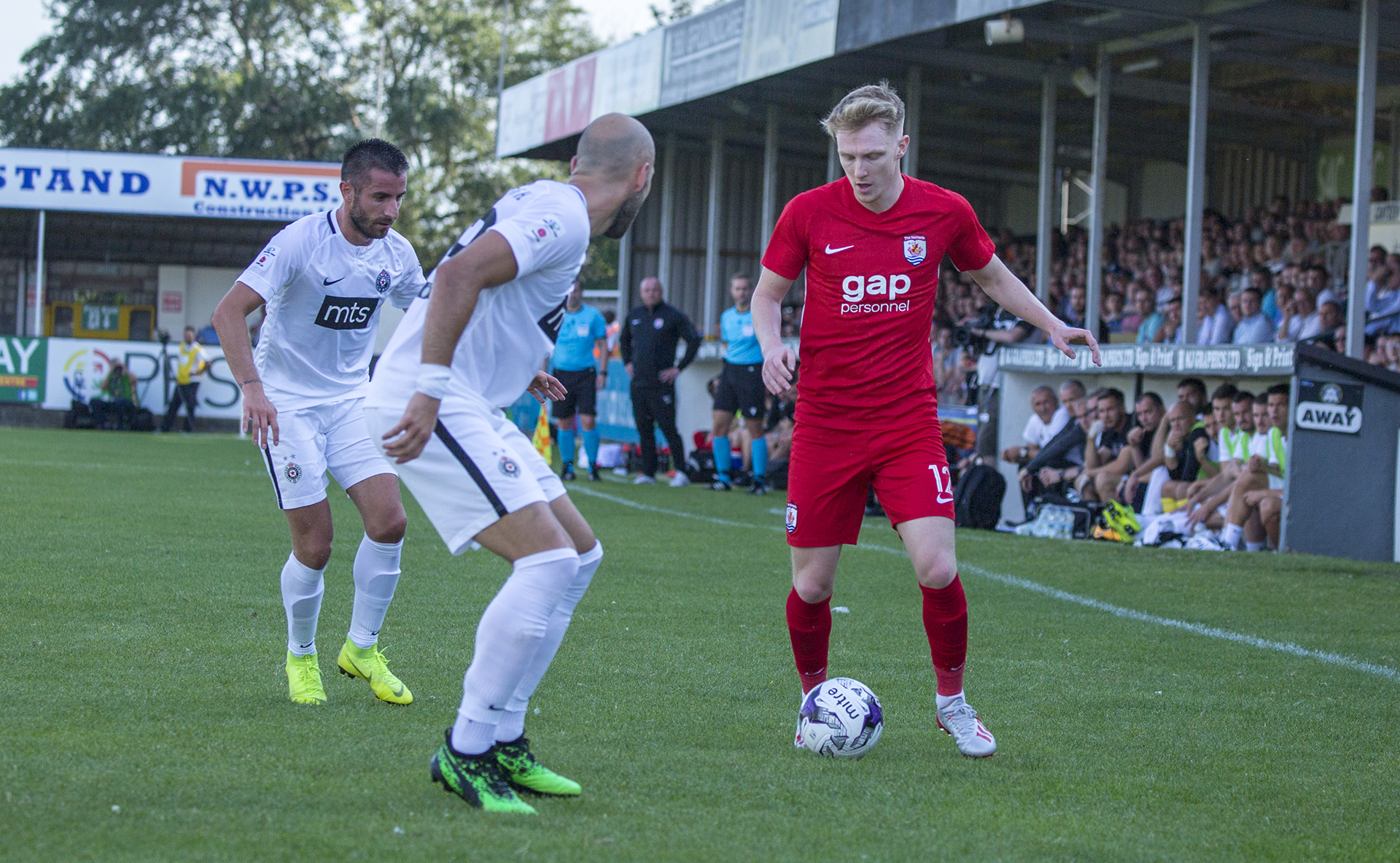 Declan Poole looks to get the better of the Partizan defence | © NCM Media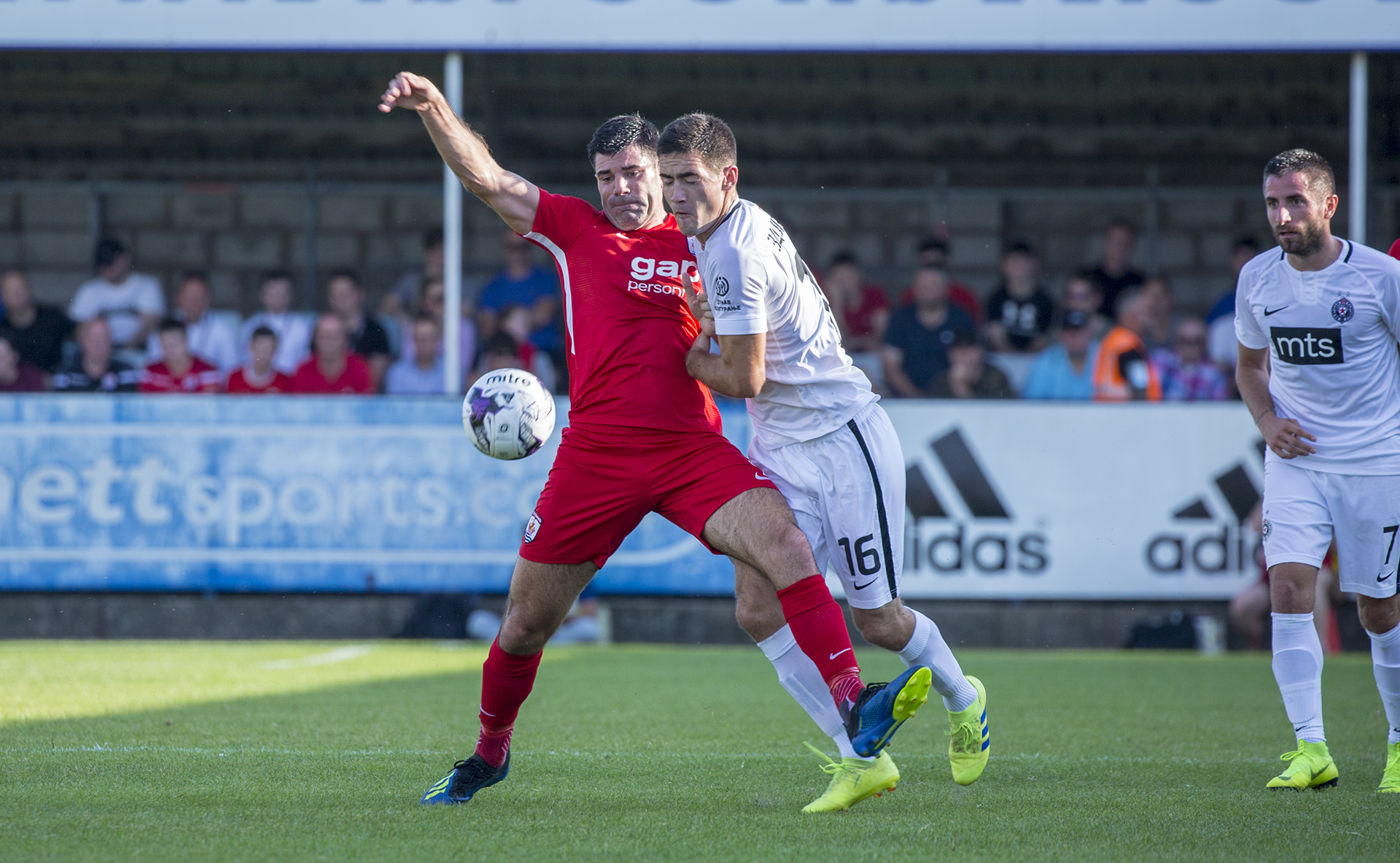 Michael Wilde battles for the ball | © NCM Media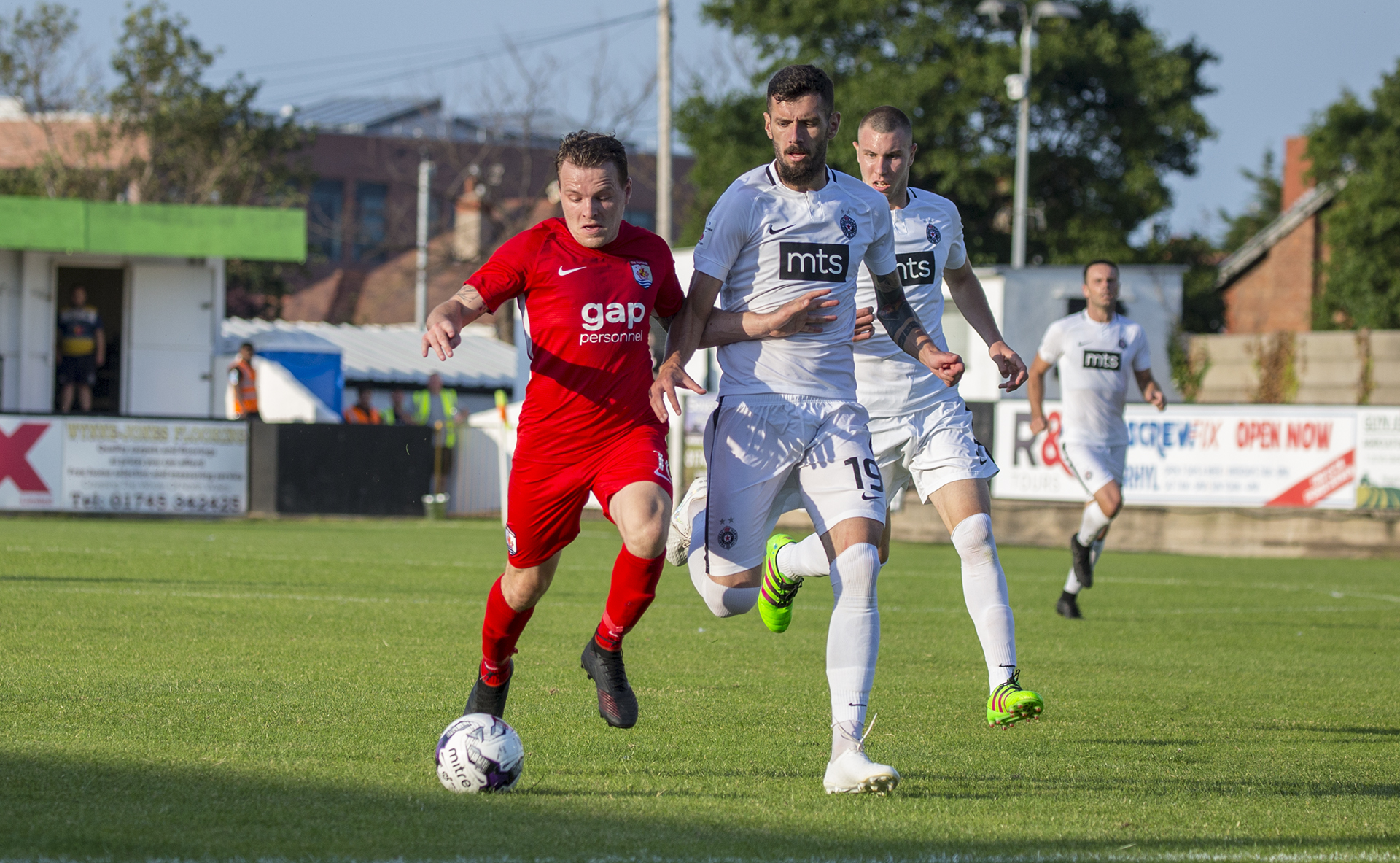 Jamie Insall gets in behind the Belgrade defence | © NCM Media
Michael Bakare is faced up by the Serbian defence | © NCM Media