Connah's Quay Nomads lost out by two goals to nil against FK Sarajevo of Bosnia in the UEFA Champions League qualifying round one on Wednesday evening.

Goals in the 16th and 65th minutes from Benjamin Tatar saw the Bosnian side progress to qualifying round two at the Cardiff City Stadium.

• Nomads make UCL debut after securing first JD Cymru Premier title
• Wilde threatened with close header early on
• Tatar slotted opener in the 16th and doubled lead in second half
• Nomads bow out of UCL but go into Europa League qualifying round two

The game, which was played behind closed doors due to COVID-19 regulations, marked a historic landmark in the club's history.

It was their first ever UEFA Champions League match after being crowned JD Cymru Premier Champions in May following the curtailing of the competition by the FAW, and their fifth foray into Europe following four consecutive Europa League campaigns since 2016.

Nomads found out their opponents, FK Sarajevo, just 10 days before the one-legged tie and had played pre-season matches against Crewe Alexandra and Cardiff City U23s in preparation for their first competitive fixture since March.

Both sides went into the game knowing the winner faced an away trip to Dynamo Brest of Belarus, who had beaten Astana of Kazakhstan on Tuesday evening to secure their place in the second qualifying round.

Andy Morrison named a line up including Aeron Edwards, who signed for the club from JD Cymru Premier runners up The New Saints in May.

He was joined by another former Saints man and Nomads stalwart Michael Wilde, with captain George Horan and Priestley Farquharson also starting.

FK Sarajevo meanwhile travelled to Cardiff with a host of internationals in their roster, including Mersudin Ahmetovic, Haris Handzic and Krste Velkoski.

The game began with an even feel to it as Nomads looked to match the visiting Bosnians' by stopping their early runs into the home end, with Mersudin Ahmetovic blocked on an attack down the right wing early on.

The game's first real chance came in the 8th minute and went Nomads' way, as Craig Curran knocked on a header to Wilde who from seven yards out headed just past the far left post.

On 14 minutes, Sarajevo had the chance to threaten via Ivan Jukic, but his free kick from 25 yards out was sent out for a goal kick to be taken by Nomads' keeper Lewis Brass.

And just over a minute later, the visitors took the lead when Benjamin Tatar broke through on the right and rounded Lewis Brass to slot into the then open goal.

Despite this, Nomads continued to battle well with their opponents, resulting in an even, and sometimes fractious first half at the Cardiff City Stadium.

This was seen when Danny Holmes sent a throw in into the Sarajevo end before a Callum Roberts cross just evaded the awaiting Wilde and Curran in the Bosnians' area on 24 minutes.

With half an hour gone the game had a feisty edge to it, as Nomads players complained of multiple off the ball fouls and simulation from Sarajevo, which saw Andy Morrison booked for airing his frustrations.

On 35 minutes Dzani Salcin tussled with Curran and Farquharson for the ball, before again unsuccessfully claiming for a free kick on the left wing.

In the 40th, Michael Wilde went down for an off the ball challenge after Callum Roberts sent a half volley over from a Farquharson throw in, which saw arguments break out between the two sides.

At half time, Andy Morrison made his first change, replacing Danny Harrison with Sameron Dool as Nomads looked to find a much sought after equaliser.

The second half kicked off and Sarajevo started on the front foot with an early run at the Nomads' goal, but they were stifled by Nomads' George Horan-led defence.

In the 53rd, a Declan Poole cross went into the Bosnian's area and was narrowly missed by Curran who was looking to head goalwards.

They continued to stand up to the threats of Sarajevo, putting on some great passing play from the likes of Dool, Poole and Edwards to win a corner on 57 minutes.

The corner was taken by Dool and went close to the goalmouth with Nomads piling into the Sarajevo box to try and get that vital finish on it.

On the hour mark, Nomads were coping well and regularly getting chances in the final third, winning a throw in which was taken by Dool to keep the pressure on the visitors.

But just as they looked to be getting on top, they were dealt a blow when Tatar burst through the middle of the defence in the 65th to slot home and double the lead for his side.

Left with 25 minutes to try and overturn the deficit, Nomads remained positive and won a free kick on 69 minutes, which Dool sent close to Curran who just missed out on connecting with it at close range.

In the 74th, a long range free kick was floated into the Sarajevo area by Roberts and caused problems in the area, but keeper Kovacevic was able to collect it eventually.

As the game entered its final 10 minutes Nomads were still playing positive, winning a free kick on the halfway line as they chased a late comeback in the capital.

In the 81st George Horan fired over a Sameron Dool corner which went to him in front of the Sarajevo goal from around six yards out. Andy Morrison then made his second and final substitution, bringing off Declan Poole to introduce Jamie Insall.

Insall immediately added to Nomads' fight by winning the ball in the midfield to force a throw in, then launched the ball towards the Sarajevo goal where it was collected with five minutes to go.

In the 88th, Sarajevo got an opportunity to add a third, but Haris Handzic sent the ball wide from around 18 yards.

The full time whistle saw Sarajevo progress through the second qualifying round with Nomads left disappointed after a battling performance throughout the evening.

They will now continue European preparations as the result sees them go into the Europa League second qualifying round two, which will be made on 31st August.
---
Match report by Will Catterall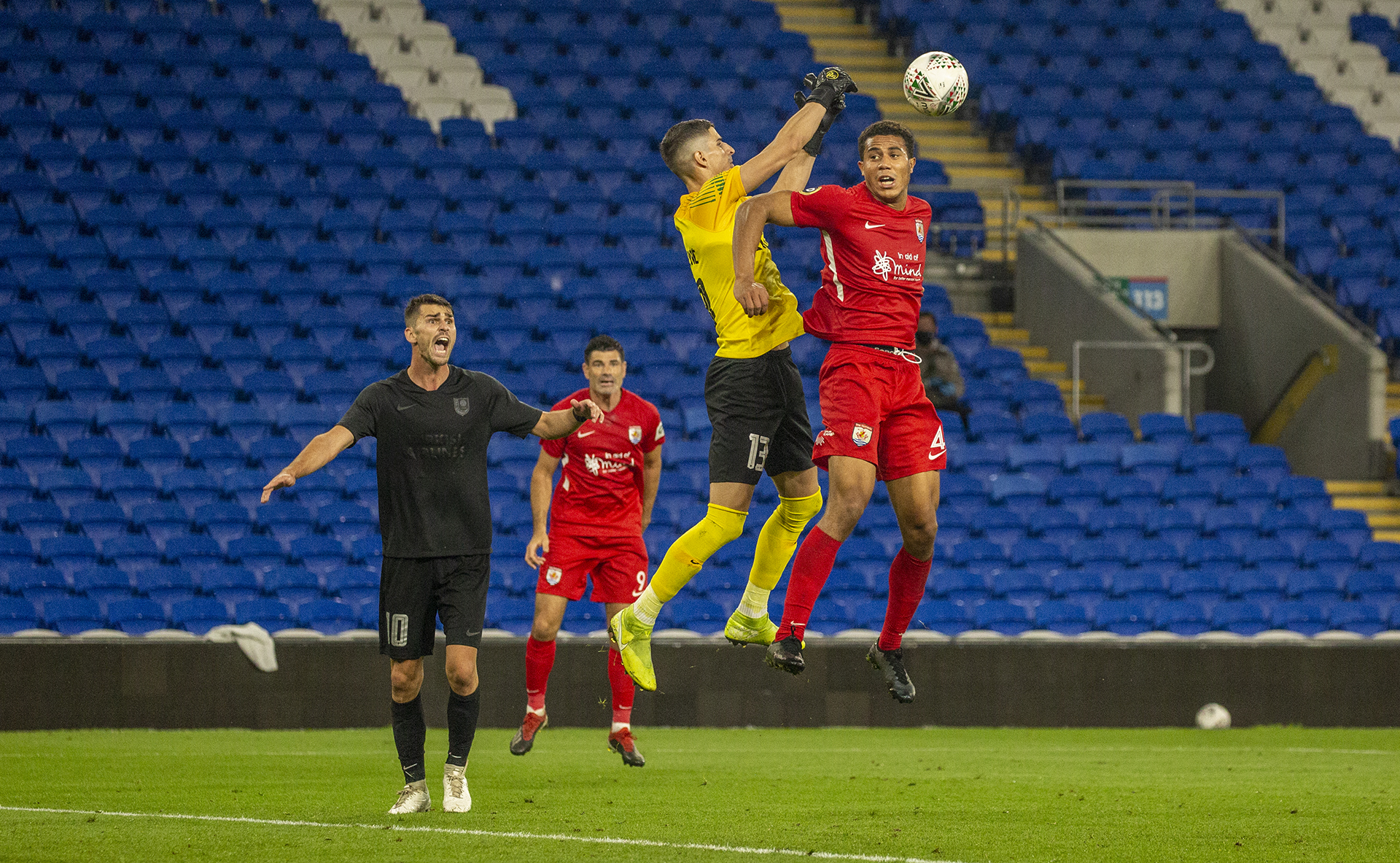 Priestley Farquharson battles for the ball | © NCM Media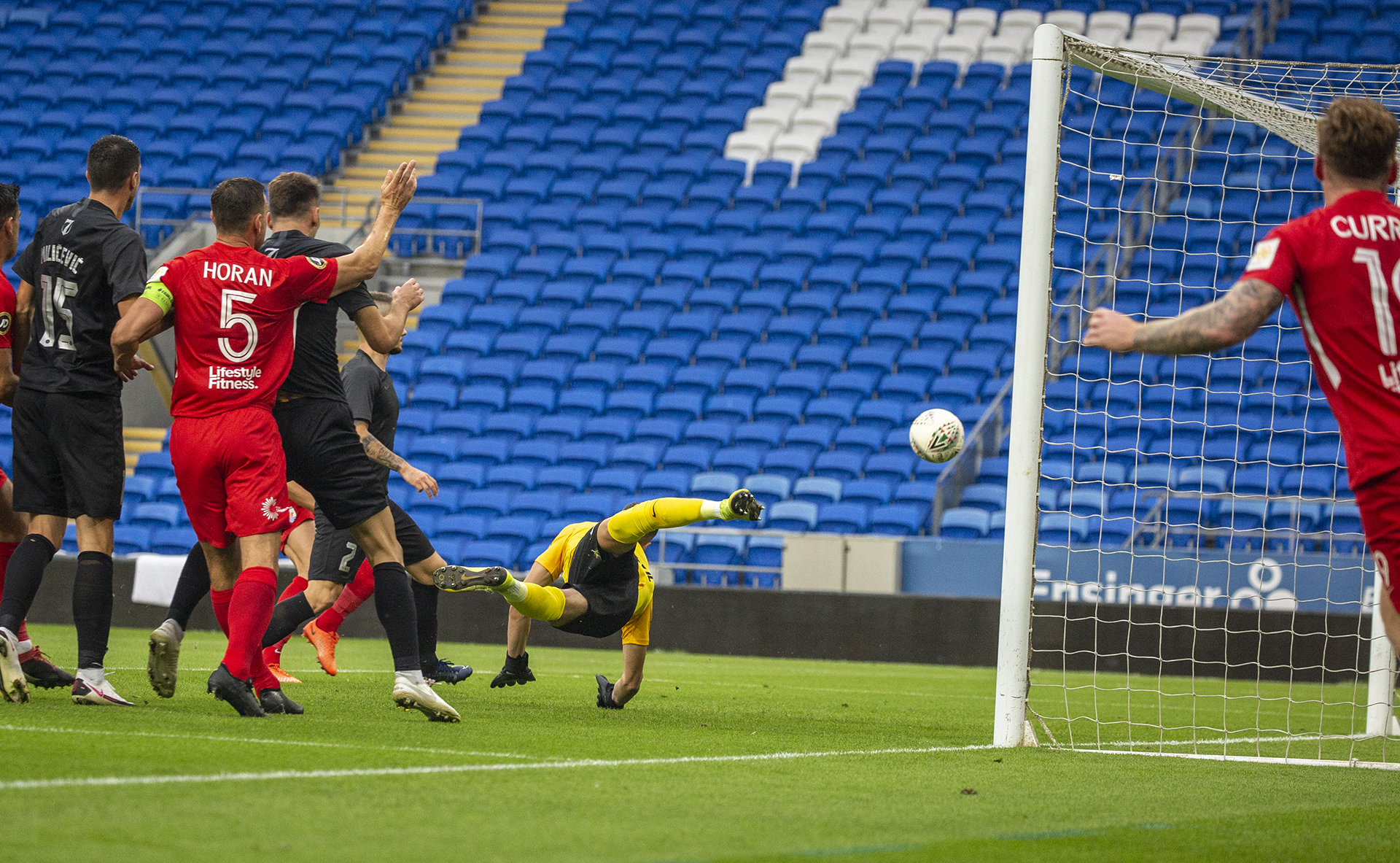 Mike Wilde's early header goes agonisingly wide of the Sarajevo goal | © NCM Media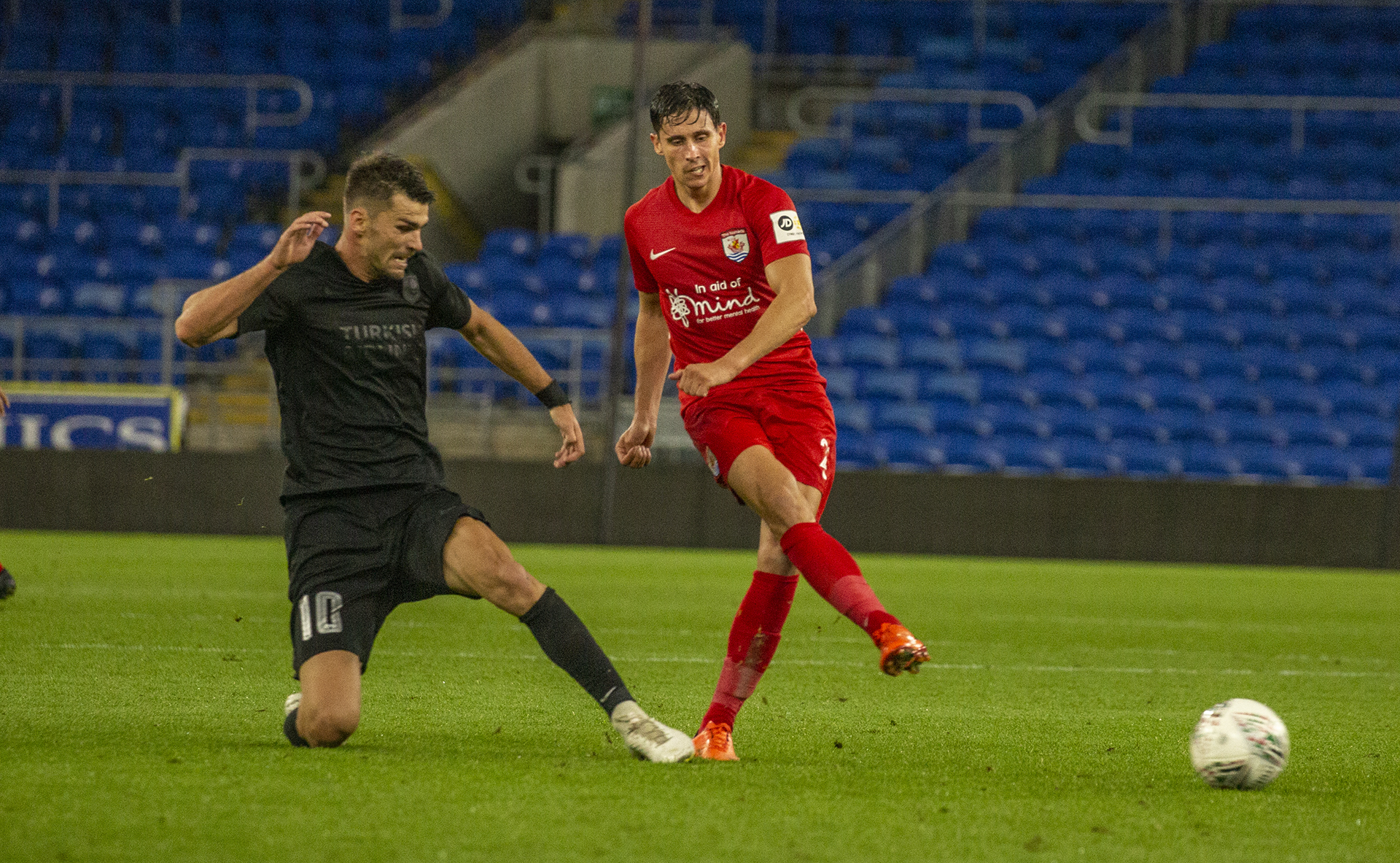 Aeron Edwards made his competitive debut for The Nomads | © NCM Media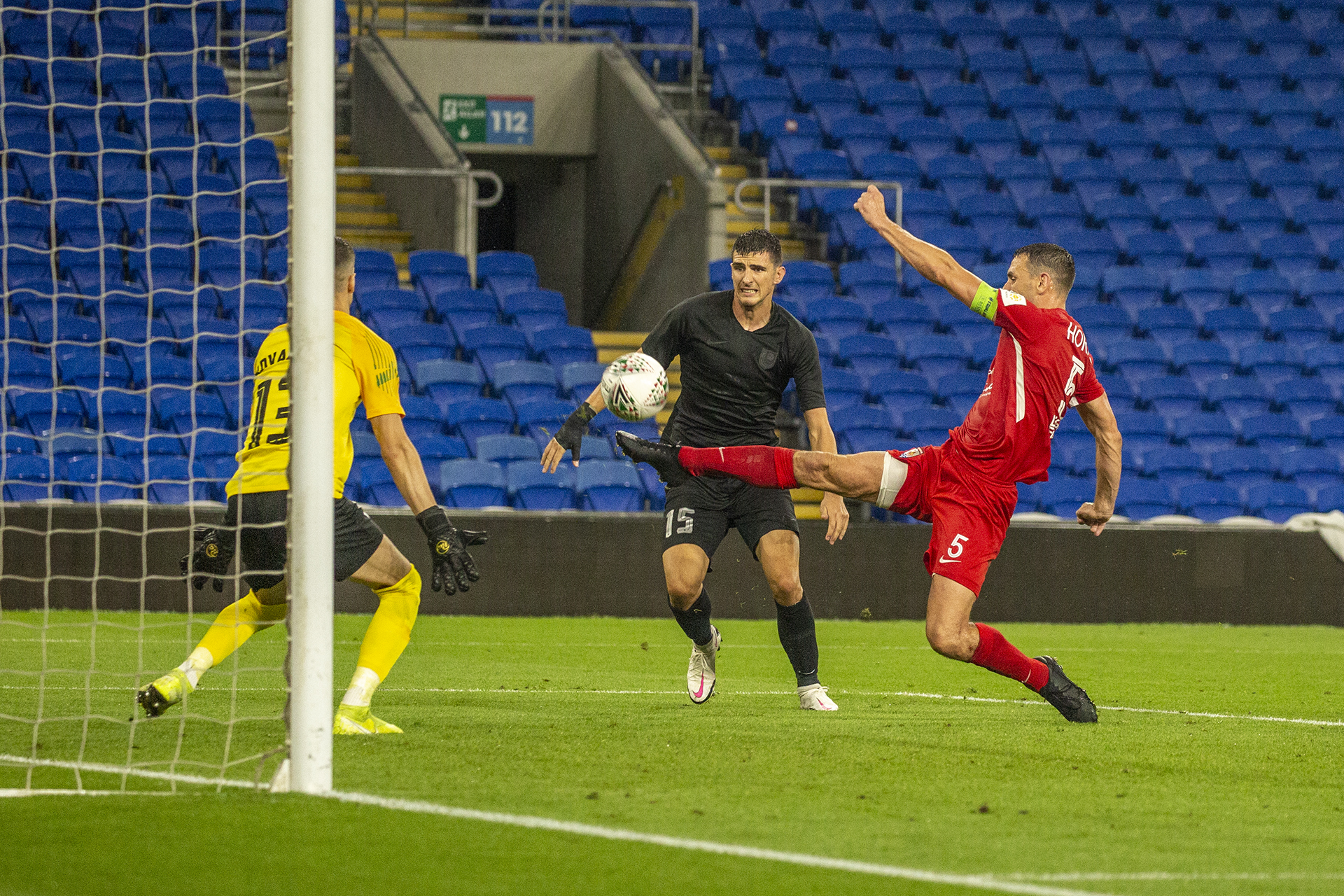 George Horan stretches for the ball inside the Sarajevo area | © NCM Media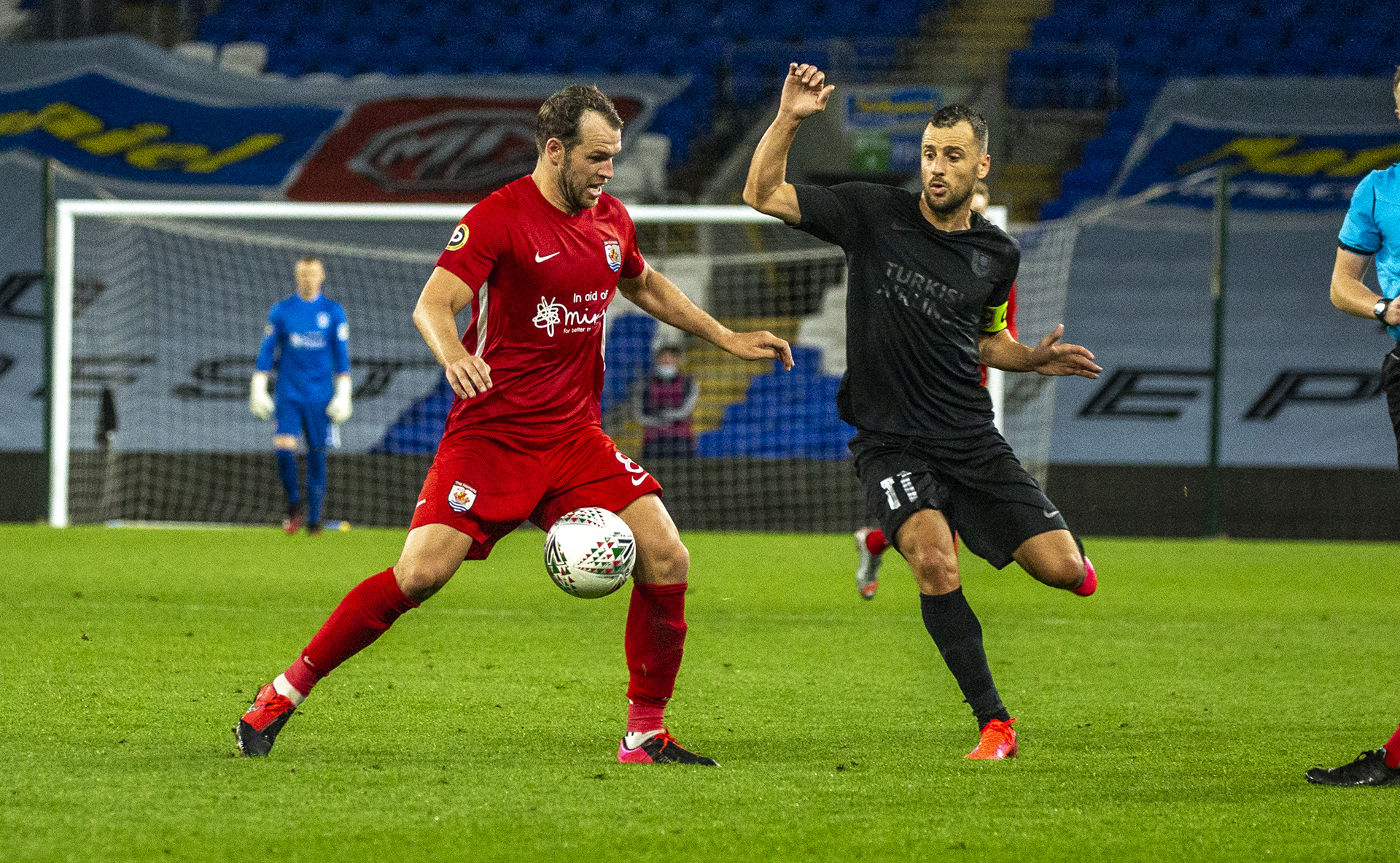 Callum Morris looks to create an opportunity for The Nomads | © NCM Media