Nik Mesney recently spoke to our second longest serving player, Danny Harrison about his time at Deeside, some of his fondest memories and how he's helping to develop future talent through his role at Liverpool Football College.

With 183 starts and 8 sub appearances, you're our second longest serving player behind George Horan - things have changed quite a bit since you joined back in January 2015 - what are your early memories of your time here?
DH: "My earliest memories would be my debut at Bala away - travelling in the back of one of Jack Rowlands' taxi and Kev McIntyre going green because of all the bends on the way there and then playing on the grass pitch which was terrible! I think we won though! I knew George and Kev McIntyre so I settled in quickly but even back then, I thought everything tried to be as professional as possible whether that be training/preparation or the games. I also thought the standard of football was better than I had been told by people."

What were your first impressions of Andy Morrison when he arrived shortly after?
DH: "I knew of the gaffer and played against him in a reserve game for Tranmere a long time ago and one of my good friends had played for him at Airbus so had an idea of what he would bring to the table. First impressions didn't disappoint - he challenged all the older lads straight away, got us organised, fitter and made us accountable for our individual roles in the team - there was no hiding place, which is what I was always used to anyway. I think you have to buy into what we do here and if you don't, it's not for you."

The 2015/16 season ended with us qualifying for Europe for the first time - can you take us through your first European experience against Stabæk and Vojvodina?
DH: "It was a new experience for me - I'd never played in Europe before, a few of the other lads had but I was really looking forward to it. The games against Stabæk were brilliant, getting a draw at home then travelling out there, which was a beautiful part of the world and then getting that result. I always remember in the away leg after about 15 minutes asking the referee how long's gone and we were backs to the walls thinking 'wow how are we going to get through this', but thankfully Callum got us a goal which gave us something to hang on to. The night out after was brilliant too!!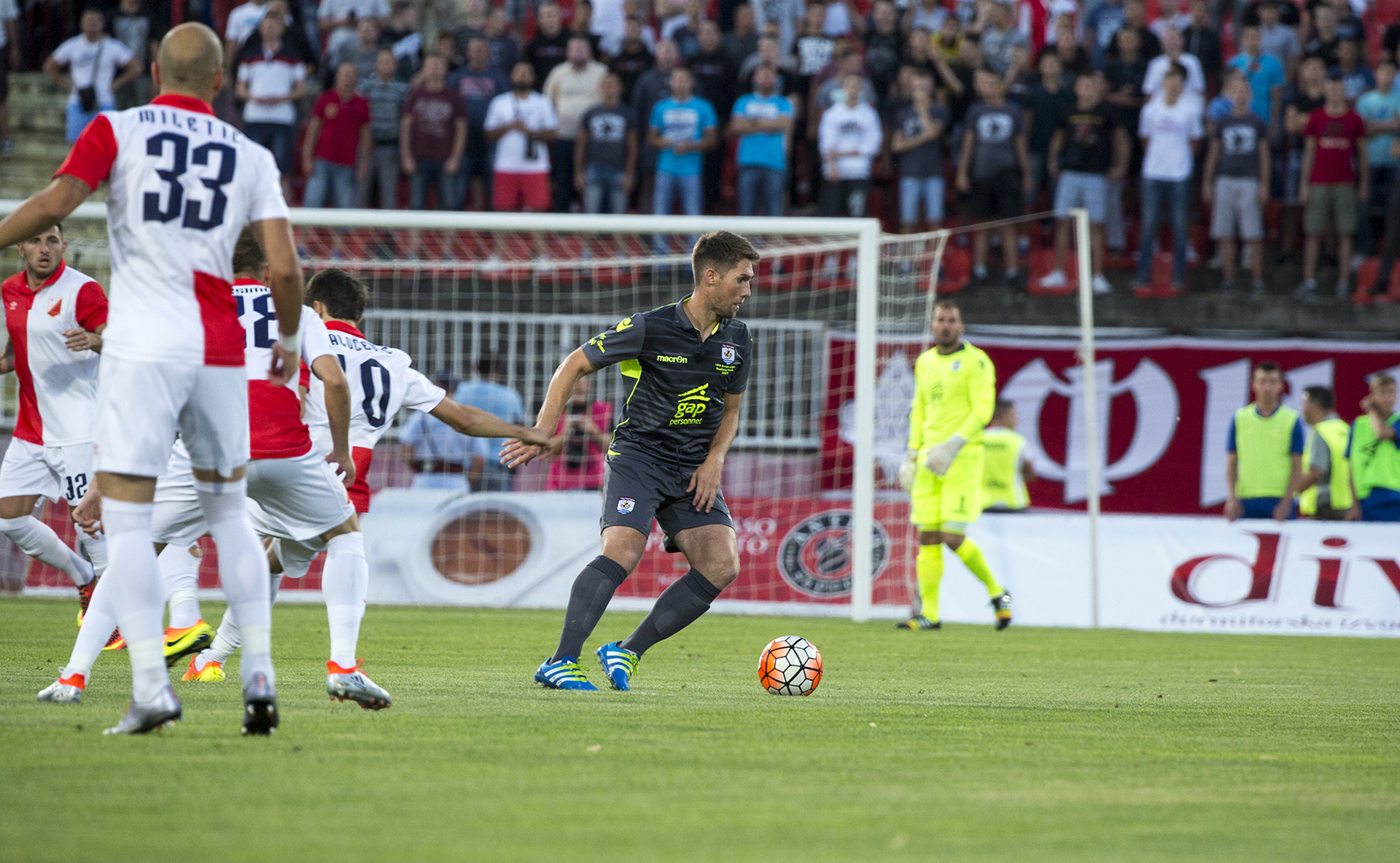 Vojvodina was a totally different experience altogether, hostile place and crowd. We did fantastically on the night and were really unlucky not to get a 0-0 out there. They had some fantastic players and that's probably one of the hardest games in terms of running and staying with them that I have ever played in."

Since then we've had some extremely memorable moments; vs Kilmarnock, the Irn Bru Cup run, winning the Welsh Cup - which for you stands out as your proudest achievement at the club?
DH: "All of the ones you have mentioned are fantastic achievements for the club - winning trophies is always important and managing to get two in my time here is something that is right up there. For me personally it's the Staebæk games home and away - winning over two legs in Europe in the club's first appearance in the competition is top for me."




How are you currently maintaining your fitness during these unprecedented times in the world?
DH: "The staff have put together a fitness programme that falls in line with all of the safety precautions that we have to adhere to at the minute. There are upper body, lower body and core sessions which are filmed and then sent to the gaffer - his phone must explode every morning when he gets all the lads videos through!
Then there are the runs which all the players have to do over different distances plus speed work and pitch based running, so we are keeping busy. There is a leader board to keep all the lads motivated and the element of competition. This is a good group of lads who are all looking after themselves properly and doing all the sessions we are asked to do."

And we've got to mention the one goal (so far) - Talk us through that goal at Newtown...
DH: "It was a perfectly timed run into the box and I met a Rob Hughes cross and glanced a header into the net... not quite sure everyone else saw it like that! I might have tackled the keeper and the ball rolled into the goal!"

Before you arrived at the club you played over 300 games in the Football League at Tranmere and Rotherham - what did playing for Tranmere mean to you as a local lad?
DH: "That was the dream - I'd worked so hard to get myself in a position as a young player, YTS, young pro to play for the first team. Coming through the ranks at your local club is always special and I loved every minute. That feeling of making your debut for your local club and the sense of achievement is something that still makes me proud now, plus knowing that my Dad and family felt the same made it all the more special."


We recently saw a photo of yourself appear on Steven Gerrard's Instagram in your role at Liverpool Football College - can you give us a bit of background on what your role involves and why Steven was there with you that day?
My role at the moment is Curriculum Manager at Liverpool Football College. We deliver sports qualifications to 16-19 year olds. Alongside this we have an outstanding football programme and play in the best leagues outside of the academies with the aim of getting our players back into the highest standard they can reach, whether that be professional, semi professional or scholarships over in America. We also aim to provide coaching pathways and various other academic routes such as university or higher education. My role is to oversee all the education delivery and coach the college U19 teams.
Steven Gerrard has been in the background of the college for a number of years as he knows the directors of the college well, he felt it was the right time to be more visible and will now work more closely in association with the college, whether that be coming into the college speaking to students, watching games or passing his experience onto staff and students alike. We have some brilliant success stories both academically and football wise. We've had players go on to play for Blackpool, Tranmere and Crewe - Tejan Brima won the Dallas Cup over in America and is now playing at FC Marbella in Spain while one of our first attendees back in 2012, Paul Mullins, has gone on to have a career at Swindon, Morecambe, Tranmere and is currently at Cambridge where he recently played against Man United in the FA Cup.

Quick fire questions
Who do you support? My dad was from London and supported Tottenham so I followed them with him as a kid.
Fav player growing up? Paul Ince/ Paul Gascoigne
Fav player today? Kevin De Bruyne
Which Nomad do you think will go on to be a manager? Michael Wilde
Best goal you've ever scored?For Rotherham vs Southampton at home in a Carling Cup tie, won on pens in the end. Won goal of the season too! Newtown goal a close second!!
Best moment in your career? There are 2- 1st team debut for Tranmere vs Wigan or Playing at Wembley with my children and family watching me.